This Former TLC Toddlers And Tiaras Star Just Proved She Has Beauty And Brains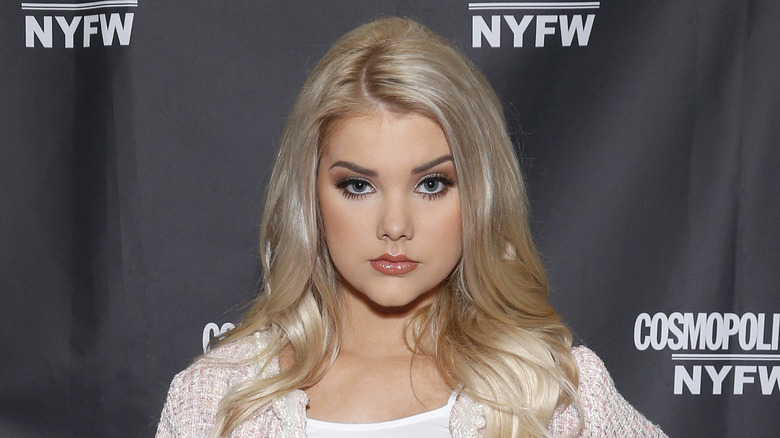 Lars Niki/Getty Images
If you were a "Toddlers and Tiaras" fan, then you've definitely heard the name Eden Wood. This mini pageant queen got her start in entertainment when she was only six months old. At the age of three, she was cast in the short film "The Angry Box." When she was four, she appeared on "Toddlers and Tiaras" and immediately became a fan-favorite — not just because of her charming smile but also her sweet and sassy personality. It was clear from the show that she loved what she was doing compared to some of the other little girls who wanted nothing to do with pageants — like three-year-old Savannah, who would have rather been playing hockey than rocking fake eyelashes. Savannah was one of the prime examples of the real reason "Toddlers and Tiaras" got canceled. 
Over the years, Wood booked multiple roles because of her talent and shining personality, including Darla in the reboot of "The Little Rascals Save the Day!" which pushed her to move from her small town in Arkansas to Los Angeles, the land of opportunity. After her move, she began to work on a couple of films made for festivals, both of which were focused on the concept of beauty. 
Despite all of Eden's appearances in the spotlight, lately, her brain has been taking center stage.
Eden's brains take the stage
Eden Wood's life has always been fast-paced and full of changes. As a young girl, she was homeschooled by her mother, who spent 25 years as an educator, and she was then tutored on set in Los Angeles when she was busy filming. Wood and her family have always kept her education at the forefront of her life. Despite her switch from homeschooling to regular school, she managed to maintain her 4.0 GPA. In a 2020 interview with Where It Begins, Wood said she considers that challenging but successful switch her greatest accomplishment to date.
Now, she may be thinking differently, as she was recently named valedictorian of her graduating class. For her college years, she plans to return home to a school in Arkansas, and study broadcast journalism. Speaking to Today, Eden said, "I want to do something that I love. I don't want to be stuck doing a job that's boring. I've been in front of a camera my whole life, so this feels like the perfect fit." Fans are excited to watch her journey unfold.
How entertainment helped shape her future
Being in front of a camera for most of her life will certainly help Eden Wood pursue her dreams as a broadcast journalist. Still, there are many other things the entertainment industry has taught her throughout the years that will aid her in the future. From hard call times to rushing from one thing to the next to being a part of a team, Wood has learned responsibility. And from speaking in front of audiences, she's learned confidence, fluency, and eloquence. Eden told Today, "Pageants were just so positive for me. Pageants gave me confidence... It's just like any other sport."
Despite the weird rules TLC stars have to follow, Wood became very self-motivated during and after her time on "Toddlers and Tiaras." She told People in 2021, "Whether it's a test I have to prepare for to keep that 4.0 GPA, a cheer stunt that I have to overcome the fear of doing, or an audition that takes me out of my comfort zone, whatever it is I'll do it to the best of my ability. At the end of the day, I'm a conqueror. No dream or obstacle is too big, and no task is too hard if you're willing to put the work in. I guess I'm a 'gotta make it happen' kind of girl."
All of Eden's hard work has paid off as the 18-year-old gets ready to leave for college. Audiences all over will see her for what she is: brains and beauty.