One Royal Expert Believes Princess Anne Is 'Furious' With Prince Harry (Despite Coronation Closeness)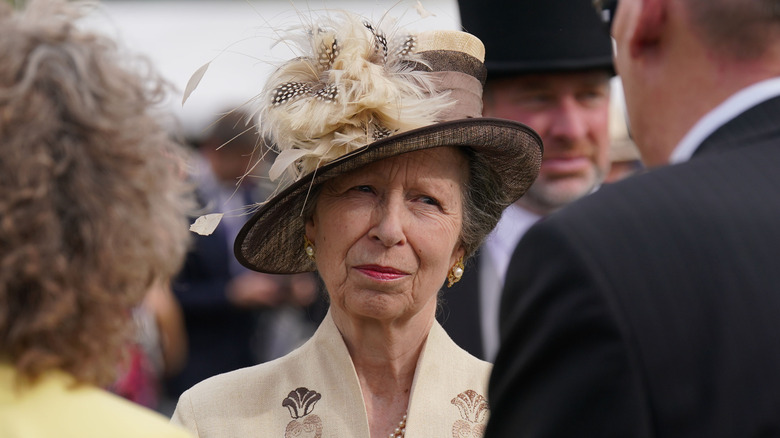 Wpa Pool/Getty Images
It's been several weeks since King Charles' Coronation, but conversations surrounding the notable day are still underway. Given the controversy leading up to it, mainly around Prince Harry and Meghan Markle's ongoing feud with the royal family, there was much speculation about whether The Duke and Duchess of Sussex would attend the ceremony. Though Meghan opted to stay in California with the couple's children and spent the day of the coronation celebrating their son Archie's birthday, Harry did indeed show up to show his support for his father. He didn't participate in the coronation, but some believe the royal family was protecting him. 
That opinion may come as a surprise since the royal family has often been displeased with the Duke of Sussex's media appearances. Between making claims about the racism Meghan faced, stepping away from life as a royal, and releasing both a tell-all memoir "Spare" and an intimate Netflix docuseries "Harry and Meghan," Harry's relationship with his family has been strained. Yet, it appears he does have an ally in Princess Anne. 
The aunt/nephew duo were seen at the coronation having a brief conversation, during which Harry smiled at her. However, a royal expert believes Princess Anne still harbors negative feelings about certain things he has done, especially given how dedicated Anne has always been to her formal role as a working royal.
Why Princess Anne is reportedly upset with Prince Harry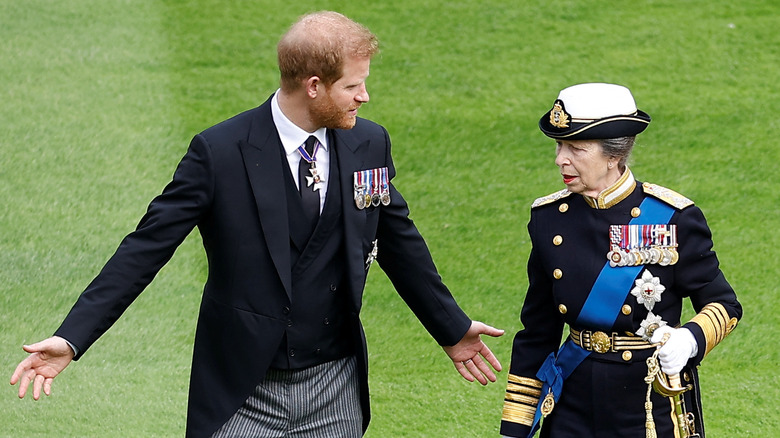 Wpa Pool/Getty Images
Prince Harry has not been shy about sharing what life as a royal was like and provided several startling revelations in his memoir "Spare." He shared various details about his family in the book and even talked about the tense relationship he has with his brother, Prince William, even alleging that the two ended up in a physical altercation at one point. Royal Expert Jonathan Sacerdoti told US Weekly it's not likely the royal family will make many comments about the book because the opposing sides "have two different agendas, and that's why sometimes the royal family probably is willing to ride out a storm if it's not too irrevocably damaging."
According to another royal expert, Jennie Bond, Harry's transparency is one of the reasons Princess Anne is reportedly upset with him. Bond told OK! Magazine that Princess Anne probably didn't want to discuss anything that occurred in the media during the coronation, but that her reservations don't necessarily mean she isn't angry with him. Bond said, "It was better to be amiable, but I am quite sure that deep down Anne has been absolutely furious with Harry for upsetting her mother, his grandmother, so much in her last years."
Princess Anne and Prince Harry have a special bond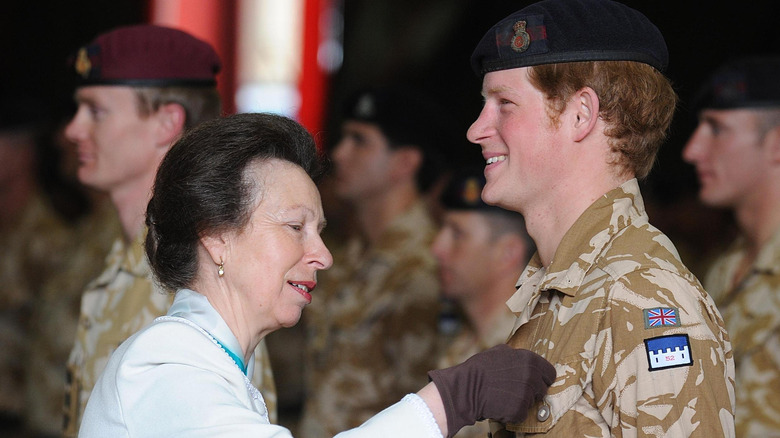 Pool/tim Graham Royal Photos/Getty Images
Princess Anne is the sister of King Charles, making her Prince William and Prince Harry's aunt. Despite everything going on with her youngest nephew, Daily Mail said that she's always been fond of him. This may explain why she chose to be cordial at the coronation despite the possibility she is furious with him. The news outlet also shared that an insider told them, "'The Princess Royal has always had a soft spot for Harry, and they both have a wicked sense of humor. People talk about Prince Andrew being the Spare, but Anne was the second-born too, and particularly since Diana died, has always felt a duty to support her nephew.'"
Anne has been present for major events in Prince Harry's life, such as when she presented him with a medal for his participation in the Afghan war and has been pictured smiling with him several times over the past few years. However, it's too soon to say what will come of Prince Harry's relationship with his aunt, Princess Anne, or if his bonds with the entire royal family can be repaired.