Expert Believes Prince Harry's Small Coronation Role Is Royal Family Protecting Him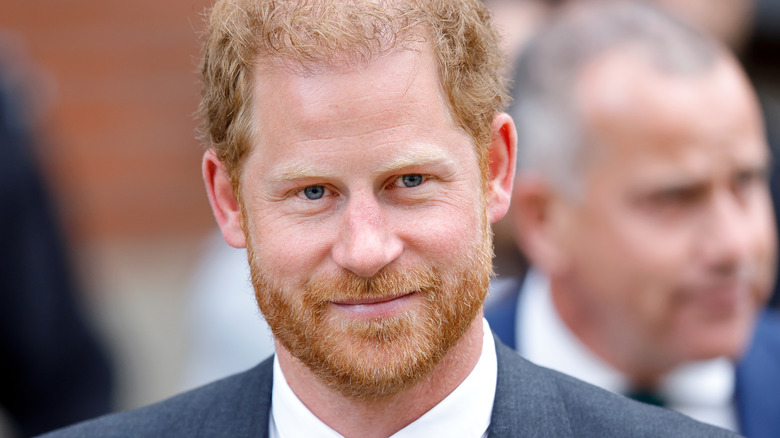 Max Mumby/indigo/Getty Images
As Buckingham Palace prepares for King Charles' May 6, 2023 coronation, many have wondered if Prince Harry, Duke of Sussex, will be one of the ceremony's 2,000 attendees. In early 2020, Harry and his wife, Meghan Markle, announced that they were going to step back from their royal roles. The couple left the UK for California, and a year later, Buckingham Palace revealed that Harry and Meghan had left the royal family for good. In the years since, the Duke and Duchess of Sussex have opened up about their departure, famously in a bombshell interview with Oprah and their Netflix docuseries "Harry & Meghan."
In the latter, the pair explained that they were suffering under the constant media scrutiny they were receiving. Harry and Meghan stated that they felt they had no support or protection from the royal family. They also allege that the royal family leaked information about them to the press and exploited them. Harry discussed these issues further in his 2023 memoir "Spare." Needless to say, the notoriously confidential royal family is less than thrilled that Harry and Meghan have been airing out their dirty laundry. Harry reportedly has a strained relationship with his father and brother, Prince William.
Nevertheless, Buckingham Palace announced shortly before Charles' coronation that Harry was planning to attend his father's big day without Meghan. However, Harry will not have an official role in the coronation.
The royal family is putting Prince Harry's mental health first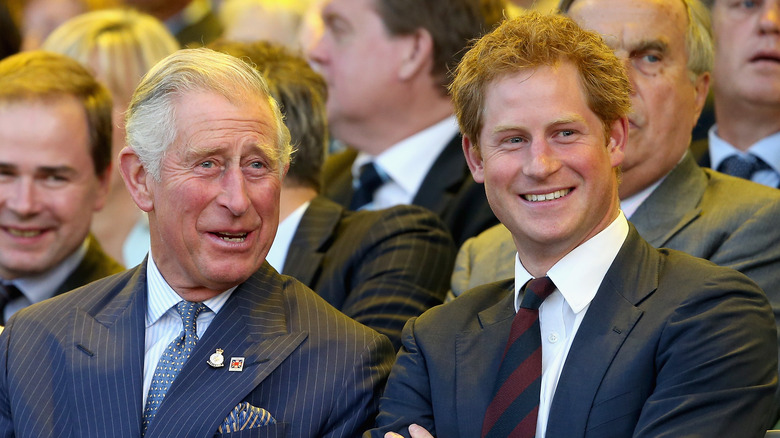 Chris Jackson/Getty Images
Despite the tension between him and the rest of the royal family, reports indicate that Prince Harry had no choice but to attend King Charles' Coronation. A source told People, "At the end of the day, he's going to be there for his dad." Harry's wife, Meghan Markle, and their two children, Archie and Lilibet, will stay in California. While Prince William has a role in the coronation, Harry has been iced out from the ceremony. Royal expert Gareth Russell explained to Us Weekly that this was a commitment to "not to complicate matters further by having him involved ... simply because ... the royals are hoping that they can draw a line under the recent controversy with the Duke of Sussex."
However, others beg to differ from this sentiment. Royal commentator Jonathan Sacerdoti told the Daily Express that this decision was not a snub; it was to shield Harry from the media. Harry has previously discussed how being a royal and a public figure severely affected his mental health for the worse. In "Spare," Harry disclosed that he suffered from agoraphobia and anxiety.
Sacerdoti noted that a lack of a prominent coronation role is to ensure Harry feels at ease. He said, "So it may be that his family do everything they can to protect him from all that as much as possible, by keeping his presence at the Coronation relatively low key. Obviously, there will still be massive public attention focused on him, though."
Prince Harry will leave the coronation early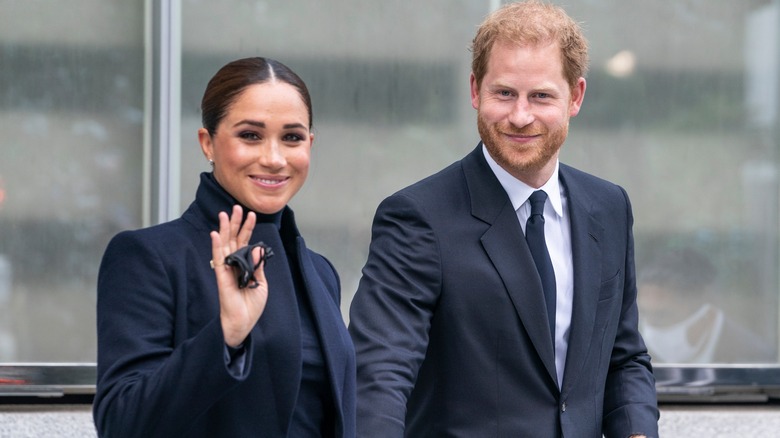 lev radin/Shutterstock
While Meghan Markle did attend Queen Elizabeth II's funeral alongside Prince Harry, King Charles' Coronation was out of the question for the former actor. A source told The Independent that this was not due to any ill feelings for Charles but because of fear of unwanted media attention. Furthermore, May 6 is an important date for Harry and Meghan. The day of Charles' Coronation is also their first child, Archie's fourth birthday. Even so, a source told People that it was important for Harry to be at the coronation. They said, "[H]e will look back on it and think it is better to come and play his part and say, 'I saw my father crowned,' and tell his children about it."
Meghan is reportedly throwing a small family-filled birthday party at her and Harry's California home on the coronation day. That said, Harry will not be sticking around the UK for too long. Harry will only be in his home country for a day to ensure he can have time to celebrate his son's birthday. Festivities for the coronation are set to last all weekend and include a star-studded coronation concert. However, Harry will only be at the coronation ceremony before making the long flight back home.