Wardrobe Essentials That Will Up Your Style Game In Your 40s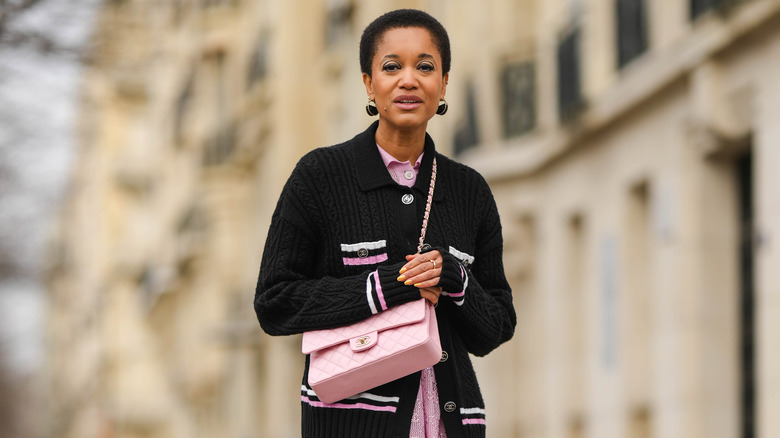 Edward Berthelot/Getty Images
If you're in your 40s and feeling lost style-wise, you're not on your own. As you get older, balancing what you want to wear with what's suited to your body gets trickier, not to mention the fact that current trends mean it can be difficult to find pieces you actually want to wear. You may have clothes for the office or for brunch, but nothing in between. You could also just be feeling like you're stuck in a style rut, an all too common dilemma.
Many women experience perimenopause and menopause in their 40s. Menopause can cause weight gain and a low mood, both of which can also make it trickier to know what to wear and how to feel about certain items of clothing.
Always remember that you should dress how you want to, not how you think you should. If you want to wear a mini dress, go for it. Your outfits should be dictated by your style, not your age. Still, there are some essentials every woman in her 40s should own.
A bra that fits properly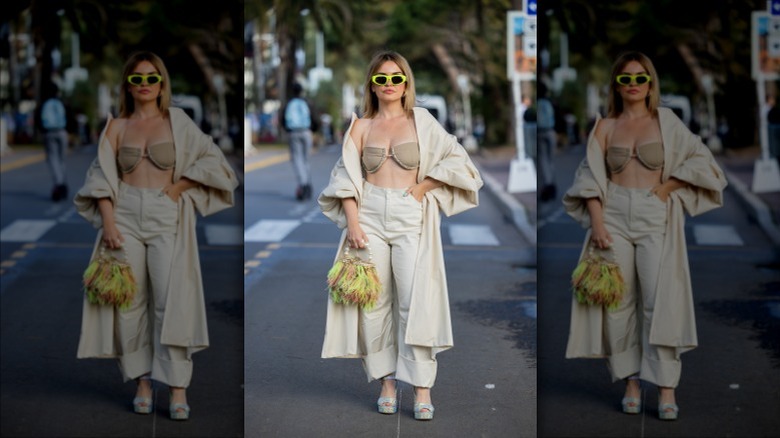 Christian Vierig/Getty Images
Underwear that fits properly is a must-have when you're in your 40s. A dependable bra and cami top will provide a solid foundation for all of your outfits. Plus, a bra that doesn't fit properly could cause issues down the line, like back, neck, and shoulder pain, alongside damaging your ligaments (i.e. accelerating sagging). You can find cami tops with bras built in, but these tops usually aren't catered to larger bust sizes, so stick to a proper bra if you require extra support.
Jeans in a darker wash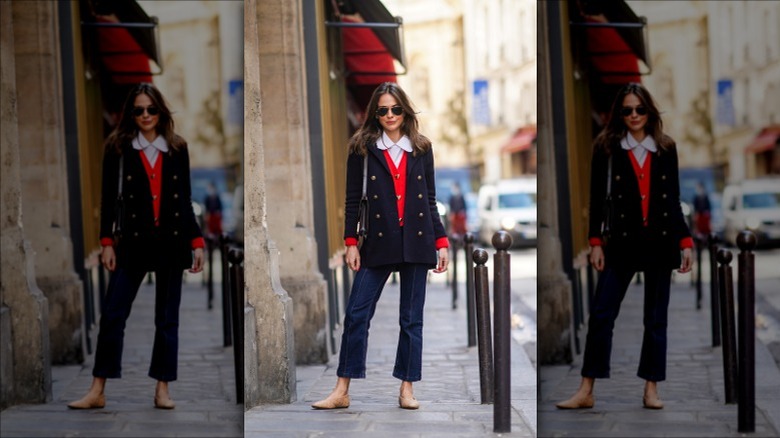 Edward Berthelot/Getty Images
Bleached and light denim is good for spring and summer, but a pair of dark denim jeans can be worn all year round. If you're not a fan of black, indigo washes are a good alternative and will go with lights, darks, and neutrals. Go for a pair of flared jeans if you want to embody the retro resurgence trend or straight-leg jeans for an effortlessly cool vibe. Although they aren't considered as trendy, skinny jeans are a classic shape and will go with basically everything. Try styling yours with a blazer.
A crisp white shirt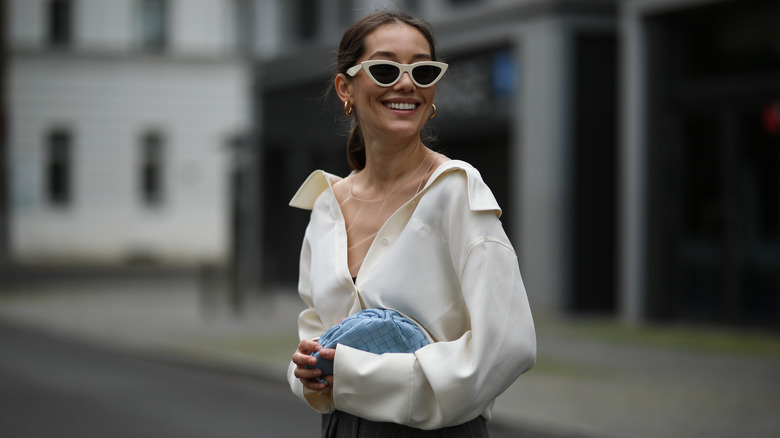 Jeremy Moeller/Getty Images
If there ever was one wardrobe staple, it would be a white button-down. Elegant and full of potential, we recommend looking for a shirt that has a full collar for extra styling versatility. In the summer, wear your white shirt open over a pair of linen pants and a cami top. In colder weather, tuck your shirt into jeans or a midi skirt for a refined look. We recommend always keeping at least one button undone though, as otherwise you run the risk of looking like a waiter. 
A dress you can throw on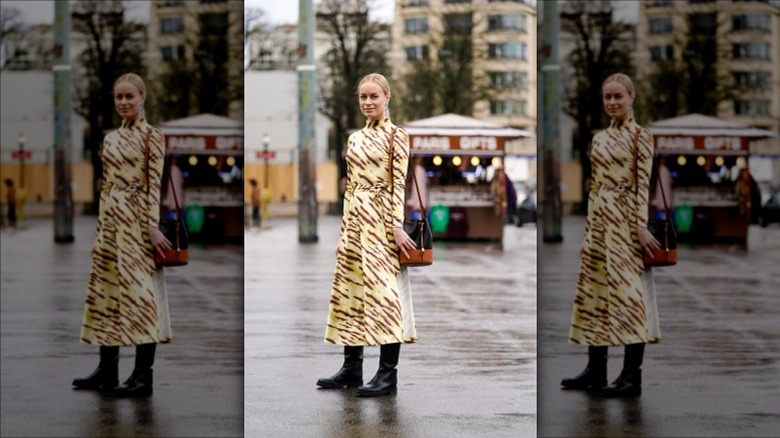 Edward Berthelot/Getty Images
The little black dress can be found in almost every woman's wardrobe, but in your 40s you should have at least one backup. A dress that features an animal print or other pattern is a great option for both casual and dressier events. Any dress or skirt with a floral print is also a solid wardrobe essential. When searching, look for prints that don't need much accessorizing but aren't so outlandish that they won't match other items in your wardrobe. As for length, a midi is endlessly versatile.
A blazer that fits well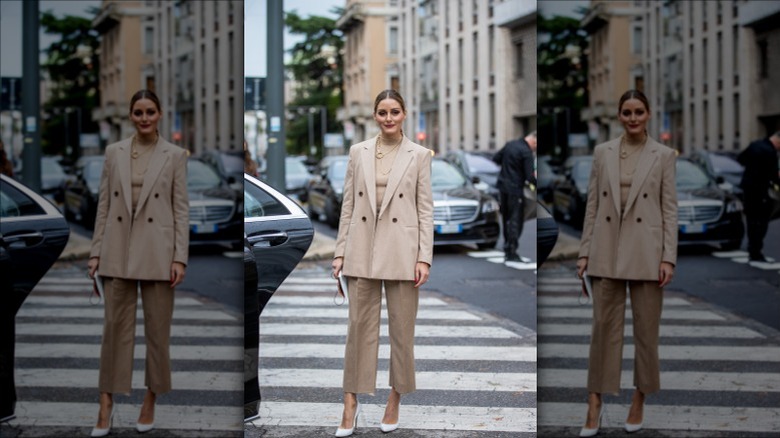 Christian Vierig/Getty Images
A piece for all year round, a tailored blazer goes with basically everything. Tailored doesn't have to mean tight — an oversized blazer can also be tailored without being fitted. A double-breasted blazer will give any outfit a menswear-inspired update, whereas a single lapel blazer can be a better choice for skirt suits or if you plan to style your blazer with jeans. Bonus points if you work in an office, as a blazer is both appropriate for the office and those Friday night drinks after.
An athleisure set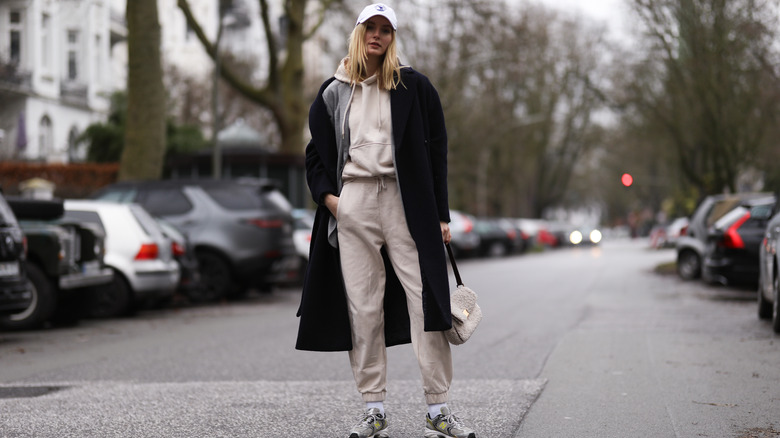 Jeremy Moeller/Getty Images
Whether you go to the gym or not, if you're in your 40s, you should have the perfect lounge outfit in your closet. No longer associated with laziness, a matching sweatshirt and sweatpants set or leggings and a sporty top will give you a curated yet laid-back look. Casual dressing doesn't have to be overly casual, either. Throw a long coat over your sweatpants and top when you're running errands — you'll be surprised at how much more sophisticated your look becomes.
A trench coat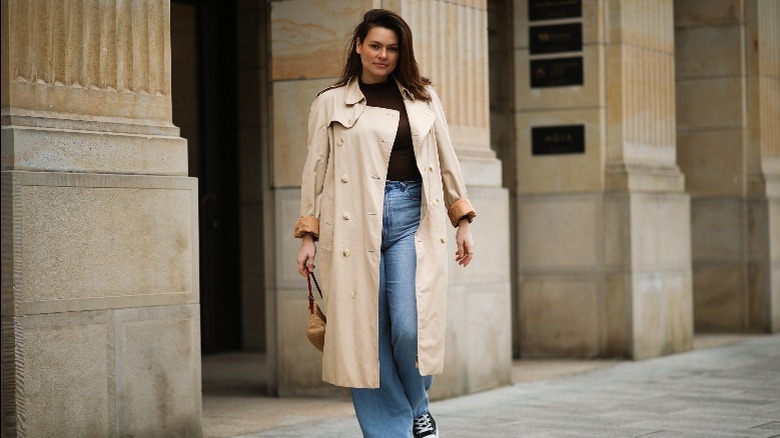 Jeremy Moeller/Getty Images
Trench coats are timelessly elegant and will elevate any outfit. A trench with a fit that's a little oversized is the perfect accompaniment for jeans, dresses, and basically every item in your wardrobe. Plus, a trench is lightweight enough to be worn in warmer weather, making it ideal for transitional seasons. Look for one in a beige or camel shade and get ready to think up endless style combinations.
A leather jacket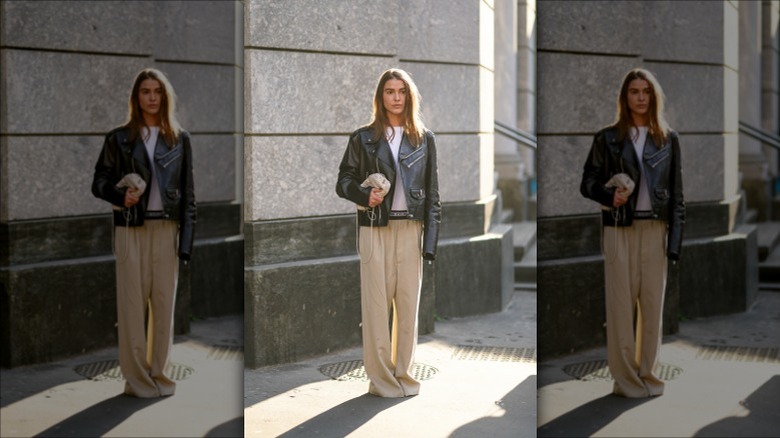 Edward Berthelot/Getty Images
Sometimes you just want an edgier vibe, and a leather jacket is an easy way to achieve this. If real leather isn't your thing, there are so many good vegan options now. Our tip? Choose a jacket that has subtle distressing and a relaxed fit so you always have an effortless aesthetic. A leather jacket also looks incredible with pretty much anything; sweatpants, midi dresses, you name it. A true classic, it's one wardrobe essential that will never go out of style.
A pair of ankle boots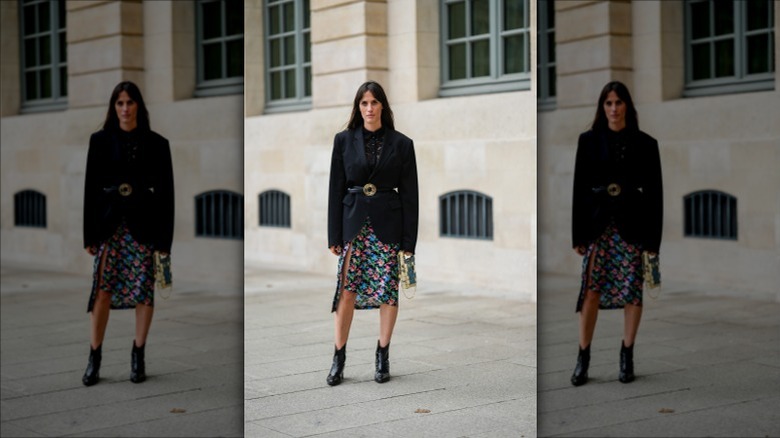 Edward Berthelot/Getty Images
If there's one style of shoe you should buy when you're in your 40s, it's a pair of black ankle boots. You probably already own some, but if not, start looking immediately. Leather boots will see you through thick and thin, but there are plenty of vegan alternatives out there too. Go for boots with a slight heel if you prefer a dressier vibe, or stick to flats for an everyday pair of shoes. Feel like plain boots are too boring? Look for some that have buckle or stud detail to better fit your style.
White sneakers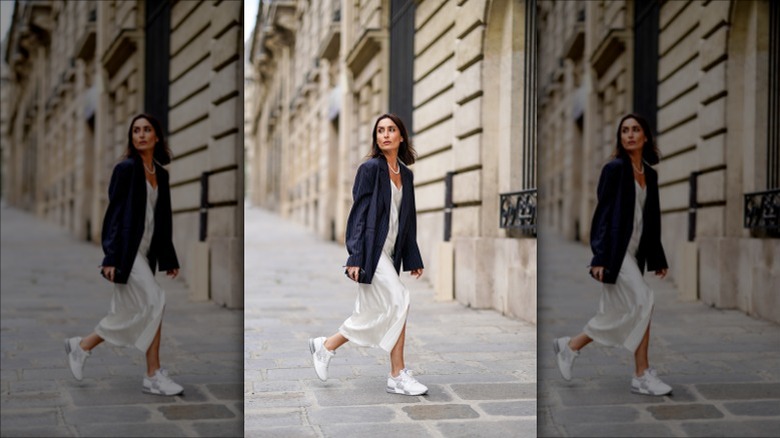 Edward Berthelot/Getty Images
Just like black ankle boots, white sneakers are a shoe you'll be reaching for a lot in your 40s. Featuring a fresher and more contemporary look than more colorful options, white sneakers are the unsung hero of many people's wardrobes. Plus, a lot of athletic shoes now have good arch support so you can stay comfortable even if you're on your feet all day. If you can't resist a pop of color, look for sneakers with an animal print back tab or stripes at the side.
A silk/satin scarf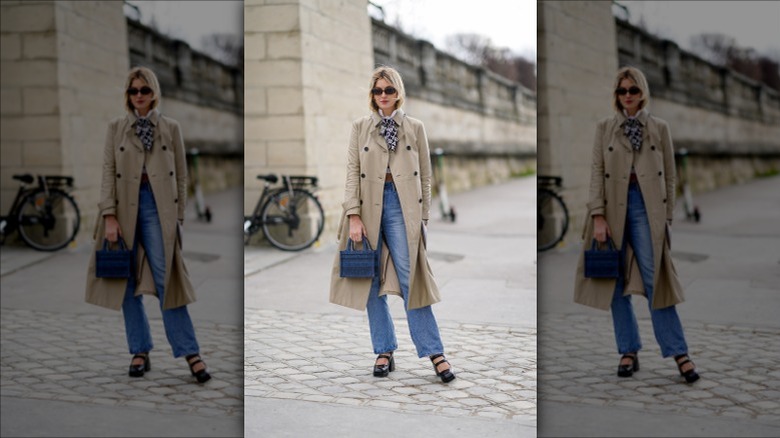 Edward Berthelot/Getty Images
Feel like your outfits are always lacking something? An often-underrated accessory is the humble scarf. No, we don't mean the wool ones you wrap around your neck during winter, but rather those made from silk and satin. As stylist Nicole Vick told Today, "They [scarves] can be worn as headbands/headwraps and around the neck to add a pop of color." Scarves can also add vintage glamour to your look — think Audrey Hepburn, who was often seen wearing a silk scarf both in her movie roles and in real life.
A pair of bold earrings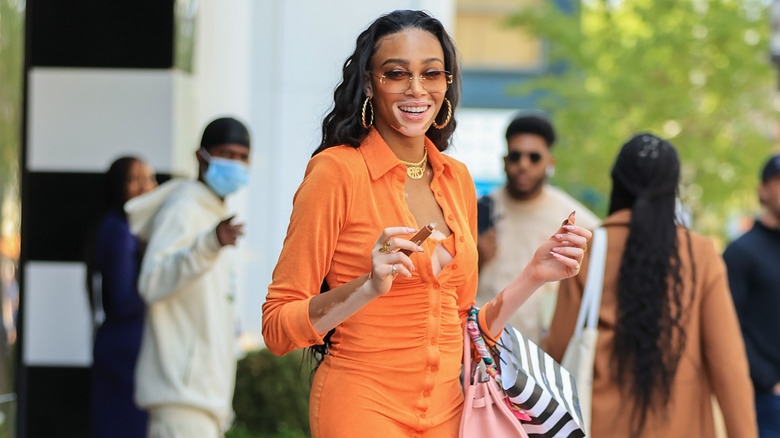 Rachpoot/bauer-griffin/Getty Images
We all have our everyday earrings, usually pearls or small studs. However, in your 40s you should think about investing in a pair of earrings that stand out more than these everyday styles. Think of it this way: a T-shirt and jeans ensemble has the potential to look dull. However, if you add some large hoop earrings to your look, it will instantly appear fresher. These earrings don't have to be large and glitzy, just more eye-catching than your most reached-for pair. If you don't have your ears pierced, swap out the earrings for a statement necklace instead.