The Best Ways To Style Your Favorite Hoop Earrings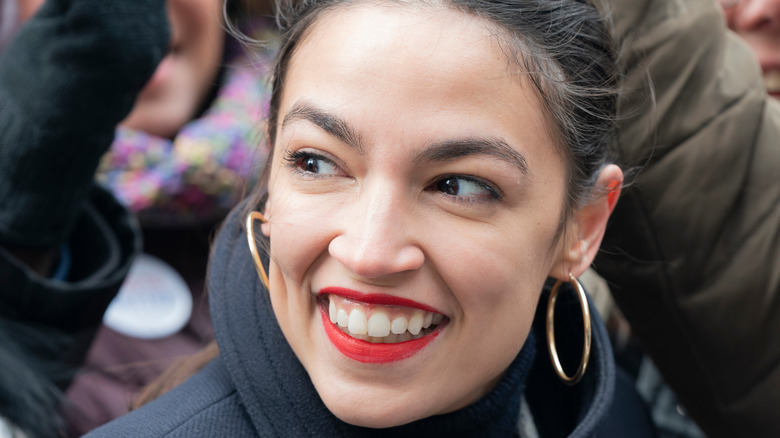 Lev Radin/Shutterstock
While hoops are especially popular now, the history behind the statement earrings dates back to 5000 B.C. (per Jewelry Shopping Guide). Archaeologists have found jade hoop earrings in Southwest and Northeast Asia that are over 7,000 years old, while ancient sculptures of Hindu gods and Buddha are shown to wear hoop earrings. Romani people, whose ancestry traces back to Northern India, similarly loved to wear large hoop earrings with lots of embellishments. It seems hoop earrings were considered to be good luck charms in several ancient Asian cultures.
In ancient Egypt, royal men and women wore large, thick hoop earrings as a display of their wealth, while women also found the look to be fashionable in ancient Rome. This tradition among ancient Egyptians and Romans was believed to have come from the Nubians. Bronze, silver, and gold hoop earrings were excavated from modern-day Sudan, where the Nubian civilization lived around 2500 B.C. (via Jewelry Shopping Guide).
The popularity of hoop earrings in modern culture can be credited to the Black and Latinx communities (per PureWow). By the 1900s, hoop earrings were associated with Native American and Latinx populations. At the time, the traditions from these cultures were seen as "barbaric," and thus hoop earrings weren't seen as appealing. Hoops became a symbol of empowerment in the '60s and '70s, thanks to Black icons like Angela Davis and Donna Summer. Gold and bamboo hoops gained popularity in the '80s and '90s, with celebrities like Salt N Peppa and Sade popularizing the look. Southern California's Mexican-American population, particularly those in the Chola movement, also aided in making these hoops more fashionable. Now, hoop earrings are a commonly-worn accessory that can jazz up any outfit.
Hairstyles that will flatter hoop earrings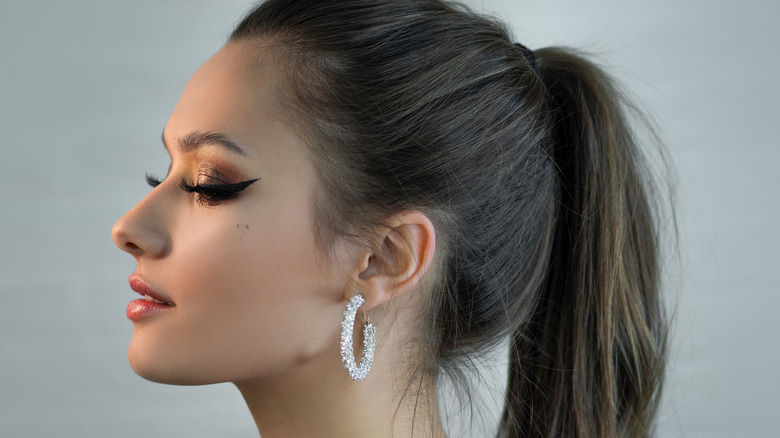 Lia Koltyrina/Shutterstock
Hoop earrings work with a multitude of hairstyles. Of course, the final look you're going for depends on whether you want the hoops to be the star of the show, or whether you want them to simply complement your overall style. If you want to rock a pair of large tube hoop earrings, then look to Alicia Keys for some inspiration (per Byrdie). Keys rocked a flirty, curly updo and a floral satin headband with large gold tube hoop earrings. The key to Keys' look is letting the earrings make the statement. If you have straight hair, you can also try pairing a high bun with diamond-studded hoops for another statement look, or tie your hair back into a high ponytail and wear large hoops for an ultra-chic style (via Jewelry Shopping Guide).
For those who would rather not channel "main character" energy, rocking huggies (mini hoop earrings) with a low ponytail will give a more casual appearance that's still cute. You can also try toning down larger hoop earrings by wearing your hair down, per Fustany. This way, the hoops peer out from under your hair and add just the right amount of drama to your look. Hoops can be especially flattering on those who wear hijabs, as they can help elevate your makeup look. Hey Happiness recommends wearing red lipstick and trying geometric hoops for extra glamor.
Hoop earrings can be the perfect accessory for your outfit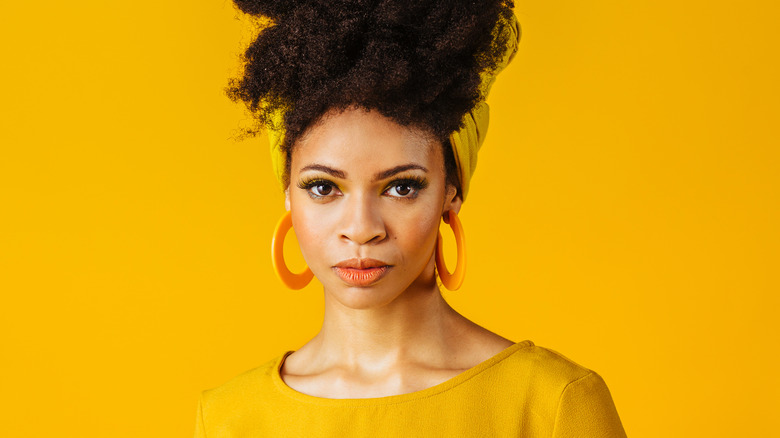 CarlosDavid/Shutterstock
Going for a street-style look is a great way to rock hoops for a girls' day out, per Lady Refines. A newsboy cap and shirtdress or a bucket hat with jeans and a crop top are perfect outfit options to wear with a pair of stylish hoops. If you prefer a romantic look, try pairing a white sundress with pearl-studded hoop earrings. 
Hoops can also be paired with professional workwear. Combining a floral chiffon blouse with chunky medium-sized hoops or a black turtleneck with metallic hoops can easily dress up your outfit for that important meeting. Kalon Jewellery also recommends wearing smaller gold/silver hoops with a power blazer for the ultimate "lady boss" moment. Tortoiseshell hoop earrings can also pair well with neutral work staples, per Harper's Bazaar Singapore.
According to Kalon Jewellery, a white button-down shirt with jeans and gold hoops can jazz up a classic style, while hoop earrings paired with a denim jacket can add some sass to the rugged look. If you have nothing to wear and it's laundry day, try elevating your comfy t-shirt and leggings with a pair of understated hoops for an effortlessly chic appearance. And when it comes time for a special night out, Harper's Bazaar Singapore recommends leaning into the star that you are by rocking large, textured hoops. No matter what look you're going for, hoop earrings are versatile enough to work for any outfit!