Taylor Swift Wanted To Make A Cameo In The Twilight Series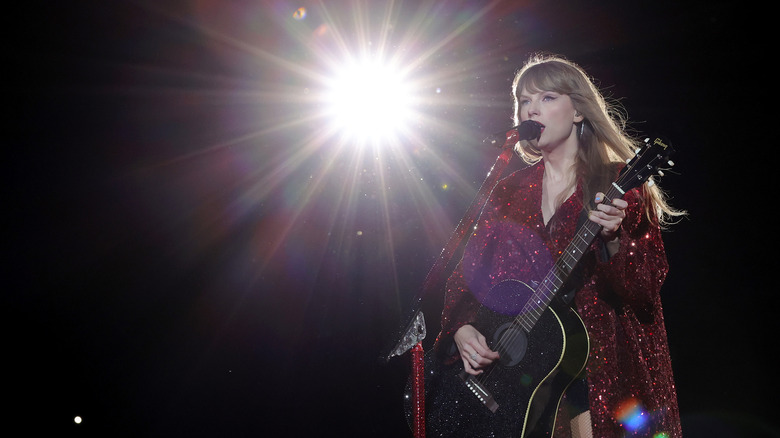 Kevin Mazur/tas23/Getty Images
Taylor Swift is the queen of eras – hence her wildly popular 2023 "Eras" tour that overwhelmed Ticketmaster with a "historically unprecedented demand," per People. The singer-songwriter has evolved her look and sound many times over the course of her ten albums, and seems to be only at the beginning of her career at age 33. While fans may have a favorite era of Taylor, there is no denying that her ability to grow and change has not deterred her millions of beloved listeners from streaming her latest songs — even when she releases her own versions of past albums from years prior.
But the pop star sensation has even more to give fans than award-winning albums and record breaking concert tours. Taylor Swift has proven that she is a true triple threat, able to sing, dance, and act. Fans may recall her taking a trip down to the cinema to see their favorite singer make multiple cameos in live-action and animated feature films. And according to the singer herself, she even missed out on a role in one of the most bloodthirsty romance movie franchises: "Twilight." That's right, T. Swift herself could have been rocking fangs and shimmering skin — if it hadn't been for the movie's director.
Twilight: New Moon director seriously regrets not taking a chance on Taylor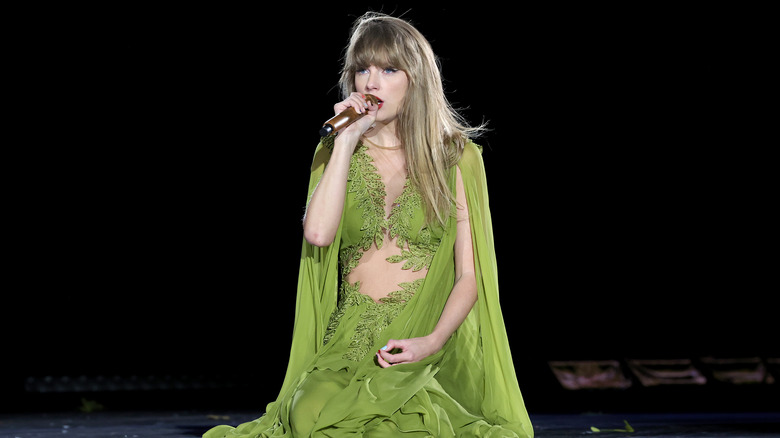 Kevin Mazur/tas23/Getty Images
In true "Eras" tour fashion, let's take a trip down memory lane and remember some of Taylor Swift's lesser known acting roles, starting with the one she totally missed out on. Director of "Twilight: New Moon," Chris Weitz, admitted that it was his decision to opt out of featuring the pop star in the popular vampire romance series' sophomore movie. 
In a podcast interview, he shared that Taylor Swift expressed interest in being involved in the movie in any way, not even asking for a speaking role. According to Weitz, she was a "Twi-Hard" who was being considered as "someone at the cafeteria or the diner or whatever ... she just wants to be in this movie" (via People). Not to mention, Swift was dating one of the movie's stars, Taylor Lautner, at the time. Ultimately, the director decided that showcasing the singer in any way would be too distracting for viewers. He has since expressed regret, considering how cool it would have been to hang out with the one and only Taylor Swift.
Fortunately for Taylor, she has since found her way to the silver screen multiple times, making appearances in large blockbusters like "The Giver" back in 2014. According to The Wrap, she has also lent her voice to roles in "The Lorax" and the infamous dancing feline on two legs, Bombalurina, in the musical "Cats." Most recently, Swift was featured in director David O. Russell's movie "Amsterdam."
You might be surprised that these pop stars also missed out on big movie roles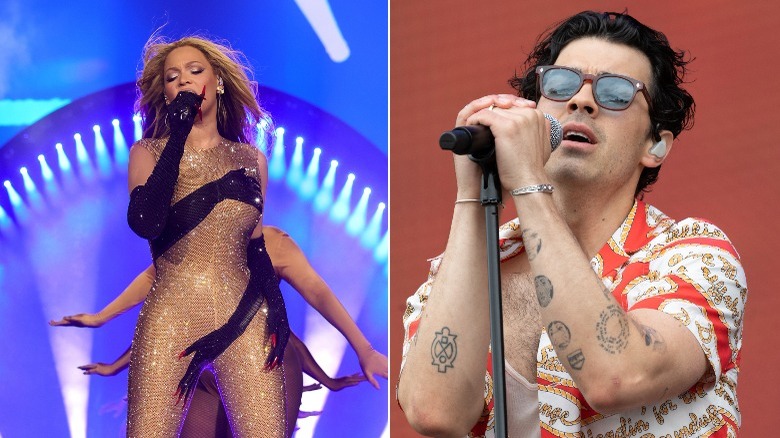 Roberto Ricciuti & Kevin Mazur/Getty
Next time you're feeling down about not getting that promotion or getting ghosted by a guy you really liked, remember that even the biggest stars and most influential people experience rejection constantly. Taylor Swift isn't the only singer who missed out on a big screen role — for decades, casting directors have considered famous musicians and vocalists for big roles that ultimately went to someone else.
Speaking of Taylor, one of her exes missed out on portraying the beloved friendly neighborhood Spider-Man. According to Buzzfeed News, Joe Jonas shared that he "was so, so excited" to be considered for the role back in 2010, which was ultimately portrayed by fellow heartthrob Andrew Garfield. On the "Just For Variety" podcast, the Jonas brother admitted that he was "destroyed" and "defeated" when he heard the news that they were no longer considering him. Luckily, he looks back on it with pride, calling Garfield the "right one" for the role.
Beyonce and Will Smith also missed their chance to bring the remake of "A Star is Born" to life, according to one of the original stars herself, Barbra Streisand. Entertainment Tonight reported that the broadway star rumored this casting pair in multiple interviews. She expressed her excitement about a "different kind of music, integrated actors... I thought that was a great idea." Ultimately, the movie cast Lady Gaga and Bradley Cooper, whose performances both earned Oscar nominations in 2019.