How To Find The Right Shapewear Size For You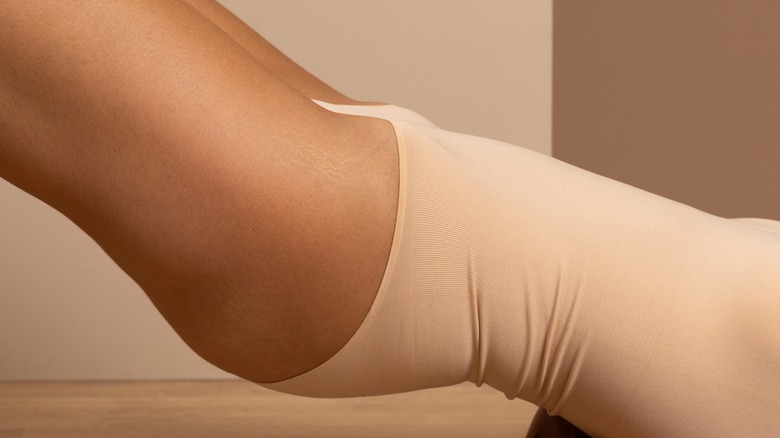 Staras/Getty Images
You may have heard stories of shapewear nightmares. For example, wearing a piece that's too tight for too long and feeling woozy because of it, or having a piece show bulge rather than erase it. Shapewear can be frustrating, but it doesn't have to be.
While it does come in various figure-fitting forms, colors, and sizes, figuring out what style to wear and when to wear it doesn't need to be a complex chore. Rather, it can become a simple task. "I look at it like clothing is the art and Spanx shapers and smoothers are the canvas," Sara Blakely, founder of Spanx, told SELF. "You have to have the right canvas for the painting to turn out!"
Finding your size, measurements, and color can be a fun activity — knowing what specifically to look for makes searching much easier. Whether you're looking for something to smooth things out for a formal dress or something to wear Spanx daily with jeans, there's a piece of shapewear out there. Here's how to discern what's right for fitting you.
Measurements and purpose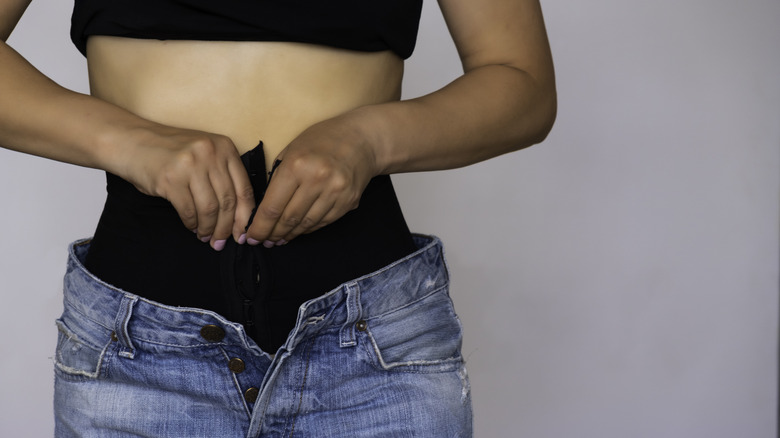 Inessa Bologova/Getty Images
The first step to finding shapewear that comfortably fits your figure is finding out your measurements. Ideally, someone else will take your measurements for you to ensure accuracy. Getting measurements for your breasts for the bust line as well as cup size, waist, and hips will make navigating different brands' fitting guides much easier. A tip for getting proper breasts measurements is to wear a non-padded bra with an underwire. As for measuring your waist and hips, simply taking the measuring tape around them and recording the numbers is sufficient.
After you have your measurements, decide on the shapewear's purpose. Do you want it to smoothen out your figure, help you slim down a size, sculpt, lift certain parts, or increase or decrease volume? There's a shapewear for each of these options. For instance, you can find bodysuits, briefs, corsets, shaping slips, tights, and more that are created to go with different clothing, whether it be dress or pants.
Sizing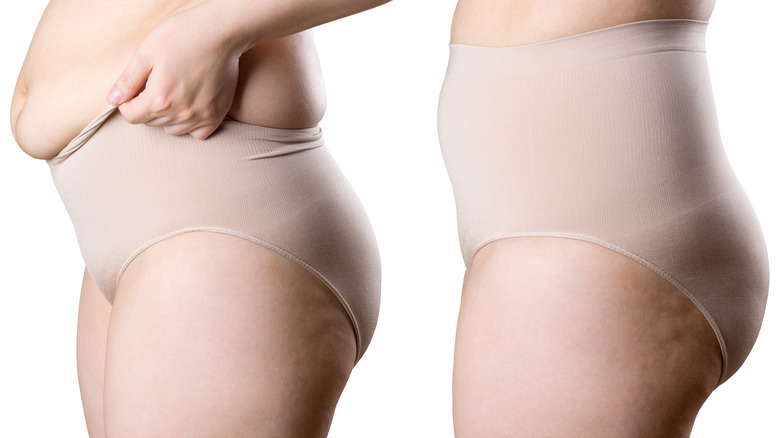 Akitha Linda/Shutterstock
The next step is crucial. Always choose a piece that is your size. Some people will opt to go down a size, thinking it will maximize the sculpting and smoothing abilities. This is a common mistake. Choosing a size too small can result in discomfort and even pain, as well as highlight bulges instead of smoothing them out. Other, more serious health issues like abdominal pain, skin issues, dizziness, and headaches due to decreased oxygen supply can also occur when squeezing into a piece that's too small. Shapewear should be comfortable, not restricting, so sticking to your size is a must.
Since shapewear has become more inclusive over the years, different brands are more likely to accommodate different body types as well. Brands like Skims have sizes ranging from XXS to 5X, Wacoal Visual Effects that has sizes 34C through 40DDD, and Body+ by Julia Haart with sizes from XS to 3X. This variety makes it significantly easier to find a size that fits comfortably while achieving its purpose, regardless of your body size.
Material makes a difference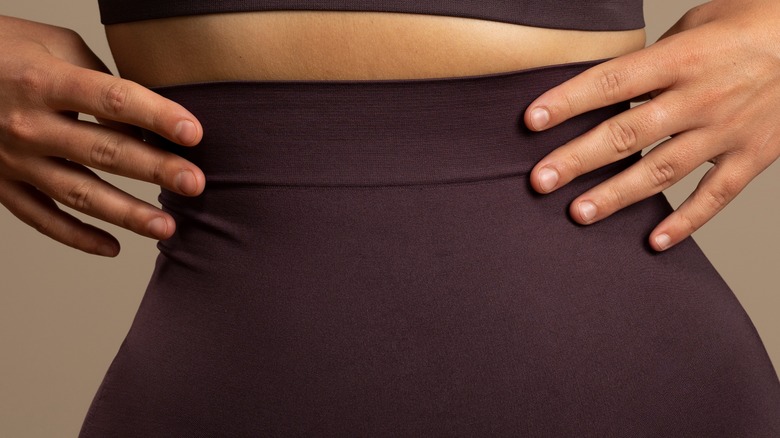 Akitha Linda/Shutterstock
Don't forget to consider the material of your shapewear. This step is often overlooked, and while it's not detrimental if you forget it, it is a detail that can help you achieve the exact fit you're going for. "If you're looking for a super-sculpted effect, look for fabric that has some give, but is fairly low stretch," Honeylove founder Betsie Larkin told Reviewed. "The stretchier the fabric, the more it will move with your body, and the lower the compression level will be."
Most shapewear pieces are made from microfibers mixed with spandex or Lyrca. The microfibers, a combination of nylon and polyester, are soft, meaning they contribute to the feel of the shapewear. The Lyrca and spandex are responsible for the fit and compression components of the shapewear. Looking for shapewear with a higher spandex and Lyrca use for the making of the garment means it will fit tighter because the compression is greater. So, more compression means you may want to size up. 
Style and its impact on shape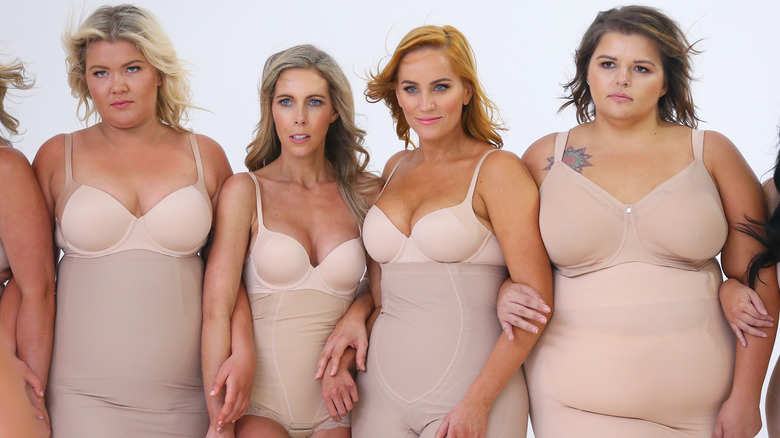 Don Arnold/Getty Images
In addition to thinking about the material, you have to also consider style when picking out the size. You may be a large on bottom and a small on top, so you're not universally the same size for all style types. You can alter your appearance depending on the style, whether it be high waisted shapewear or a bodysuit. Different styles create different outcomes, so you want the right size for the style you're going for.
If you're a fan of pencil skirts or skirts in general, look for butt-lifting shapewear. As for figuring out which design to get, looking for those with an open bottom and waist-slimming effects are your best bet. For tight dresses that emphasize your figure, body shapers and slips are your answer. Look for long pieces of shapewear that go up to your chest. You can also opt for brief bottoms. For tops, be it casual, formal, or professional, waist trainers are the solution for accentuating your curves. For skinny jeans, search for shapewear pantyhose. For low cut jeans, wear a bodysuit. Bodysuits with thong bottoms are great for jumpsuits and tight pants.
Keeping these tips in mind will help you get the best results with your shapewear, and be sure to measure correctly and go off the fitting guide for each style. 
Colors galore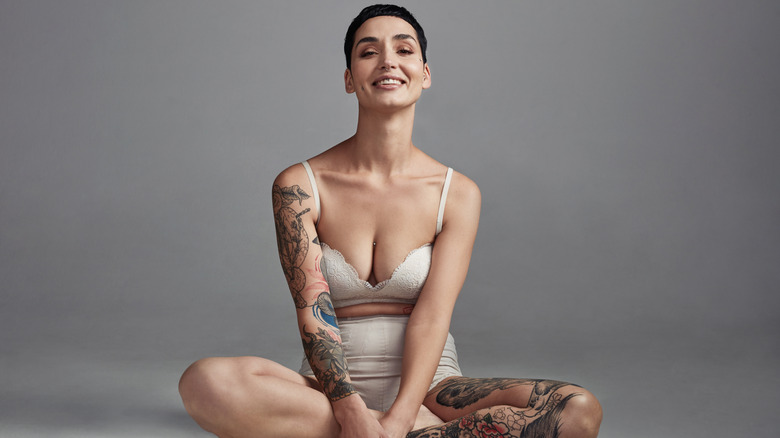 Luminola/Getty Images
We move onto color next. While the shade of your shapewear doesn't necessary matter when picking out the right size, it does make a difference with your outfit. Plus, not every style and size you need may come in the color you want, so it's best to shop around and be mindful of different sizing guides. 
Nowadays, you can choose from a variety of skin-toned colors, black, white, and even colorful and patterned shapewear. Wearing black or darker colors is great for dark-colored clothing, for lighter colors, finding something that matches your skin tone is the better option. "This really depends on the individual," lingerie expert Sharon Bell told Harper's Bazaar. "Nude can be worn under any color, and black under dark colors is always a staple, but there is much more variety in what shades of shapewear you can buy now, so there's more opportunity to match to your dress of choice." 
How you wash shapewear matters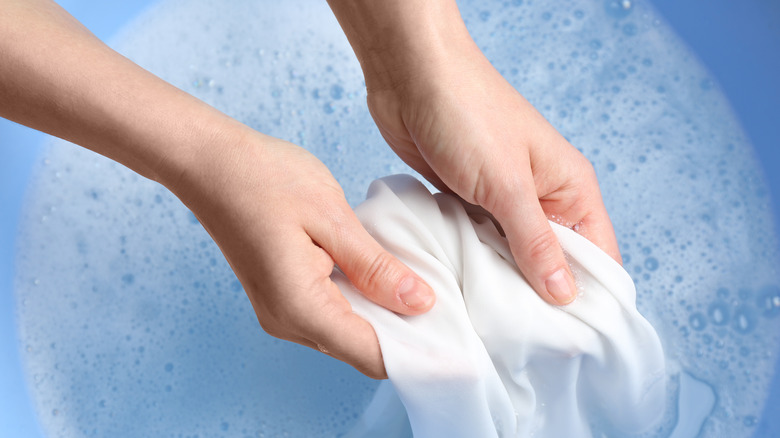 New Africa/Shutterstock
Shapewear is considered an intimate garment, meaning you typically wear them with nothing underneath. This requires them to be washed properly after each use. They're delicate, so it's not as simple as just throwing it in the washing machine with your regular load of clothes. Hand washing with a gentle detergent or even baby shampoo is the best way to prevent decreased elasticity and shrinkage. You don't want to put in all this effort finding the right shapewear size for you, and then ruin it with one wash. 
If you're in a crunch, it's okay to put them in the washing machine as long as it's on the gentle cycle. For extra protection, consider placing them in a mesh bag as well as making sure the clasps are together to avoid any tears. Regardless of your washing method, avoid using hot water. You can use warm water, but if you can tolerate it, hand wash with cold water.
As for drying your shapewear, let it hang and air dry. The drying machine is too harsh for the delicate material and will very likely cause your garment to shrink.