The Strange Way Mark Consuelos Confessed His Love For Kelly Ripa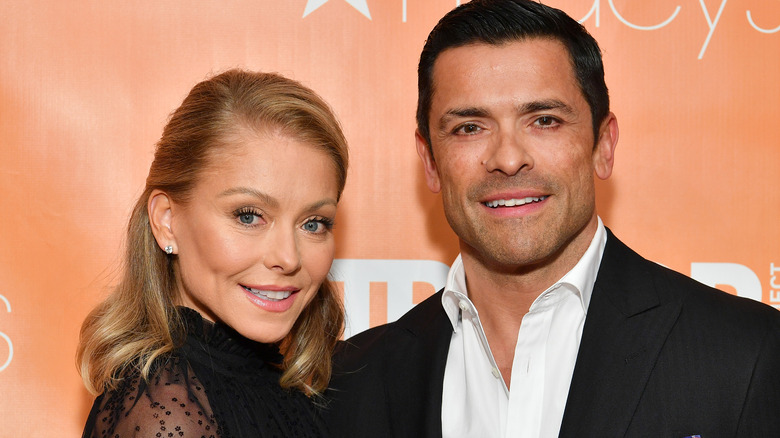 Dia Dipasupil/Getty Images
Unless you're a super fan of the soap opera "All My Children," you may not know the history of the beautiful, talented Kelly Ripa and her handsome hubby, Mark Consuelos, an American actor. The two lovebirds met on the show in 1995, and after working together and playing in love on screen, their love quickly transitioned to real life. The two eloped in 1996 in Las Vegas.
Neither one expected to fall in love and get married, but they began dating quite shortly after Consuelos joined the cast. During an episode of "Radio Andy," Ripa admitted she swooned immediately upon seeing his headshot. "At that point, I was not a hopeless romantic. I never thought about getting married. It never occurred to me that I would grow old with someone ... When I saw him — the photograph of him — I saw my entire future with him flash — I saw it." Consuelos, on the other hand, was more focused on his career going into his first day, but Ripa's charm quickly won him over. And he declared his love to her at the Daytime Emmy's, despite her having another date to the event.  
Mark's declaration of love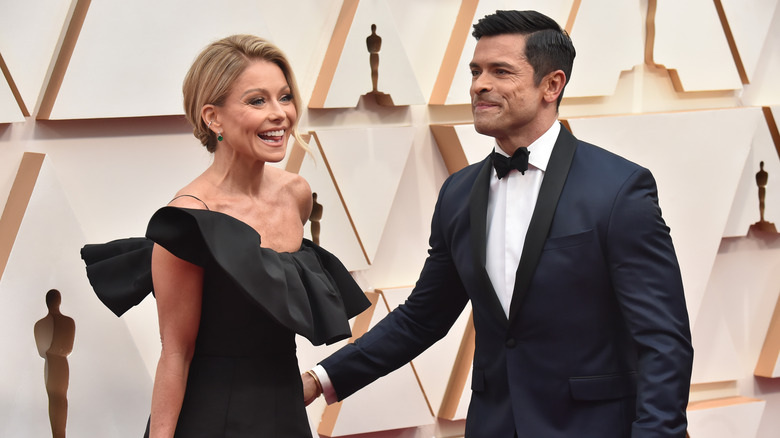 Jeff Kravitz/Getty Images
Consuelos made a bold move at the Daytime Emmy's by walking up to Ripa with a glass of champagne, asking if she'd like another, and then confessing, "I love you," as per Hello! Ripa, of course, was shocked and silenced by this, so Consuelos courageously said it again. His swift charm worked, and they spent the remainder of the night trying to set up Ripa's date to the event with Consuelos' sister, who he brought to accompany him. 
Long before he confessed to Ripa, Consuelos knew he was in love with her. However, he told Hello! the situation was a bit "complicated." Their strong attraction and warm friendship eventually won in the end. When Consuelos first confessed his love, it sealed the deal, leading to their quick elopement. These two stars prove that taking a chance could be worth it in the long run because sometimes you just know. 
How the couple is doing now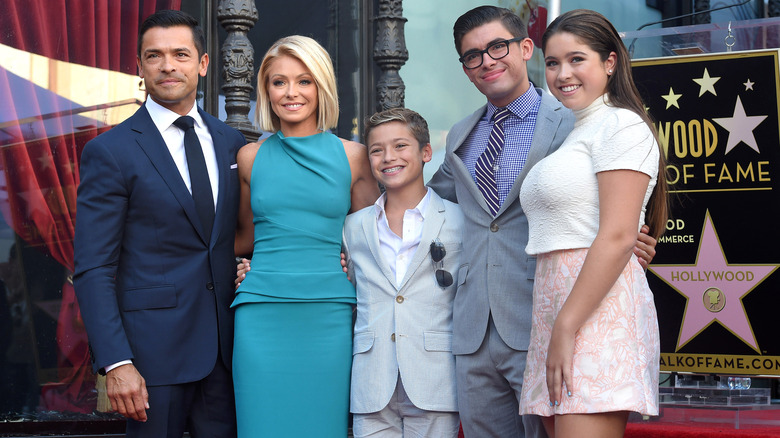 Axelle/bauer-griffin/Getty Images
Fans of the couple are always digging to know the truth about Kelly Ripa and Mark Consuelos' insanely glamorous life. Since their elopement in 1996, Consuelos and Ripa have been happily married. They honeymooned in Rome and Capri to celebrate. And in true Mark and Kelly fashion, they quickly began building a life together. In June 1997, they welcomed their first son, Michael. Their daughter Lola arrived in 2001, and in February 2003, Joaquin came to be their third child. 
Apart from their budding family life, their career has also continued to grow throughout their marriage. In 2007, the two started the production company, Milojo, which was named after their children by using the first two letters of each of their names, from oldest to youngest. Over time, the production company has worked with known networks such as TLC, Logo, and Discovery Channel. Consuelos has also been recognized more because of his work on the popular mystery drama "Riverdale."
Now they're working together again, and Kelly Ripa's Husband, Mark Consuelos, will be her final co-host in their show "Live with Kelly and Mark," a rebranding of "Live with Kelly and Ryan" after Ryan Seacrest decided to leave the show. The first show premiered on April 17th, 2023, and fans can't wait to see more of the happy couple.