Kelly Ripa Once Made An NSFW Mistake On FaceTime With Andy Cohen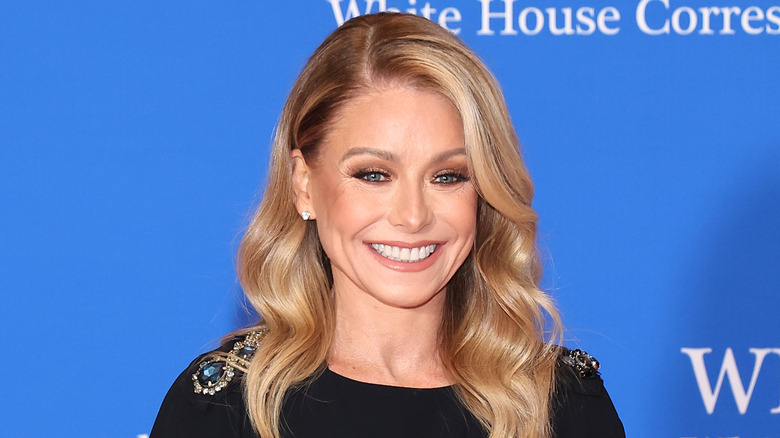 Paul Morigi/Getty Images
Kelly Ripa and her husband Mark Consuelos are now co-hosts on "Live with Kelly and Mark." The pair met in 1995 while starring on "All My Children" — not only did their characters get married, but the two stars ended up tying the knot in real life as well. Nearly 30 years after their first meeting, they're sharing the stage again. Consuelos stepped in as co-host after Ryan Seacrest left, and he's now the fourth co-host to have worked with Ripa on the show.
Ripa has been a staple on "Live" since she replaced Kathie Lee Gifford as co-host to Regis Philbin in 2001. Over her time there, Ripa has often been open with the audience and her fans about her life. While filming the show at home during the coronavirus pandemic, she was honest about the challenges it caused and joked about her gray roots. She also talked about embarrassing her daughter Lola, including sharing a story about how she once walked in on her parents having sex. 
Ripa is also candid with the world about her own mortifying moments — like the time she revealed a little too much of her body to Andy Cohen on FaceTime.
Kelly Ripa left little to the imagination when she answered Andy Cohen's call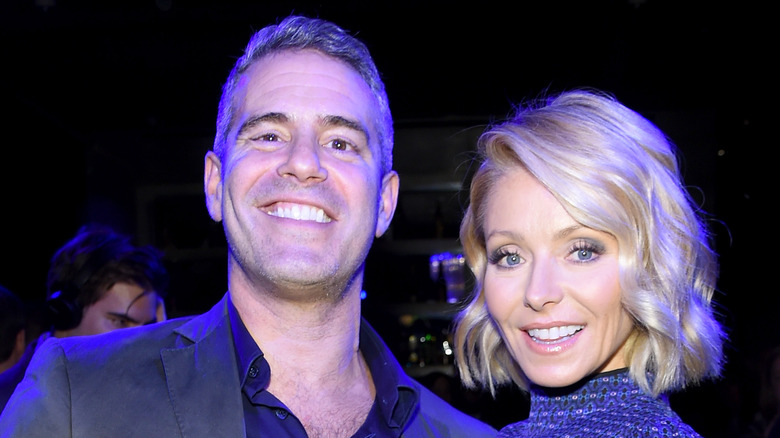 Jamie Mccarthy/Getty Images
Kelly Ripa explained on a 2019 episode of "Live" when Ryan Seacrest was her co-host, how it was that she made a NSFW mistake with Andy Cohen and used it as an example as to why you should give someone a heads up that you're going to FaceTime them. She was at the gym in the changing room, and she saw Cohen was FaceTime-ing her. So she answered, clearly expecting him to be alone. Turns out, he was not. Cohen was checking in with Ripa to get her opinion on a present for her son's birthday from J. Crew. And so the salespeople may have gotten a quick glimpse of Ripa naked. Yikes!
Seacrest's recommendation to help avoid any such FaceTime mishaps in the future was to answer it with your phone angled at the ceiling, find out who all is on the call and where they are, and then bring your face into frame — advice it seems like Ripa could have used and hopefully remembers in the future!
Kelly Ripa and Andy Cohen are good friends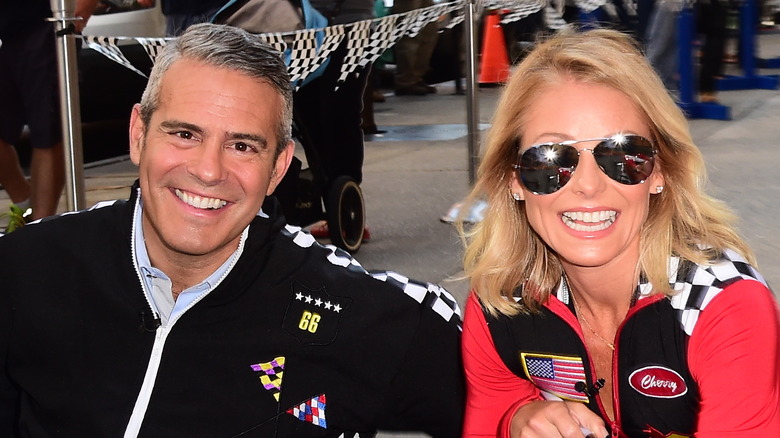 Raymond Hall/Getty Images
If it seems odd that Kelly Ripa answered a FaceTime call while naked, it may help to consider that she and Andy Cohen are close friends — we've got receipts. Cohen described to Access Hollywood how he relies on Ripa as one of his closest friends for parenting advice, with Sarah Jessica Parker also up there on his list of go-to people for tips. Ripa wrote a glowing tribute to Cohen for Variety, saying, "I think the reason TV and radio audiences connect with him is because he is his authentic self and has a blast at that. Andy is the ultimate good-time Charlie; having dinner or drinks with him is like winning the lottery."
And Cohen has come to Ripa's defense recently. There've been some not-so-nice tweets about "Live" since Mark Conseulos has come on as co-host. But Cohen wasn't having any of that, saying on his SiriusXM radio show Andy Cohen Live that the outlets sharing negative things about the show were just "lazy. You're picking your butt trying to come up with something to write about." Clearly, there's nothing but love and support for Ripa and Consuelos when it comes to Cohen.