Swap Out Your Crochet Top With A Fun Sheer Alternative For Summer 2023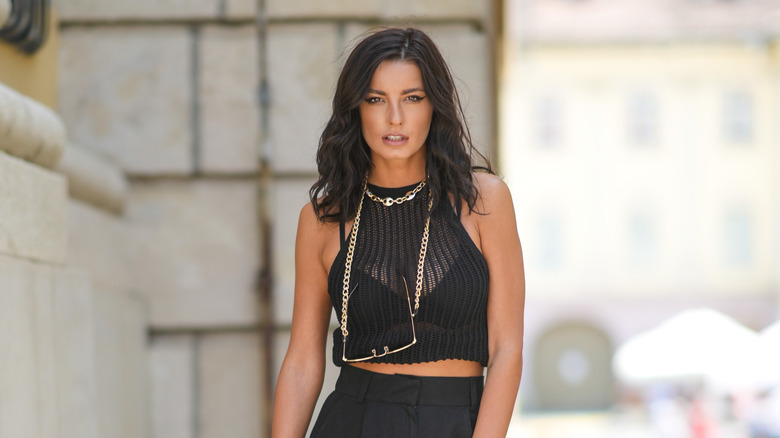 Edward Berthelot/Getty Images
Crochet tops, dresses, and even skirts have been some of the biggest summer staple pieces in recent years, but for summer 2023 it's time to switch things up. The newest item you'll be seeing everywhere soon is sheer knits. We know what you're thinking — on the surface, knits in summer sound a little crazy. However, sheer knits are not the heavyweight fabrics you're imagining but are instead made from finer, partially transparent materials that will lend any outfit an element of sophisticated sexiness. 
Plus, some knits are more see-through than others, so you can pick and choose depending on your comfort level. Sheer clothing is having a major moment, so it makes sense that semi-sheer knits are here. "I think there's a big potential for semi-transparent gauzy knits this summer. It's the perfect compromise for those who felt a little intimidated by engaging in the full-on sheer trend because while your undergarments are visible, it's not completely see-through," opined Indya Brown, market editor at Who What Wear.
Here's how to style the trend and a few of our favorite semi-sheer knit pieces for a little extra inspiration. 
Styling the trend isn't as tricky as you might think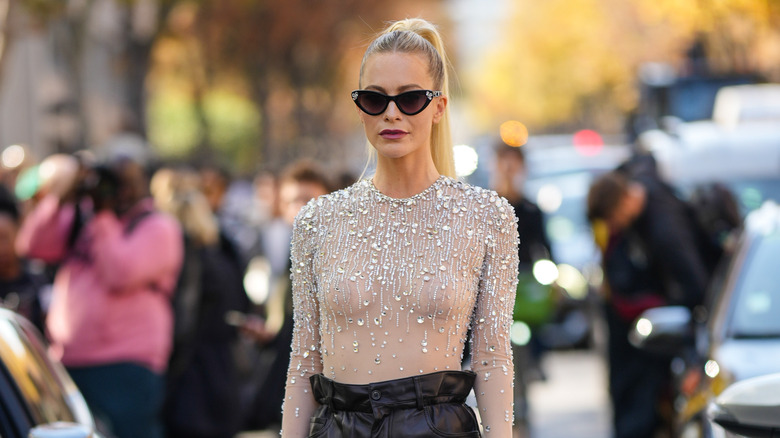 Edward Berthelot/Getty Images
As the sheer trend has been floating around for quite some time, you've probably seen your fair share of sheer items when shopping. However, this version of the trend is focused more on being semi-sheer than fully sheer — you'll definitely still need to wear a bra if you don't want to expose your nipples, but you'll have more coverage than you would with a mesh top, for instance. 
The keyword here is gauzy, and a lot of the knits included in the semi-sheer trend have a shimmering, ephemeral quality to them. We naturally associate flowy clothing with going on vacation. To counteract this, stylist Lizzy Rosenberg told Harper's Bazaar that, "Sheer fabrics are best accompanied by structured design elements." 
It may sound weird, but adding a structured blazer over the top of your knit or pairing it with some tailored cigarette pants is a great way to incorporate the semi-sheer trend into your day-to-day looks rather than exclusively reserving it for holidays. 
Try these semi-sheer picks to hop on the trend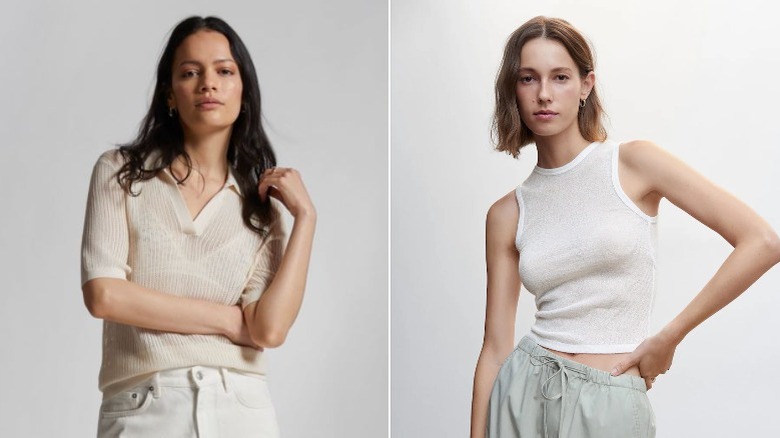 & Other Stories/Mango
There are lots of different ways to style this particular trend, but one of the easiest is with a semi-sheer top. If you want a bit more coverage, opt for a top like this knitted polo shirt from & Other Stories. Available in either cream or a soft, dusty blue, the polo collar lends it some fun, preppy flair. It would look great with an A-line mini skirt and sandals or even linen trousers. 
If you live in a humid climate and are worried about the heat, this sleeveless knitted top from Mango fits the bill perfectly. You can pick from white or pale pink depending on which color better fits your style. Looking for something a little dressier? Also from Mango, this white, long-sleeve knitted sweater with frilled edges is a versatile wardrobe piece that can be dressed up or down.
Though they may seem intimidating, semi-sheer knits are easier to style than you probably realize. Plus, if you really feel self-conscious, you always could layer a semi-sheer knit over the top of your outfit to create a cool, textural look.