Sheer Clothes Are Having A Moment. Here's Why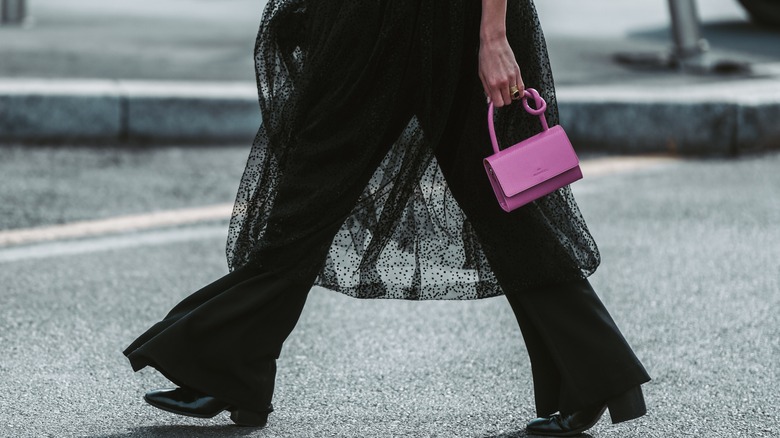 Creative Lab/Shutterstock
Though it may seem wildly impractical, there's no doubt that sheer is back. Sheer clothing, to be exact. Originally a '90s staple, sheer clothing has made a roaring comeback alongside the likes of other '90s fashion trends like platform shoes and cutesy hair accessories. 
According to trend forecaster Jessica Richards, part of the popularity of the sheer trend is due to the fact woman prefer to be "dressing with presence and dressing with empowerment" (via Marie Claire). Richards also notes that many trends such as sheer clothing have come to the forefront in response to "this year's political climate" to "promote a presence that a woman's body is her own and not to be ignored." 
The other potential reason that sheer has a seat at the fashion table is more obvious. Per Vogue, many dresses seen on the SS22 runways were designed to emulate nakedness. Put simply, the trend allows you to be sexy, and that's something a lot of people are drawn to. Either way, now you know why sheer clothes have made a comeback, you can start figuring out how to style the trend.
The sheer trend can be worn in many different ways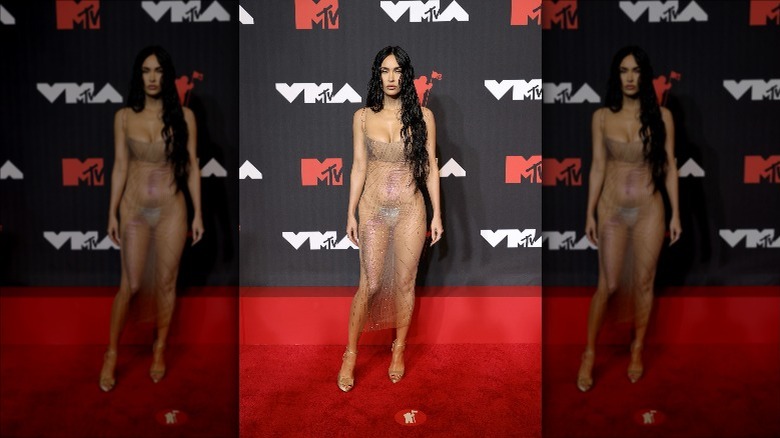 Jamie Mccarthy/Getty
You don't have to be as daring as Megan Fox on the red carpet to experiment with the sheer trend, though sheer dresses are a huge part of the trend in general. You could opt for something more like Zendaya at the 2019 Emmy Awards, where the actress looked stunning in an emerald green gown with a sheer bodice and silky skirt, or embrace gothic glam with a high-neck sheer black number like Vanessa Hudgens at the 2022 Met Gala (via Glamour).
Per L'Officiel, pulling off the sheer dress trend can be less tricky to wear if you change things up a bit. A good tip is to opt for a sheer dress with prints like florals or psychedelic prints on it. By wearing a dress with a print, you can downplay the sexy element (if that's what you're going for) to create a daring yet less in-your-face version of the sheer trend. A good example of this is the funky green ensemble Lizzo posted herself wearing on Instagram, which is sexy yet fun due to the printed aspect.
Sheer pieces can be worn in everyday life, too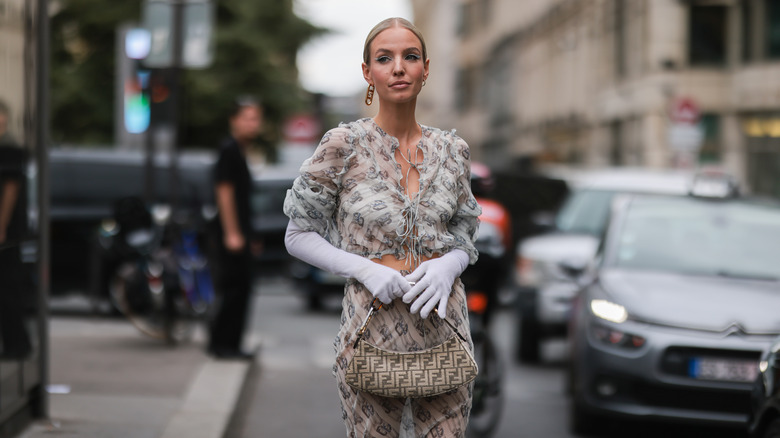 Jeremy Moeller/Getty Images
In terms of street-style sheer clothing, the world is your oyster. Your whole outfit doesn't have to be sheer — instead, as advised by The Zoe Report, pick one element of your outfit to be sheer and work the rest of your look around it. This could be a pretty free-flowing blouse for a romantic look, or a tight mesh top over a sports bra for an edgier one. A sheer shirt is also a good way to show off a piece of lingerie in a more socially acceptable way, much like Vanessa Hudgens did with her sheer trench coat and bra look.
Per Harper's Bazaar, another easier way to wear the sheer trend is to match colors together. Like Victoria Beckham, wearing a pastel sheer shirt with matching pastel-hued trousers will tie your look together and exude elegance. If you plan to wear a sheer dress, matching your shoes or handbag will have a similar effect. Silhouettes are key, too. An oversized sheer shirt, dress, or top will look inherently less sexy than a fitted item, so keep this in mind when deciding how to style the sheer clothing trend.