Scarlett Johansson And Elizabeth Olsen's Friendship Is All About Supporting Each Other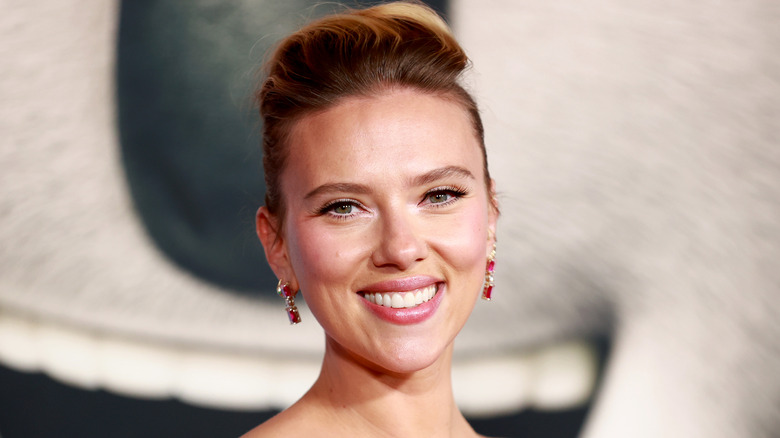 Matt Winkelmeyer/Getty Images
Over the years, the Marvel Cinematic Universe has given us a lot to love. We've witnessed intense fight scenes and surprising collaborations, jaw-dropping plot twists, and met numerous unique characters along the way too. But none of that would've been possible without the talented actors that bring these heroes to life. And given how genuine their on-screen connections seem to be, it's no wonder that many of them have formed real-life bonds too.
"Black Widow" star Scarlett Johansson has a long-time friendship with Chris Evans (AKA Captain America). In a Playboy interview, Evans gushed, "I love that girl, man," adding, "She's like my sister. She's just one of the smartest people I know. It's great when someone with a razor-sharp intellect wants to have fun," (via OK! magazine). Another Marvel leading lady, Elizabeth Olsen (AKA Scarlet Witch), has formed a great bond with her "WandaVision" co-star, Paul Bettany. 
Olsen told E! News that the two have similar work ethics and noted, "Trust is important in those moments, and you know having the guts to maybe fail and feel safe when you know you're working with someone, and so we really enjoyed that experience together." Bettany confirmed Olsen's readiness to take on every scene, too. Similarly, two of Marvel's most popular actors, Johansson and Olsen, are also friends off-screen.
Scarlett Johansson was in awe of Elizabeth Olsen's acting abilities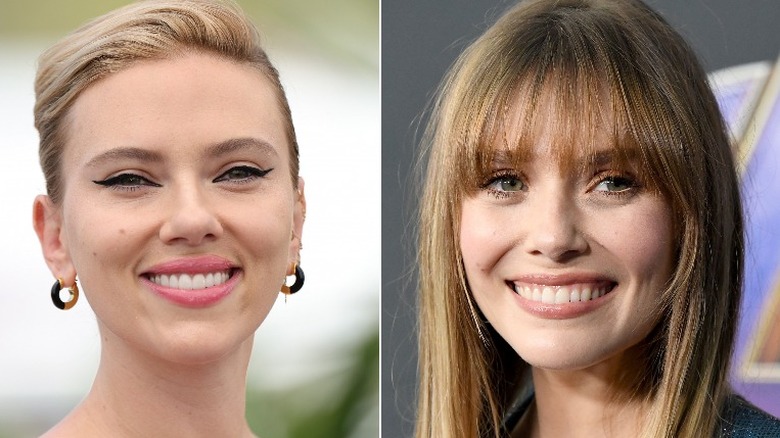 Andreas Rentz/Steve Granitz/Getty Images
Although the current MCU is full of strong female characters, things weren't great initially. During the first phase, there were just two female characters in the spotlight; Maria Hill, played by Cobie Smulders, and Scarlett Johansson's Black Widow. But Elizabeth's Olsen entry into the MCU tipped the scales in favor of female representation. In an interview on Sirius XM, Johansson spoke about how Olsen's arrival changed everything: "It was so great when Lizzie came on because, you know, we had Colbie. It was basically the two of us kind of holding down the fort. And then when Lizzie came on it semi-balanced out." 
She continued, "It was very heavy on the testosterone for a very long time, and now has, like, calibrated." Johansson also said that Olsen was a hilarious person with a great sense of humor. Similar to Paul Bettany, Johansson confirmed that Olsen was a total professional who got along with everybody and was just as much fun to be around off-screen as on.
Johansson also spoke highly of Olsen's acting abilities, sharing, "What she was doing was so hard. Even the physicality of what she was doing was so hard that I would work with her, and I was amazed at what she was creating out of nothing. ... Her character has such a sensuality to her, and she has such a passion... I was amazed by it. It put me to shame."
Elizabeth Olsen wasn't too afraid to speak up for Scarlett Johansson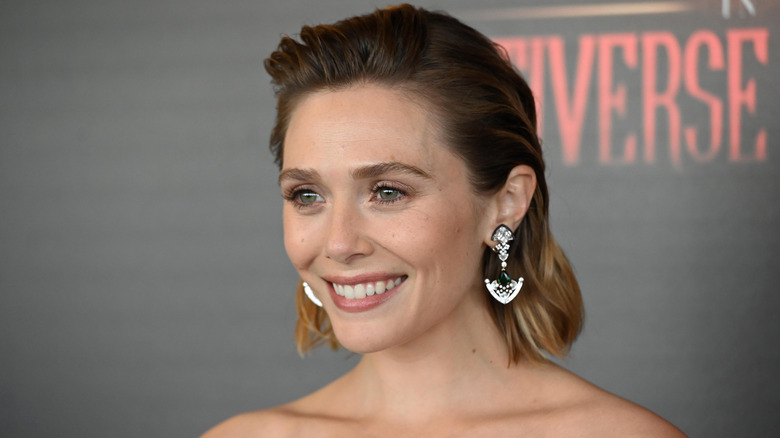 Noam Galai/Getty Images
After playing one of the most prominent characters in the MCU for over a decade, Scarlett Johansson filed a lawsuit against Disney in 2021 over the release of "Black Widow." According to her contract, Johansson was entitled to receive a cut of the box office earnings from the film. But due to the pandemic, the flick was released on Disney+ and theaters simultaneously, resulting in a significantly smaller paycheck for Johansson.
Disney responded with a statement that labeled the lawsuit meritless and "especially sad and distressing in its callous disregard for the horrific and prolonged global effects of the COVID-19 pandemic," per The Hollywood Reporter. It was quite disheartening to see most of Johansson's co-stars remaining silent on the matter — especially the men — but Elizabeth Olsen definitely wasn't one of them.
While speaking to Vanity Fair, she supported her by asserting, "I think she's so tough, and literally when I read that I was like, 'Good for you Scarlett.'" Olsen added, "When it comes to actors and their earnings, I mean, that's just all contracts, so it's either in the contract or it's not." Even though the lawsuit was settled in September 2021, Johansson confirmed that she has no plans to return for a Marvel movie in the near future.