Al Pacino And Noor Alfallah's Relationship Timeline (Including Their Surprise Baby News)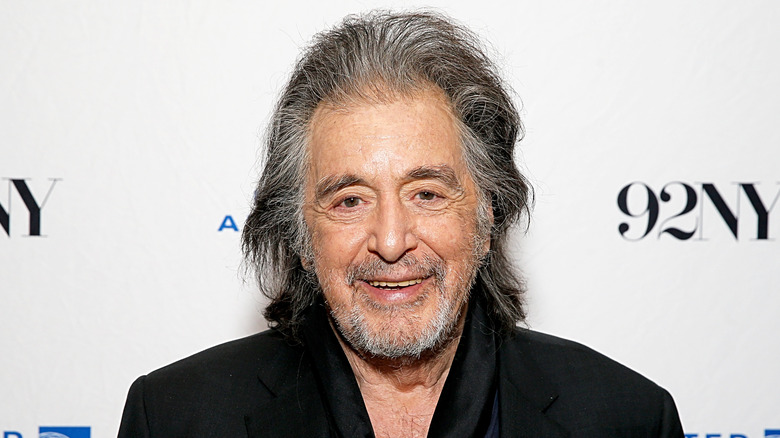 Dominik Bindl/Getty Images
Most of us know Al Pacino from his iconic work in "The Godfather," but he's about to be a father again at the ripe old age of 83. It's been reported that the actor and his 29-year-old partner, Noor Alfallah, are expecting a baby together. While this is Alfallah's first child, it will be Pacino's fourth. Pacino has two children with actor Beverly D'Angelo, and one with ex-girlfriend Jan Tarrant. 
In 2014, the Academy Award winner opened up to The New Yorker about his role as a father, explaining that his father left him and his mother when he was only two years old. "It's the missing link, so to speak," he said of his dad. "Having children has helped a lot. I consciously knew that I didn't want to be like my dad. I wanted to be there. I have three children. I'm responsible to them. I'm a part of their life. When I'm not, it's upsetting to me and to them." 
Apparently, Pacino likes being a dad so much that he's ready to do it all over again, in spite of his age. Notably, his friend and "Godfather" costar, Robert De Niro, just welcomed his seventh kid at the age of 79, proving that age is just a number ... if you're a male celebrity, that is.
Inside Al Pacino and Noor Alfallah's unlikely romance
While the news of Al Pacino's baby-to-be is just now breaking publicly, it's not exactly a brand new development. His partner, Noor Alfallah, is already eight months pregnant. A source close to the couple told Page Six, "Pacino and Noor started seeing each other during the pandemic. She mostly dates very rich older men, she was with Mick Jagger for a while, and then she dated Nicholas Berggruen. She has been with Al for some time and they get on very well. The age gap doesn't seem to be a problem, even though he is older than her father. She moves with the wealthy jet-set crowd, and she comes from a family with money."
This relationship came after Pacino's string of much younger girlfriends and Alfallah's string of much older boyfriends, so in an unexpected way, the parents-to-be are a perfect match. It was first rumored that the two were an item in April 2022, when the pair was photographed out to dinner. 
Despite his children and high profile relationships, Pacino has never been married. Back in 2015, he told the Boston Herald, "Of course it's possible [I'll get married]. It seems beside the point, though. I have no idea, but I never say never." For now, it seems that being a dad will be at the top of his priority list.