Meet Robert De Niro's Seven Kids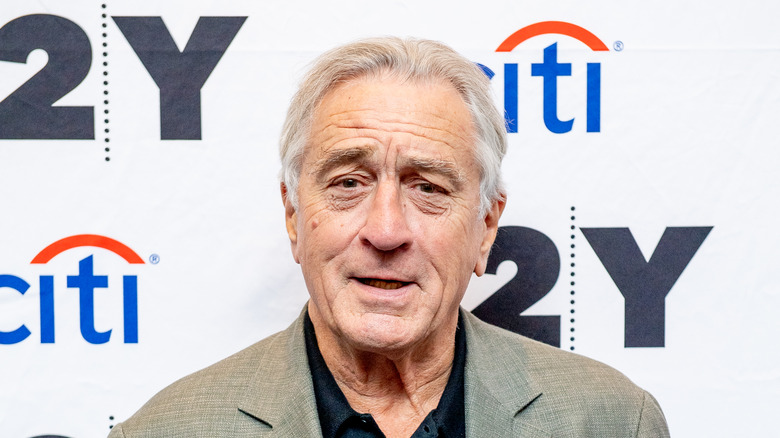 Roy Rochlin/Getty Images
Arguably one of the greatest actors of all time, Robert De Niro has been acting since the '60s, winning several awards. He rose to fame primarily through playing gangsters and tough guys in multiple movies. From "Cape Fear" to "Heat," and "Taxi Driver" to "Raging Bull," fans know him to take on no-nonsense characters, and he often maintains a similar persona off-screen. For those who have seen "Meet the Parents," it's easy to imagine what De Niro would be like as an overprotective father meeting his kids' significant others. But in reality, this would probably be too exhausting of an act to keep up because he has tons of children to look out for.
There are many celebrities who have more kids than you'd think, but De Niro nearly topped the chart when, at nearly 80 years old, he announced his seventh child was born in April 2023. The arrival of his newborn created a media frenzy, and everyone has been desperate to find out more about the children De Niro shares with four different women. He may maintain a fairly private personal life, but he's passed his talent on to many of his sons and daughters who have made names for themselves. So, let's address this hot topic and meet De Niro's seven kids.
Drena De Niro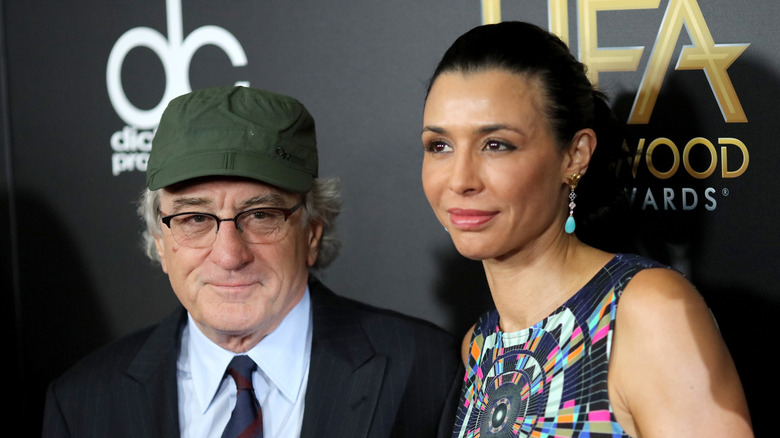 Mark Davis/Getty Images
Before actress Diahnne Abbott got with Robert De Niro, she had a daughter named Drena with her husband on September 3, 1971. Diahnne's marriage ended in divorce, but 1976 proved to be a great year for her; she married De Niro, was featured in her first film, "Taxi Driver," and her new husband adopted Drena, who never knew her biological father and was happy to take De Niro's last name. They were a happy family until 1988 when Abbott and De Niro divorced, but Drena stayed close to the actor nonetheless.
Drena welcomed a son in 2003, Leandro De Niro Rodriguez, with her boyfriend at the time, artist Carlos Rodriguez. The couple split, but Drena seems close with her son, who appeared in her Instagram post on Mother's Day.
As De Niro's adopted daughter, Drena practically grew up in the movie industry. In a since-deleted interview with Avenue magazine, she described the time she spent in Italy when De Niro was filming "The Godfather II." She remarked, "They were very happy years in my life. There was a lot of traveling, and, for a young kid, it definitely implanted a comfort and a love of travel." And there's no denying that it was De Niro who helped her when she decided to break into acting herself in 1996, as she told People in a 2002 interview, "In my family, it would have been stranger if I had said I wanted to go to med school."
Drena De Niro is an actress, model, and producer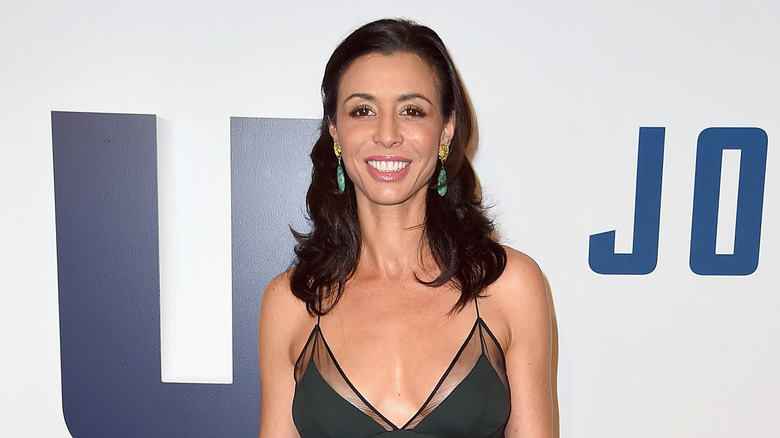 Nicholas Hunt/Getty Images
After a childhood immersed in the entertainment industry, Drena De Niro said she has always had the drive to become involved in a creative field herself. And that's exactly what she did, beginning work as a DJ at clubs and runway shows, as well as modeling for Emporio Armani. Drena also broke into acting, writing, directing, and producing. In 2001, she wrote, directed, and produced a PBS documentary called "Girls and Dolls."
On the "Hardcore Italians" podcast, Drena spoke about how her upbringing influenced the career she has today. "Sometimes I feel like when you grow up in this artistic background, you kind of become like a jack of all trades within the ... performing arts," she said. "Because I was around music, I was around actors, I was around acting and plays, so I was always kind of ... expressing myself." Today, Drena continues to act, having appeared in "A Star Is Born" and the TV miniseries "When They See Us."
Raphael De Niro
Jason Binn/Getty Images
While Robert De Niro and Diahnne Abbott were still together, they welcomed a son, Raphael De Niro, on November 9, 1976. He was less than 2 years old when De Niro and Abbott split, but he luckily had his older sister Drena to lean on. Unlike his parents and sister, Raphael has been less of a fixture in the spotlight, but of course, the press has always been quick to update us on his love life.
In 2008, he married Claudine De Mato in the Bahamas, and the couple had three children. Ultimately, their relationship didn't last, as Raphael and De Mato split up in 2015. He was head over heels again just a couple of years later, with stylist Hannah Carnes. In 2017, a source told Page Six, "Raphael has been lying low since he separated with his wife two years ago. But he recently filed for divorce and started dating again." After making their first appearance together at Raphael's father's movie premiere, the couple dated until March 2020, when they got married. The couple ended up bumping the original April date due to the pandemic and concerns over the impending lockdown orders.
Raphael De Niro is a real estate broker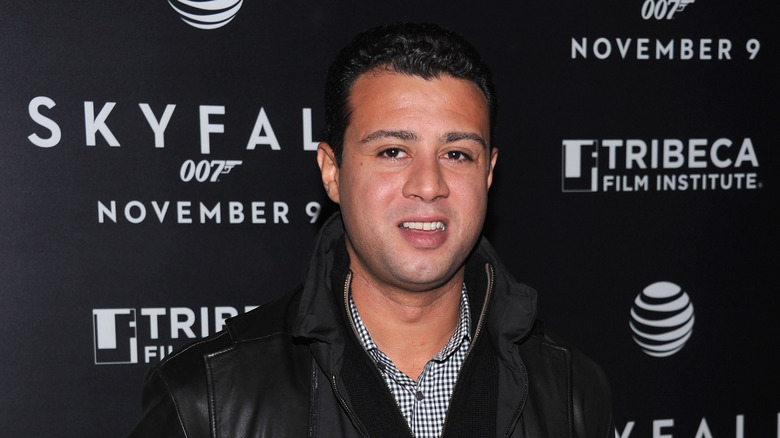 Dimitrios Kambouris/Getty Images
Raphael De Niro may not have followed his parents and sister into Hollywood with the hopes of starring in his own flicks, but that doesn't mean he hasn't established a lavish life for himself. He instead has become a real estate broker in New York City, working for real estate firm Douglas Elliman and establishing the De Niro team. On Raphael's website, he claims that his team brings in an average of $250 million in sales annually and that some of his clients have included Kelly Ripa and Renee Zellweger. He is also a partner at the Greenwich Hotel in Tribeca, which is owned by Robert De Niro.
A source for Page Six told the outlet, "Raphael doesn't like the spotlight. The producers of 'Million Dollar Listing New York' called a couple of times, but he won't even return their calls." It's possible that Raphael had enough of the limelight as he was growing up and, having found his calling in real estate, prefers to rely on his skills to garner success, rather than his name. The source added, "Like father, like son. He works 24/7."
Julian De Niro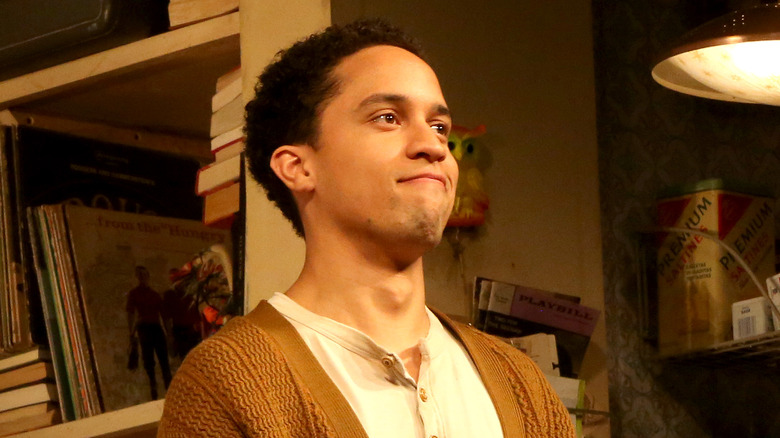 Bruce Glikas/Getty Images
With Robert De Niro and Diahnne Abbott's relationship over after 12 years of marriage, De Niro began dating Toukie Smith. She is a former actress and model who appeared in a handful of shows and movies in the late '80s and '90s, including "227" and "Goosed." Before she and the actor broke up in late 1995 after eight years together, the couple had twin boys on October 20, 1995. Julian De Niro and his brother were conceived via in vitro fertilization, then carried and delivered by a surrogate.
Julian has made his education a priority, first studying drama as an undergraduate at NYU and the Lee Strasberg Theatre and Film Institute. He also double majored in math and computer science and is getting his master's from NYU Courant in computer science. On top of his book smarts, Julian has creativity in his veins. Reportedly, his middle name, Henry, even came from his paternal grandfather, Robert Henry De Niro Sr., who was an artist and an important influence in Robert De Niro's life. Truly, Julian was destined for a life of performance from the start.
Julian De Niro is following in his father's footsteps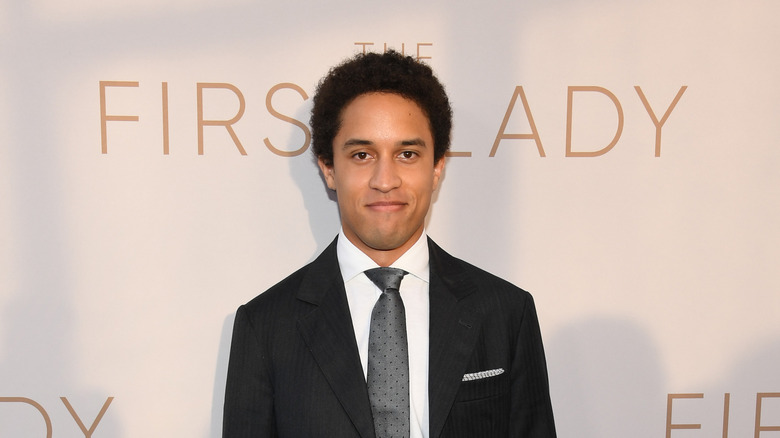 Jon Kopaloff/Getty Images
No, Julian De Niro hasn't starred in an era-defining film (not yet anyway), but he's following his mom, dad, and eldest half-sister into stardom and has been working as an actor. In 2016, he played Billy in the star-studded film "In Dubious Battle," which also featured James Franco, Nat Wolff, and Selena Gomez, among others. It wasn't a large role, but it was just his first taste of being on the big screen. Julian was likely privy to the film industry beforehand (given his connections), which could be why he seemed to bypass the typical time aspiring actors tend to spend doing work as an extra.
Then in 2022, he made his television debut on Showtime's anthology series "The First Lady," playing a young Barack Obama. He portrayed the politician in the years before his presidency, around the time he met Michelle. Julian knocked it out of the park, and has since moved back to the stage to work alongside Oscar Isaac and Rachel Brosnahan in "The Sign in Sidney Brustein's Window." This would have certainly made his father proud, and we can't wait to see what he does next.
Aaron De Niro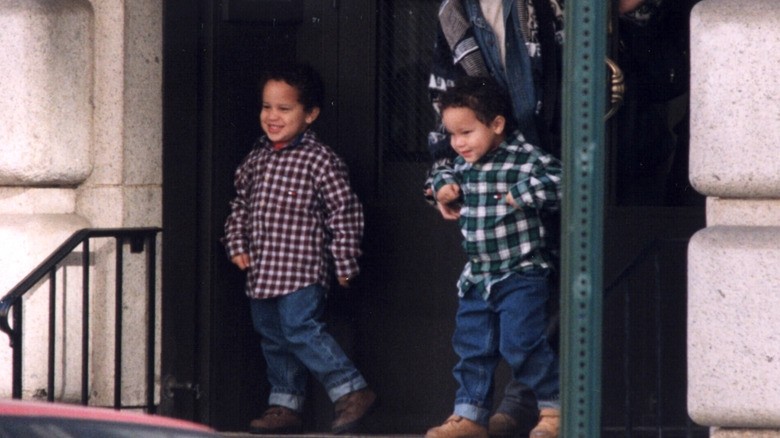 Mario Magnani/Getty Images
Aaron De Niro is Julian De Niro's twin brother, born to Robert De Niro and Toukie Smith on October 20, 1995. Less than two weeks later, it was announced that their parents were splitting up but, as De Niro's spokesman Stan Rosenfield told The New York Times, the couple would live, "separate personal and professional lives," but that they "look forward to sharing the parenting of the children." This likely would have been easier for Smith, as the twins are her only children, whereas De Niro had two others and a thriving film career to keep up with.
Aaron looks a lot like his brother Julian, but that's more or less all that is known about him because he is incredibly private. Much like his mother and father, he has remained tight-lipped about his personal life. He has also made few public appearances, unlike his brother, who gravitated towards acting. This may very well be something he learned from his mother, who spoke of maintaining privacy in an interview with The New York Times in 1992. She said, "Everyone wants to know. Everyone. David Letterman, baby! I have one standard response: 'Do you know how to spell private? P-R-I-V-A-T-E.' And that's with a capital P. Deal with me, doll, as a T.C.B., a woman who is taking care of business."
Elliot De Niro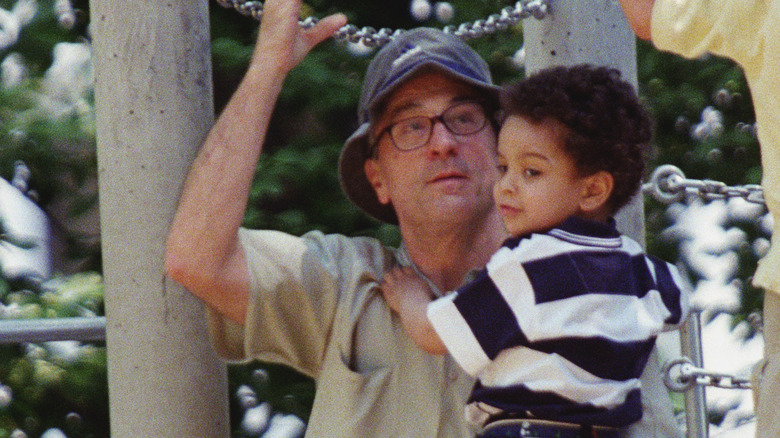 Lawrence Schwartzwald/Getty Images
Two years after Robert De Niro split up with Toukie Smith, he married actress Grace Hightower, known for her role in "Precious," in 1997. They had a son, Elliot De Niro, on March 18, 1998. All was well until 1999 when De Niro filed for divorce from Hightower and sued for custody of Elliot. The couple did eventually patch things up, but unfortunately, it wouldn't last.
In 2016, when Elliot was 18 years old, De Niro shared that his son has autism. Amidst his announcement that he would be screening the controversial anti-vaccine documentary "Vaxxed" to open up a dialogue around the supposed connection between autism and vaccinations, he said in a statement obtained by People, "Grace and I have a child with autism and we believe it is critical that all of the issues surrounding the causes of autism be openly discussed and examined. In the 15 years since the Tribeca Film Festival was founded, I have never asked for a film to be screened or gotten involved in the programming. However, this is very personal to me and my family and ... I am only providing the opportunity for a conversation around the issue."
Elliot De Niro played tennis in the Special Olympics
With their son's autism diagnosis in mind, Grace Highland and Robert De Niro found a healthy outlet that Elliot De Niro could enjoy: tennis. He was featured in a 2020 Special Olympics highlight, where he and his parents spoke about how the sport has helped him. At first, Elliot was not a big fan of tennis and he would fight his parents over it, but De Niro said, "Finding things for kids to do is a hard part of the whole situation with parents of kids with special needs." Over time, Elliot became more skilled and really fell in love with tennis, saying, "It feels nice ... I feel sometimes uplifted." De Niro concluded that as Elliot has become better, his confidence has soared.
Raising a child with autism isn't easy, as De Niro confirmed when he appeared on "Katie" to promote "Silver Linings Playbook" back in 2013. In the film, De Niro plays the father of a man who has bipolar disorder. Director David O. Russell said that De Niro had become emotional a few times during filming. Although De Niro had yet to reveal his son's diagnosis to the world, with tears in his eyes, De Niro said, "I don't like to get emotional, but I know exactly what he goes through."
Helen Grace De Niro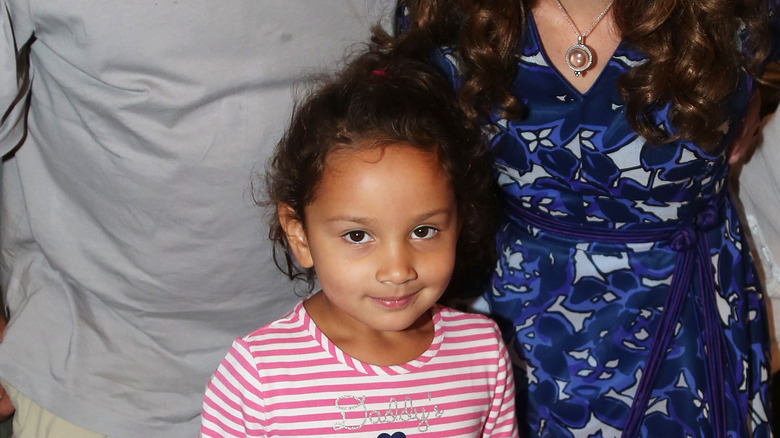 Bruce Glikas/Getty Images
Robert De Niro and Grace Highland welcomed their second child together on December 23, 2011. The little girl, named Helen Grace De Niro, was delivered via a surrogate mother. The actor would have been 68 years old when his daughter was born, and many were shocked about the announcement of his sixth child's birth. In 2016, he spoke to People about some of the more difficult parenting moments. "There are great moments and moments of sadness," he said. "Sometimes you're the last person they want to deal with. It's like when you walk your kids to school and they get older and they don't want to hold your hand or kiss you goodbye."
Most parents could probably relate to this moment, but it's one that De Niro would have had to deal with several times now, given how many of his children are now adults. Helen Grace still has several years before she's grown up, but in an interview with ET Canada, De Niro admitted that she's already giving him some trouble. "You know, my kids disagree with me at times, and they're respectful. My daughter, she's 11, she gives me grief sometimes and I argue with her. I adore her, but, you know. And my youngest now, that'll be more to come. But, that's what it is." Helen Grace was the youngest of the actor's children, that is, up until April 2023. That said, there may be some feelings of sibling rivalry brewing.
Helen Grace De Niro's parents have sheltered her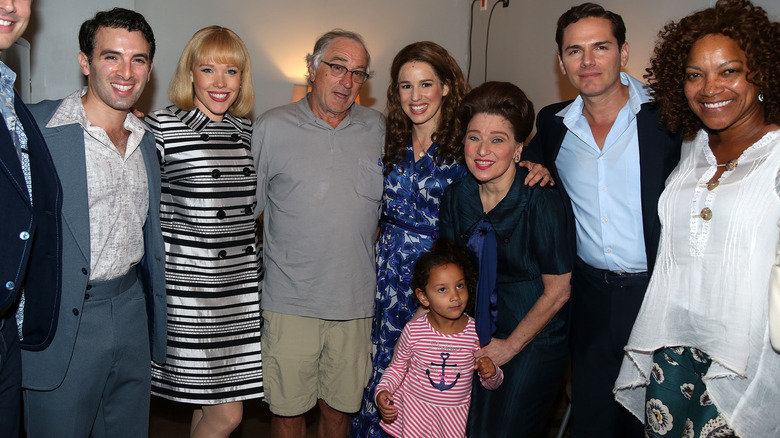 Bruce Glikas/Getty Images
Robert De Niro is a child of divorce himself, so he knew what it must've been like for Elliot and Helen Grace De Niro when he split up with Grace Hightower in 2018, after over 20 years together. They had reconciled after their brief split in 1999 and renewed their wedding vows in 2004, but ultimately couldn't make it work. In a statement issued to Us Weekly, De Niro said, "Grace and I have two beautiful children together. We are entering a period of transition in our relationship, which is a difficult but constructive process." The exes reached a custody agreement in 2020, but the details were not made public.
In the years since the end of De Niro and Hightower's relationship, they have sheltered Helen Grace heavily. She has been seen publicly with her parents a handful of times, most frequently with De Niro on father-daughter outings. The last time seems to have been in New York City, where all of his children live, in July of 2022. It's unclear how exposed Helen Grace has been to the entertainment industry, like many of her other siblings, but it seems like her parents are giving her the freedom to choose her own path, as she has yet to make any cameos or appearances on screen.
Gia Virginia Chen-De Niro
Following his divorce from Grace Hightower, Robert De Niro was spotted with martial arts professional Tiffany Chen while on holiday in France in August of 2021. However, they had originally met on the set of De Niro's film "The Intern," in which Chen played a role and acted as a martial arts consultant. The couple kept their relationship largely under wraps — that is until De Niro stated in May 2023 that he was now a father of seven. In an interview with ET Canada, Brittnee Blair said she knew De Niro had six children, to which he replied, "Seven, actually. I just had a baby."
His relationship with Chen had been kept fairly private until the announcement, which had media outlets everywhere grasping for more information. De Niro gave Gayle King on CBS his blessing to share that his newborn daughter, Gia Virgina Chen-De Niro was born on April 6, 2023, weighing 8 pounds and 6 ounces; the reveal was also accompanied by a photo of their baby. King confirmed that De Niro and Chen had planned this pregnancy and that, "They're over the moon," according to the news anchor.