Pink's Husband Carey Hart Opened Up About Inspiring Her Music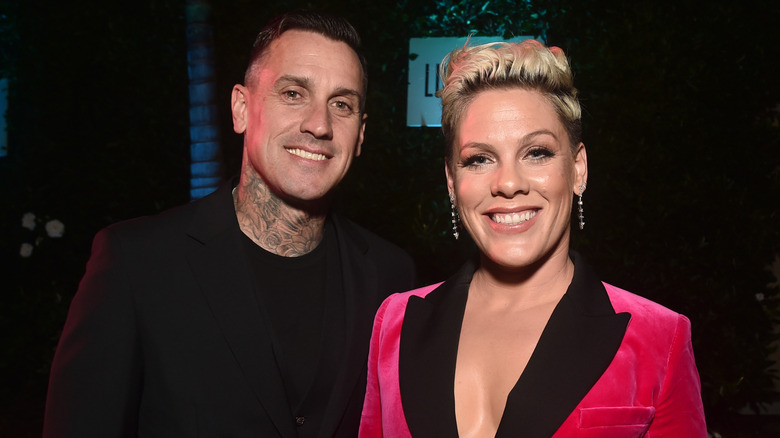 Alberto E. Rodriguez/Getty Images
In February 2023, iconic popstar Pink appeared on "The Kelly Clarkson Show" to discuss her ninth studio album, "Trustfall." The album is a diverse collection of songs, including themes of grief, trust, and life's highs. While on the show, Pink opened up about the vision behind the album, sharing that it was inspired by her experiences during the pandemic, the loss of her father, Jim Moore, and her continual growth as a mother.
She also discussed how her relationship with her husband, Carey Hart, inspired some of the tracks. Hart, who has been married to Pink since 2006, is an off-road truck racer most known for his former career as a professional motorcyclist. It's no secret that the couple's relationship has inspired past songs from Pink — with 2008's "So What" being one of the most notable — but fans of the singer may wonder about Hart's perspective on the tracks incited by their ups and downs.
During his own appearance on "The Kelly Clarkson Show," the racing celebrity opened up about his feelings on the matter, sharing that he doesn't mind serving as inspiration.
Pink discusses her perspective on her husband's thoughts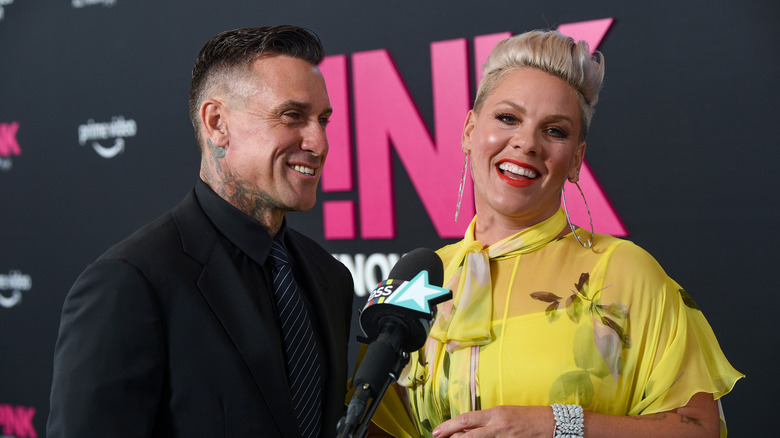 Kevin Mazur/Getty Images
Pink has written several songs inspired by her relationship with her husband, Carey Hart, with the track "Hate Me" from her album "Trustfall" being one of the most recent. The defiant, catchy tune is all about refusing to be the villain in a man's story, and the singer told USA Today that she sometimes experienced such villainization in her relationships with her father and husband.
While on "The Kelly Clarkson Show," Pink was asked how Hart feels about being the inspiration behind some of her tougher songs. The pop star cheekily responded, "Well, you have to take [into account] Carey's amount of feelings he can handle and how much he is actually thinking about the words that I'm saying or listening at all. So, I think he's fine."
Pink went on to talk about his specific reaction to one song from the new album. "There's one on the new album that was a hard day, and I played it for him because that's fair. He should know what's being said about him in the world," the celebrity explained. "And he just started giggling, and he's like, 'Well, you're welcome.'"
Hart shared his own feelings on Pink's songwriting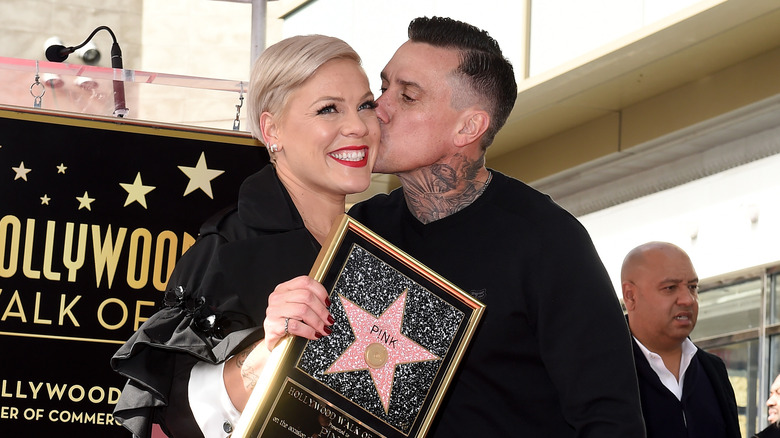 Axelle/bauer-griffin/Getty Images
During his own appearance on "The Kelly Clarkson Show," Carey Hart responded to the clip of Pink discussing his perspective on her songs, laughing along with Clarkson at the pop star's comments. "Yeah, it's very accurate," the celebrity racer answered when asked if her account of his reactions was true. "You know, we've been together 21 years. I have very thick skin. Very little affects me."
This lighthearted response is in line with Hart's previous reactions to tougher songs written about him. While Pink's song "So What," along with other tracks from "Funhouse," was inspired by her 2008 separation and subsequent divorce from Hart, he appeared in the music video for the song, seemingly taking it all in good stride.
The two were in the early stages of their reconciliation during filming, but Pink still felt it necessary to shelter Hart from some of the harsher lines on the track. "I didn't want him to know I was calling him a tool because I thought maybe he'd leave," Pink told ET Canada. "I was like, 'Play line three, then skip to line five. Definitely do not play line 10.'"