General Hospital's Tony Geary Makes His Soap Comeback (But With A Twist)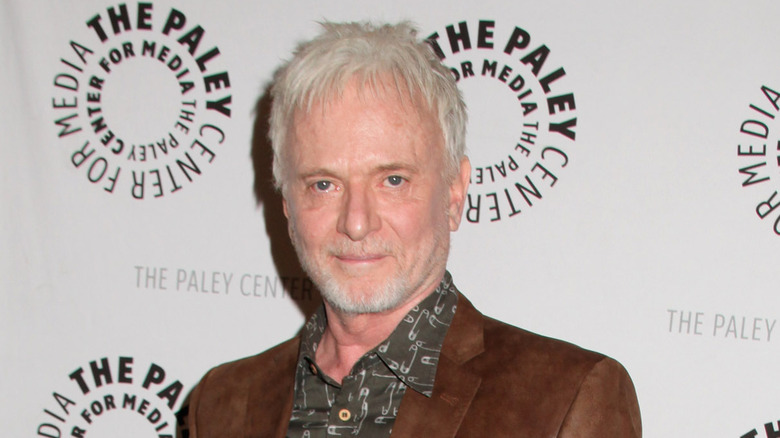 Paul Redmond/Getty Images
While Anthony Geary is best known for playing the iconic and legendary Luke Spencer since 1978 on "General Hospital," he finally left the role in 2015 and retired from acting. The talented and versatile actor has also been in several TV shows and films including, "Starsky and Hutch," "The Six Million Dollar Man," and the 1972 horror film "Blood Sabbath," among many other parts. Geary even played three separate roles on "GH," which included Luke, his startling lookalike cousin Bill Eckert, and Luke's father Tim Spencer, as well as a fourth character, if you include Luke's alternate personality known as Fluke — aka "Fake Luke."
In May 2020, on the YouTube series "Soaps in Quarantine," co-host Nancy Lee Grahn (Alexis Davis) asked Geary if he could return to "GH," to which the actor jokingly replied, "Okay, you talked me into it!" Luke Spencer has saved the world several times over but was supposedly killed in a cable car accident off-screen in 2022. When it was announced that the world would need saving again for the "GH" 60th anniversary in April this year, fans held out hope that Luke would return from the dead to save the day one last time and then ride off into the sunset.
That sadly didn't happen, but Geary is still showing off his acting chops online, appearing in a 2022 series that many fans may not have heard about.
Geary's return is not what anyone expected
Soap opera photographer Jim Warren has had a highly successful career, capturing the visages of daytime's finest actors, and has compiled many of his photos into a book titled "Just Pretend I'm Not Here." He's also produced an online comedy series called "This Show Sucks: Truth + Consequences," which simultaneously pays tribute to and lampoons soap operas. With a variety of daytime stars such as Wally Kurth (Ned Quartermaine, "General Hospital"), Paul Telfer (Xander Cook, "Days of Our Lives"), and Kin Shriner (Scott Baldwin, "GH"), among many others, Warren had also nabbed who many consider the greatest daytime actor: Anthony Geary.
In the latest video, Warren plays Drew Miller, the executive producer of the fictitious soap-within-the-show who's trying to woo Geary's character Trent Silver out of retirement to reprise his role as the series lead. Amid offering Trent whatever he wants, the actor's simple reply is, "You must be nuts. No thanks," and when Drew pushes harder, Trent angrily drives him away. The fake soap's director Sean, played by "GH" alum Ian Buchanan (ex-Duke Lavery), gets on a video conference with Trent, also trying to get him back. Geary plays the part with glee as a surly actor who refuses to return to the soap that made him famous — obviously spoofing Geary's own exit from "GH."
While Geary's fans have been clamoring for his return to "GH," this unexpected treat is sure to leave his followers wanting more.