Shower Gel Vs. Body Wash: What's The Difference?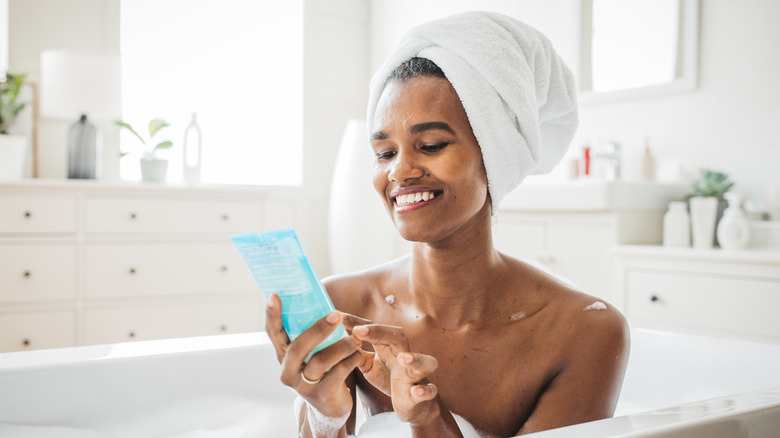 Svetikd/Getty Images
We may receive a commission on purchases made from links.
Despite the fact that the skincare industry has long been popular, it's only in recent years that people have grown accustomed to treating their bodies with the same care. The topic of body care has been steadily growing over the past year or so, and part of the popularity is due to TikTok's influence. Users on the app often post the products they use to bathe and moisturize, with #showerroutine garnering 2.3 billion and counting views on TikTok.
Thanks to the exchange of knowledge found on the internet, people have been able to improve their skin with tips from experts, influencers, and creators they watch online. If their face has benefited from what they've learned, why not the rest of their skin?
Not every skincare product is one size fits all — while one cleanser may work on one person's skin, it can cause breakouts in someone else. The skin on our bodies is similar. While a body wash may work wonders on your skin, you may find that shower gels simply don't work well on you. Although they may sound like the same thing with different wording, it turns out that there's a difference between the two.
Is there a difference between body wash and shower gel?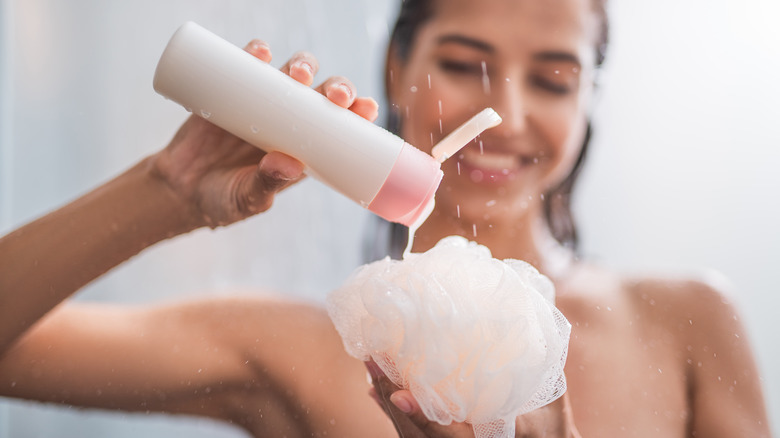 Olena Yakobchuk/Shutterstock
Just like choosing between a cleanser versus a face wash, you may blindly opt for whichever one is more affordable or has your preferred scent. However, the two products actually aren't the same thing. While they certainly serve the same purpose, the formulation of each product is quite different. As the name implies, shower gels have a thick and viscous gel-like consistency. Compared to body washes, they also tend to have more fragrance in them, making them the best option to prep your skin for optimal perfume performance.
However, body washes tend to be more moisturizing. While shower gels are better cleansers, making them ideal for oily skin, body washes are more hydrating. While they can be thick like shower gels, body washes are typically creamy, mimicking the feel of lotion. If you have dry skin, the emollient texture of body washes can add more moisture to your body without over-stripping it of your natural oils.
Shop the best body cleanser for every skin concern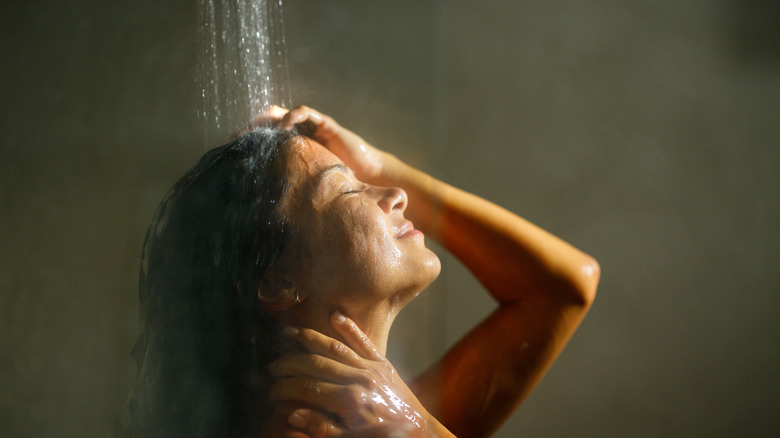 Skynesher/Getty Images
For dry, sensitive skin, try the La Roche-Posay Lipikar Gentle Foaming Moisturizing Wash. Mild enough to be used on both the face and body, this body wash delivers 24-hour hydration for extremely dry skin while gently cleansing. Formulated with thermal water, shea butter, glycerin, and niacinamide, the body wash draws moisture into the skin while soothing and softening it.
The Mario Badescu A.H.A Botanical Body Soap is perfect for oily and acne-prone skin types. It's formulated with glycolic acid and grapefruit, ginseng, and linden extract to gently exfoliate the skin. The body soap clears congestion to reveal brighter, smoother skin and reduce breakouts.
If you have aging skin, try the Olay Age Defying Body Wash. It's created with Vitamin E, which pulls moisture deep into the skin to transform it from the inside out. The body wash locks in moisture without leaving a thick, heavy feeling on the skin's surface.