Brendan Fraser's Friendship With Leonardo DiCaprio Goes Back Decades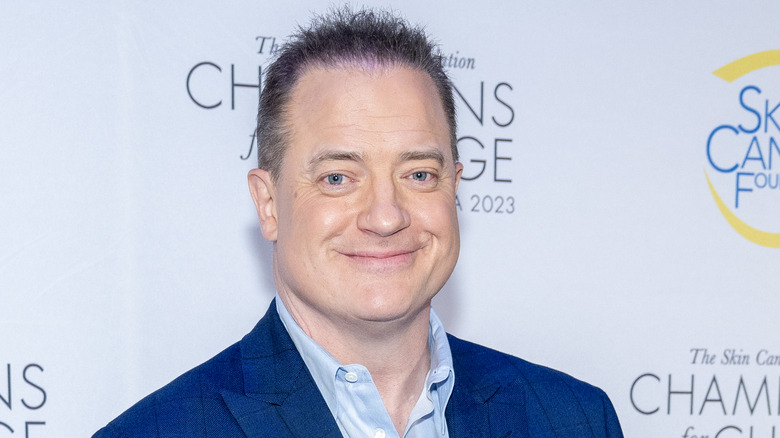 Roy Rochlin/Getty Images
Brendan Fraser has enjoyed a long career in Hollywood. The actor has appeared in films such as "School Ties," "George of The Jungle," "Blast From The Past," "The Mummy," "Bedazzled," and many more. He's also worked on television shows like "The Affair" and "Trust." During his long career in show business, Fraser has worked with some big names like Elizabeth Hurley, Adam Sandler, Rachel Weisz, and Dwayne Johnson. However, one A-list actor that Fraser was very excited to be working with his Leonardo DiCaprio, whom he met and formed a bond with during their early years in Hollywood.
Fraser and DiCaprio were both recently cast in the Martin Scorsese Western crime drama "Killers of the Flower Moon" alongside other major stars such as Robert De Niro and Jesse Plemons. The movie is set in the 1920s and tells the story of the FBI's investigation of murders in the Osage nation. "I was fantasizing that I felt like one of the apprentices in Michelangelo's workshop," Fraser said of working with the stellar cast for the 2023 film (per People Magazine).
In addition, Fraser recalled sharing a special moment with DiCaprio, where they reminisced about their first meeting as very young men.
Brendan Fraser recalls his first meeting with Leonardo DiCaprio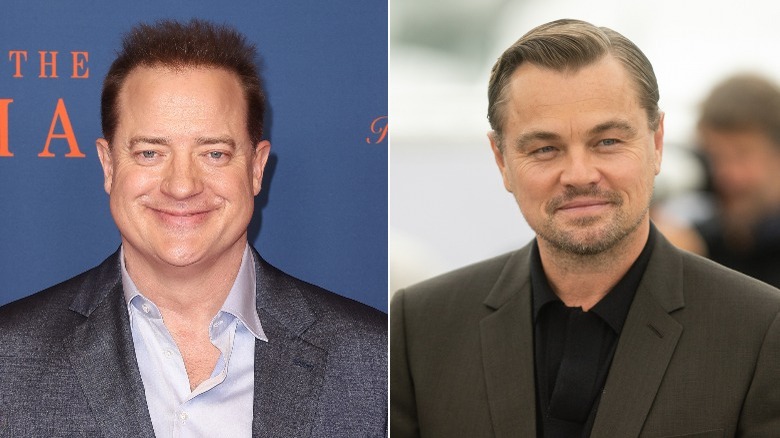 Samir Hussein & Gerald Matzka/Getty
According to Variety, Brendan Fraser and Leonardo DiCaprio reunited on the set of "Killers of the Flower Moon" after a 30-year absence from each other's lives. The actors first met in the early days of their careers, when DiCaprio had gained critical acclaim for his role in "What's Eating Gilbert Grape." Fraser explained that he was so impressed with DiCaprio's work that he wanted to make sure he told him so, which seemed to leave a lasting impression on the young actor.
"[Back then], when he was I think probably all of, I don't know, 17, 16 years old maybe, he did 'Gilbert Grape.' I saw it on the Paramount lot. I think I had just been in 'School Ties' or something then, and I was, like, flummoxed but I just wanted to tell him, 'Hear, hear. That was incredible,'" Fraser explained. The "Encino Man" star then went on to reveal that DiCaprio had remembered their encounter from decades before, which meant a lot to him. "He repeated that to me. He remembered me," Fraser said. "He said: 'You were the only guy who didn't treat me like a little kid.' He volunteered that to me. That was meaningful."
It seems that Fraser and DiCaprio's first meeting was special for both of them, and their friendship is now something that fans can look for in the actors' real lives as well as in their on-screen characters in the film.
Brendan Fraser's career comeback has been amazing to watch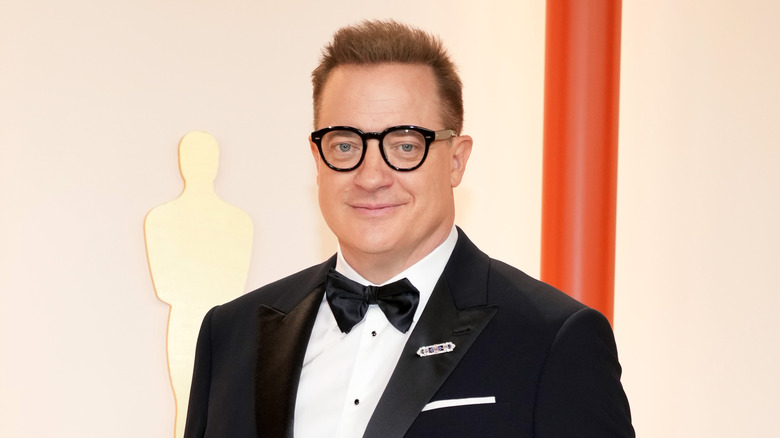 Kevin Mazur/Getty Images
In addition to his reunion with Leonardo DiCaprio, Brendan Fraser's career has been going through a resurgence. The actor gained huge praise for his role in the movie "The Whale," which earned him several award nominations, and even a huge win at the 2023 Academy Awards, where he happily accepted the Oscar and was cheered on by a room full of his peers as Fraser's three sons watched from the audience. 
After fading out of the spotlight for several years, Fraser began his return to Hollywood with roles like Robotman on "Titans" and "Doom Patrol." In 2021, he was cast in the "Batgirl" movie as a villain named Firefly alongside Michael Keaton, Leslie Grace, and J.K. Simmons. Then he started gaining steam for his role in "The Whale."
During an appearance on "Late Night with Seth Meyers," Fraser was asked about his career resurgence and the praise he gained for the film. "I just broke out crying. That solved all the problems," the actor said of the audience's reaction to the film, per People Magazine. "I feel like I'm still waiting for someone to walk in and tell me that the jig is up, you know," he added. After winning the Oscar for "The Whale," Fraser joined his friend DiCaprio in an elite club of actors who have taken home the award and continue to wow fans with their epic performances.