Why Melissa McCarthy Can't Watch Gilmore Girls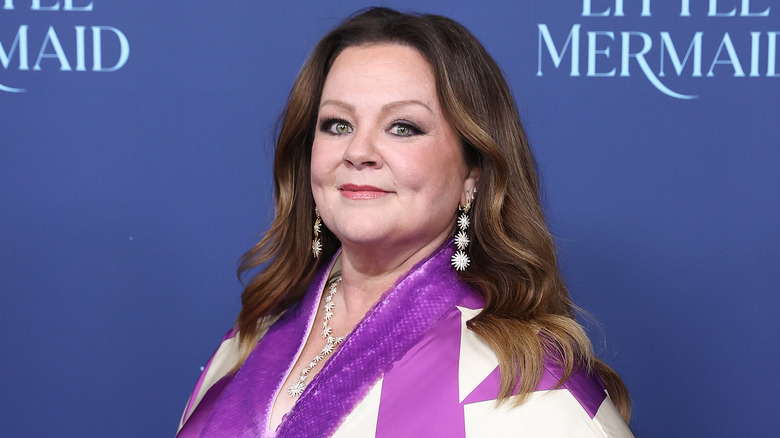 Brendon Thorne/Getty Images
"Gilmore Girls" is one of the most beloved shows of its time, and fans continue to watch the series on streaming sites such as Netflix. Although the series focused on the unforgettable mother and daughter team of Lorelai and Rory Gilmore, it also had a way of bringing to life the supporting characters in the town of Stars Hollow. One of those characters, Sookie St. James, was portrayed by fan-favorite actor Melissa McCarthy. However, McCarthy has admitted that she struggles to watch "Gilmore Girls" now, and has actually only seen it one time.
Sookie was a big part of the show's landscape as she was not only Lorelai Gilmore's best friend, but also her business partner. The two were very close, and Sookie often offered some comedy during her time on-screen. "It was a really comforting little world that Amy [Sherman-Palladino] created and it was really fun to me," McCarthy told "Today" of the show. "It was written with such nice people."
The actor loved working on "Gilmore Girls" so much that when the show announced its revival miniseries, "A Year In The Life," on Netflix, McCarthy returned to reprise her role as Sookie for a brief appearance. However, many fans were disappointed that they didn't get to see more of Sookie in the revival. Of course, McCarthy likely didn't watch it anyway, as she claims to be paranoid about viewing her own work.
Why Melissa McCarthy struggles to watch her work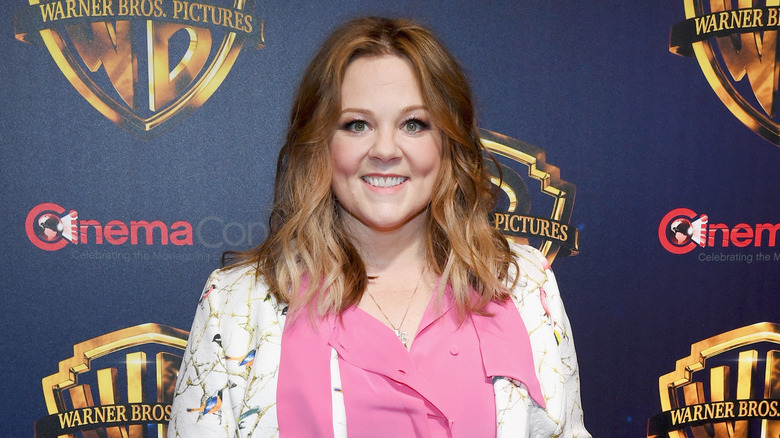 Ethan Miller/Getty Images
Although Melissa McCarthy says she loves being connected to "Gilmore Girls," she has admitted that she struggles to watch the show. "I watched [the Gilmore Girls pilot] with Vivianne once, my oldest [daughter], and ... it was just, watching her watch it," McCarthy told "Today." "I'm also always afraid [that] somehow, something [is] going to happen and I'm going to be found in the room watching my own thing. So I have a super paranoia about it," she added (via ET). However, it's not just "Gilmore Girls" that McCarthy struggles watching. She also confessed that she can't watch her films like "Bridesmaids" and "Ghostbusters" either.
"I'm always like, what if I pass out and paramedics come in and the takeaway is, 'She's watching her own stuff.' Pretty weird," McCarthy stated. "It's all I ever think when we turn on [the TV] and it's me. I'm like, 'Oh God, do I feel light-headed?' I don't want to pass out in a room where myself is playing [on screen]. I know I shouldn't talk about that, it makes me sound nuts."
However, McCarthy is proud to be part of the "Gilmore Girls" world. "It has had this generational [effect]," she said of the show. "Young people that watched it [originally], now that they have kids, they watch it with their kids. And their kids watch it with their own friends. It had legs on it that I didn't really expect."
Melissa McCarthy is still close with her co-star Lauren Graham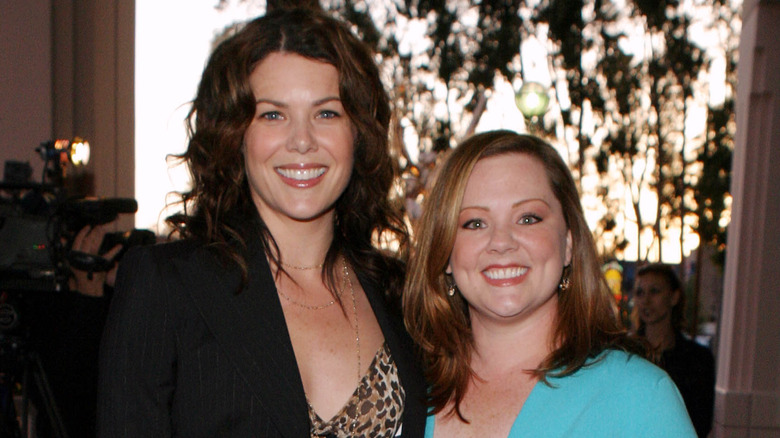 Christopher Polk/Getty Images
While Melissa McCarthy played Lauren Graham's best friend on "Gilmore Girls," the two are actually friends in real life as well. In 2020, McCarthy and Graham ran into each other backstage at "The Ellen Show" and posed for a selfie together, which was posted to social media (via Netflix Life). In 2022, McCarthy called Graham "amazing" as she celebrated the 22nd anniversary of "Gilmore Girls." Of course, all of this left fans hoping for a second season of "A Year In The Life," which would feature more of Lorelai and Sookie's relationship.
After McCarthy and Graham reunited for the "Gilmore Girls" revival in 2016, Graham spoke out about how emotional it was to be back on set with her on-screen bestie. "That was near the end of filming and I thought I [already] cried every tear that I had. And to be there with her and click back into our genuine friendship and also our Stars Hollow friendship was ... really mind-blowing," Graham told TVLine of working with McCarthy again.
While McCarthy may have a difficult time watching the show, fans certainly don't share the sentiment. "Gilmore Girls" — which was canceled in 2007 — has become a huge part of pop culture history, and is beloved by so many around the globe who can't get enough of the Stars Hollow world and all its interesting characters.