What Dandelions Can Do For Your Skin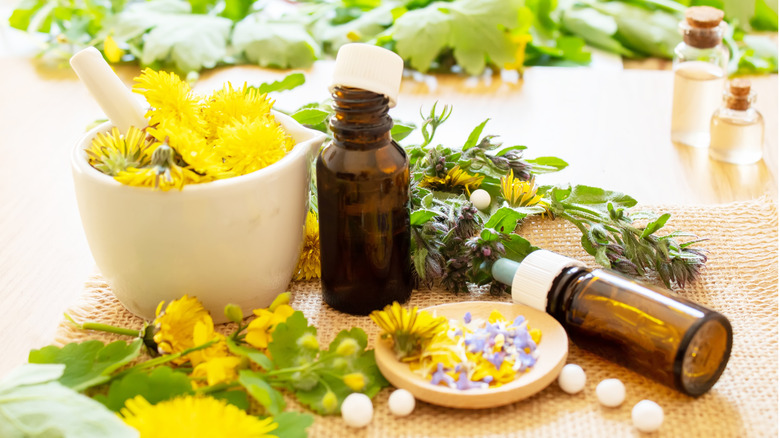 Milena Khosroshvili/Shutterstock
We may receive a commission on purchases made from links.
Dandelions may fall short when it comes to granting wishes, but their incredible benefits for the skin are anything but ordinary. These flowering plants have a rich medicinal history across different cultures, renowned for their liver-detoxifying properties, digestive system support, and overall wellness promotion. Dandelions are nature's skin saviors, as each part of the plant has specific nutrients that offer numerous benefits for skin health.
One of the most popular skincare benefits dandelions offer is antioxidant protection. They contain flavonoids, carotenoids, and phenolic compounds, which are potent antioxidants. Dandelions are also rich in vitamin C, one of the antioxidants you need to add to your diet. These antioxidants prevent oxidative stress, which causes aging, collagen breakdown, and skin damage.
Antioxidants also neutralize free radicals that could harm the skin cells and boost collagen production, improving skin elasticity. What's more? A 2015 study published in the Journal of Oxidative Medicine and Cellular Longevity explains that dandelions also protect the skin from UVB rays which raises the risk of sunburns and cancer. Surprisingly, the benefits don't end there. Dandelions offer a natural and holistic approach to fixing many skin issues.
Dandelions heal, hydrate, and brighten the skin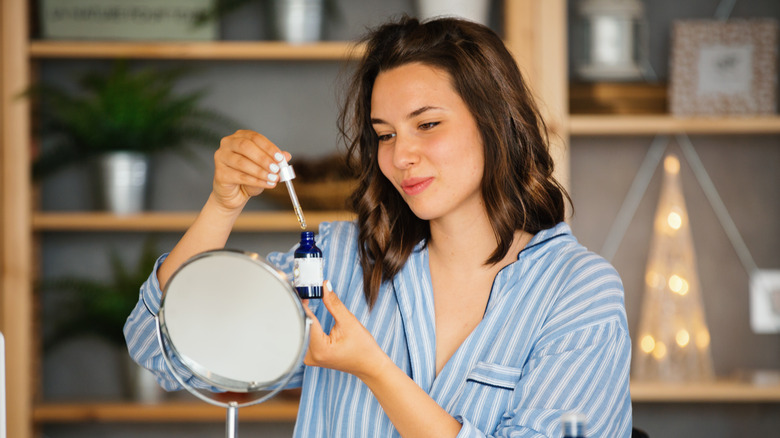 Aja Koska/Getty Images
Dandelions offer many benefits for the skin, ranging from healing and hydration to brightening effects. These resilient plants are packed with bioactive compounds that combat inflammation. By reducing inflammation, dandelions promote healing and provide relief from common skin concerns like pain, redness, and itching. In fact, a 2014 study published in the International Journal of Biological Macromolecules highlighted the high antibacterial activity found in dandelions, making them a potentially helpful remedy for acne.
Even better? Dandelion plants have superb skin hydration benefits. Their high-water content and emollient properties make them excellent moisturizers that soften skin. Furthermore, dandelions create a protective barrier that helps prevent moisture loss, ensuring your skin stays hydrated for longer periods. The antioxidant activity found in dandelions also helps maintain skin health, supporting optimal hydration levels.
Another standout feature of dandelions is their ability to improve skin tone and brightness. Loaded with vitamin C, they combat and fade dark spots, contributing to an even and radiant complexion. Additionally, dandelions contain organic acids like malic acid, tartaric acid, and citric acid, which naturally exfoliate dead skin cells. This gentle exfoliation leads to a smoother and brighter skin texture, giving you a youthful and revitalized appearance. Dandelions work well with other products and are commonly included in skincare routines through serums containing the extract. But if you're looking for greener alternatives, you've got a couple of options.
How to make your own dandelion extract, according to scientists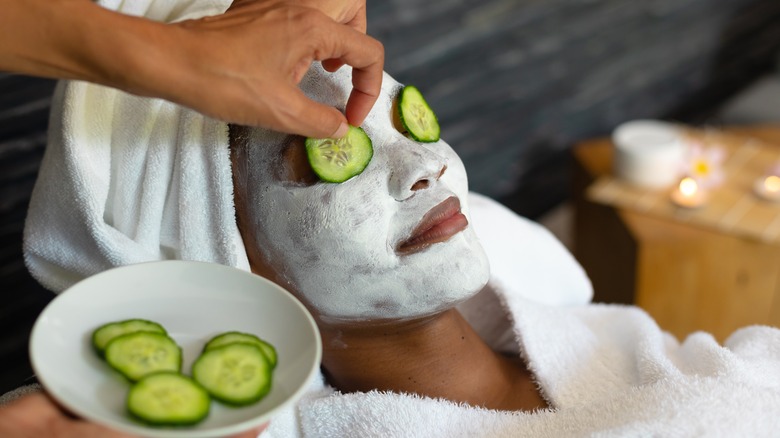 wavebreakmedia/Shutterstock
Dandelions are versatile plants, which means you can include them in your skincare routine in numerous ways. One way to use it is by mixing a teaspoon or two of dandelion extract with your favorite clay mask. Dandelion extract can complement the effects of a clay mask, providing additional hydration, soothing properties, and antioxidant benefits. You can also swallow one or two teaspoons daily or mix it with honey or yogurt to create a hydrating mask.
To do this, you'd need to make your own extract which is easy, thanks to a 2021 study published in the Journal of Traditional and Integrative Medicine. Start by adding a cup of dried dandelion or one whole dandelion plant into a half-quart jar. Pour boiling water and leave covered for three to four days. Next, strain the mixture to separate the water, and your dandelion extract is ready for use.
Note that dandelion extract is quite similar to banana extract, which has been popping up in skincare because the nutrients in the extract depend on what part of the dandelion you use. If you'd rather purchase a serum with dandelion, shop Biotique's Bio Dandelion Visibly Ageless Serum for less than $10. Dandelion is a pretty safe ingredient to use, except if you have a bleeding disorder, eczema, or ragweed allergy. If you've never used a dandelion product, be sure to patch test before including it in your routine.