How Harry And Meghan's Wedding Topped King Charles' Coronation, According To A Royal Expert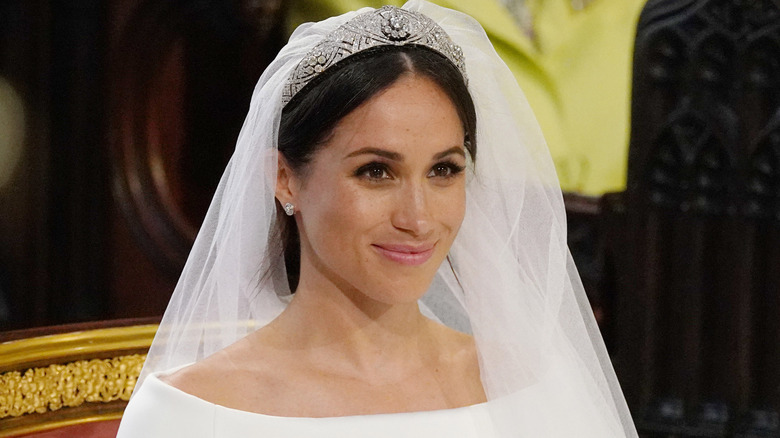 WPA Pool/Getty Images
Royal watchers have tuned in to watch the various historic events that have aired all over the world. One of the most notable occasions in royal family history was the wedding of Prince Harry and Meghan Markle in 2018, which quickly became one of the most watched television events of all time. Five years later, we were all back in front of our television screens for the coronation of King Charles III, though the two events had a very different feel. In an interview with Express, royal expert Clive Irving explained how Harry and Meghan's wedding actually topped the coronation.
The Duke and Duchess of Sussex exchanged vows at Westminster Abbey in front of their closest family and friends, but they did things in a slightly less traditional way. In fact, there were several times that Harry and Meghan broke tradition to make their wedding day feel a bit more intimate and personal. As viewers watched Harry and Meghan take their relationship to the next level, many people seemed to appreciate that the couple wanted to make things their own, including the kiss they shared on the steps of the chapel — something that is traditionally held for the balcony at Buckingham Palace, according to Vogue France. 
When it came to the coronation, however, tradition was strictly followed, making for what Irving described as a "medieval" event. 
King Charles failed to be the focus of his own coronation, expert says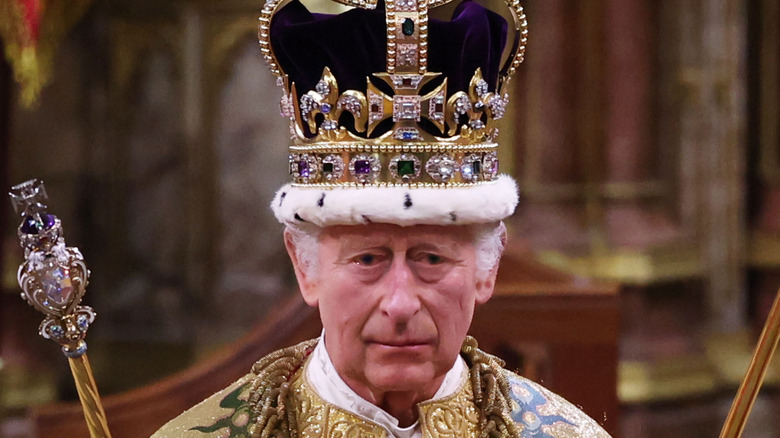 WPA Pool/Getty Images
For many people, watching King Charles III's coronation was the first time they'd ever witnessed the traditional ceremony, which was led by the Archbishop of Canterbury, Justin Welby. When comparing the coronation with Prince Harry and Meghan Markle's wedding, there was an obvious difference in how things were conducted and how things felt from an outsider's perspective, according to author Clive Irving. "When Harry and Meghan got married that was an amazingly happy, multi-racial, very modern feeling," Irving told Express. "It had the American choir, the American pastor. It wasn't too long of a service," he continued, adding that the newly-crowned king didn't really exude happiness. "He seemed either tired, short-tempered or misplaced, as if he was uncomfortable with the whole idea of being there," Irving added.
And while many found the coronation to be saturated in tradition, there were a few things that Charles did that strayed from the norm. Perhaps the most notable change is that Charles decided to forgo the traditional garb for his arrival at Westminster Abbey. Instead, he chose to wear a "Robe of State, a Crimson Coronation Tunic and cream silk overshirt with Royal Naval trousers," per The Telegraph. In addition, Charles' post-coronation carriage ride took a different route than that of his mother's five-mile trip, making a short 1.3-mile journey to Buckingham Palace. Despite these changes, however, many felt that the coronation was still stuck in the past.
King Charles' coronation had some modern changes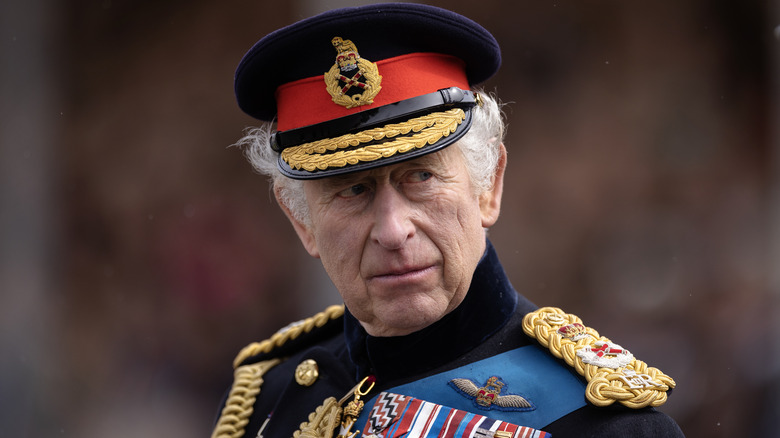 Dan Kitwood/Getty Images
To further contrast Prince Harry and Meghan Markle's wedding and King Charles' coronation, those in attendance during the latter did not appear joyous or full of life. There was even an instance where a cameraman caught a glimpse of Charles' niece Zara Tindall falling asleep during the ceremony, according to Page Six. Overall, the coronation seemed more serious and solemn rather than exciting. "The coronation was a grand and colorful ritual designed to reinforce the monarchy's allure," read an opinion piece from The Guardian which called the coronation "a mix of serious and absurd."
And the numbers speak for themselves. CNN reports that more Brits watched Queen Elizabeth's funeral procession in September than Charles' May coronation. And, in the U.S., about 10 million watched Charles as he was crowned king, which is about one third of the amount of Americans who tuned in to watch the Duke and Duchess of Sussex's wedding. That number is said to be about 29 million, according to CNBC.