Danielle Ruhl's Biggest Regret Over Her Relationship With Love Is Blind Co-Star Nick Thompson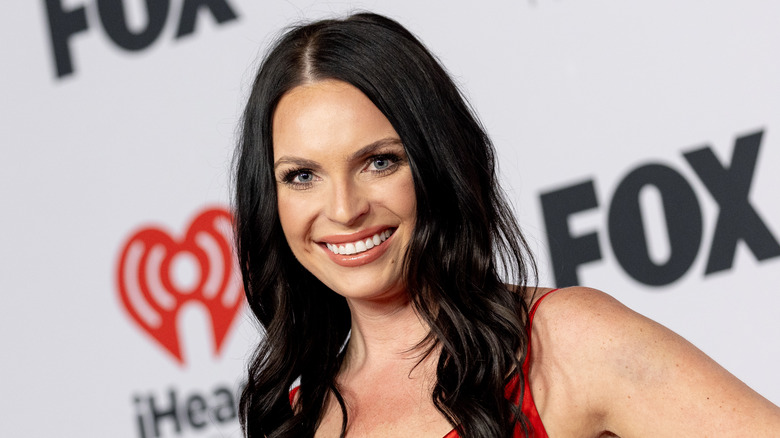 Emma Mcintyre/Getty Images
The following article includes discussion of suicidal thoughts. 
Netflix's hit dating show "Love is Blind" puts the age-old question, "Is love really blind?" to the test. In the reality series, a group of men and women try to find their perfect match through a wall, dating each other — and for a lucky few, getting engaged — without ever laying eyes on their soon-to-be partner. The show has had a total of nine couples successfully tie the knot over the course of four seasons. Sadly, not all of the "Love is Blind" couples have stayed together, including season two favorites Danielle Ruhl and Nick Thompson.
The pair fell in love almost instantly — Thompson was the first one in season two to get down on one knee and propose through a wall. In an early episode of the Netflix series, Ruhl shares, "I'm ready to be married to him tomorrow. I am not going to let anything get in the way of this" (via People). But the real world often gets in the way of the romances that blossom in the pods, and their forever was cut short after only a year of marriage. Like any split, it was full of difficult feelings that Ruhl took to social media to publicly discuss. But looking back, she admits that may not have been the best idea.
The Love is Blind couple had their fair share of ups and downs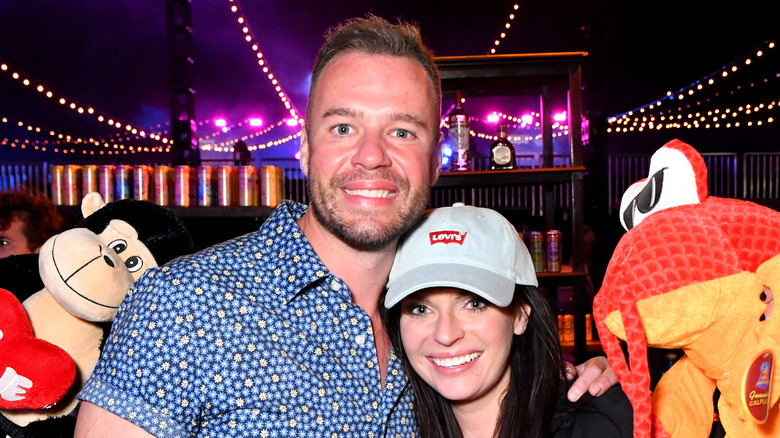 Jerod Harris/Getty Images
Danielle Ruhl and Nick Thompson proved that love is blind by agreeing to get married without ever seeing one another — unfortunately, their marriage ended in a similar way. In an interview with Megan King on her podcast, "Intimate Knowledge," Ruhl revealed that the couple agreed to divorce over text, and at the time, she felt like "there's no real closure there." She admits that shortly after the divorce was not her finest hour, expressing serious regret over posts made on social media about her ex.
In an emotional rant posted on her Instagram stories, Ruhl revealed many of the intimate details about her and Thompson's split, clearing the air that there was no infidelity or abuse; things "just went south." She shared her frustrations publicly about seeing posts commenting on her state of mind, calling her "crazy" and saying "she should never be in a relationship," per Buzzfeed.
For "Love is Blind" fans rooting for the season two couple, not all hope is lost. The pair recently reunited on Thompson's podcast, "Eyes Wide Open." Even over Zoom, it was hard to ignore their chemistry. They admitted that there may always be a shared bond due to the "trauma" they experienced during the filming process. In an interview with Insider, Thompson revealed that he feels like "there's so much unfinished business with us." There may still be hope down the line for the once-happy couple!
Ruhl claims that her mental health took a toll while on the show
"Love is Blind" contestants have to follow some weird rules — as if getting engaged to someone you've never seen isn't strange enough. But some cast members have spoken out about the difficult filming process, claiming that it does not take contestants' mental health into consideration before putting them in vulnerable situations. Danielle Ruhl has been a huge advocate for mental health awareness, sharing that her own experience on the show was less than ideal. In an interview with Entertainment Tonight, the season two cast member shared, "When I was experiencing some medical stuff in the pods, there were no doctors. When I was experiencing mental health issues, there were no therapists. You kind of just had to rely on your producers to make you feel better." Ruhl has had past struggles with suicidal thoughts and depression, which she revealed during her psychological screening prior to being cast on the show. According to Ruhl, the producers did not seem to have her best interests in mind and seemed to manipulate her anxiety into a storyline within the show.
Other "Love is Blind" cast members have spoken out against the harsh work conditions, including season two cast member Jeremy Hartwell, who sued Netflix in 2022. According to Us Weekly, Hartwell claimed that the production "deprived them of food, water, and sleep, plied them with booze, and cut off their access to personal contacts and most of the outside world."