Sunscreen Oil Is The Protective Update On Tanning Oil - Here's What You Should Know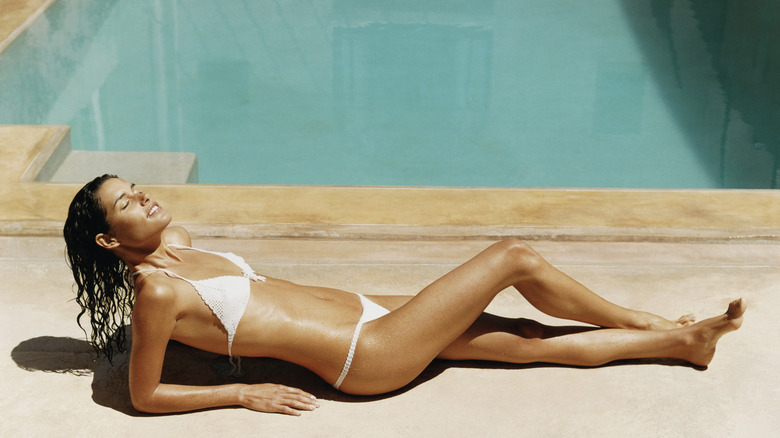 Digital Vision./Getty Images
We may receive a commission on purchases made from links.
As we inch closer and closer to summer, we're starting to shed our cold weather habits to prepare for the warm weather ahead. The season is marked by long days, even longer nights spent outside, beach trips, and tropical vacations. Although we may spend each summer doing some of the same things, this year, we're switching things up a little.
Even if you're not traveling to some exotic locale in the months ahead, catching a tan every summer is a must. Getting a little tanner is always a sign of a summer that's been well spent by soaking up the sun and enjoying nature. However, not every tanning habit is skin safe. The glistening skin you get from using a tanning oil is great, but the resulting sunburn and sun damage you'll be exposed to isn't.
Worse than that, applying a tanning oil and laying out in the sun increases the risk of developing skin cancer, since they don't contain any SPF. Thankfully, sunscreen oil allows you to bronze without burning up.
What is sunscreen oil?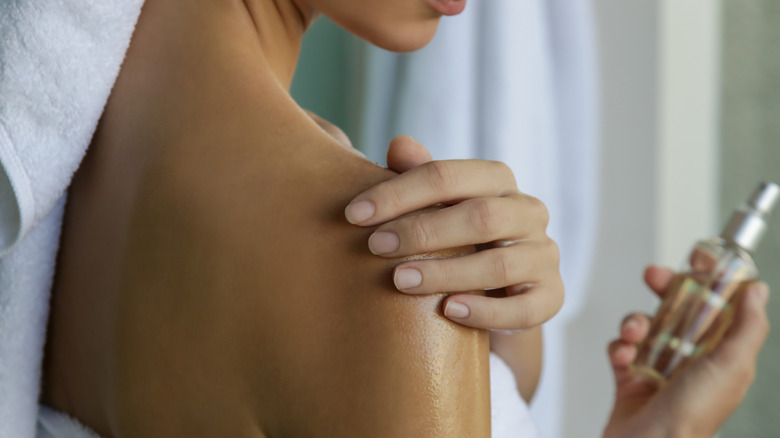 triocean/Shutterstock
Just like the name implies, sunscreen oil is a body oil that contains SPF. You can top off your everyday body moisturizer with an oil like this, although you'll need to wait about a minute in between applications to let each product properly absorb. If you have a body sunscreen that has an ultra matte finish, pair it with a sunscreen oil for extra protection and an added glow. Like most oils, sunscreen oils are clear and are typically made with chemical sunscreens, not the mineral sunscreens that tend to leave a white cast.
Aside from looking great on every skin tone, the slick finish makes sunscreen oil a dream to blend in. It's standard practice to mix body oils with lotion to cut down on time or avoid a greasy finish, but that's not the case with SPF. Not only are the formulations different, but mixing your moisturizer with your sunscreen cuts down on the efficacy of the SPF. If you want to avoid mess when it comes to reapplying your sunscreen oil, try a sunscreen oil spray, like Sun Bum's Sunscreen Oil.
Shop the best sunscreen oils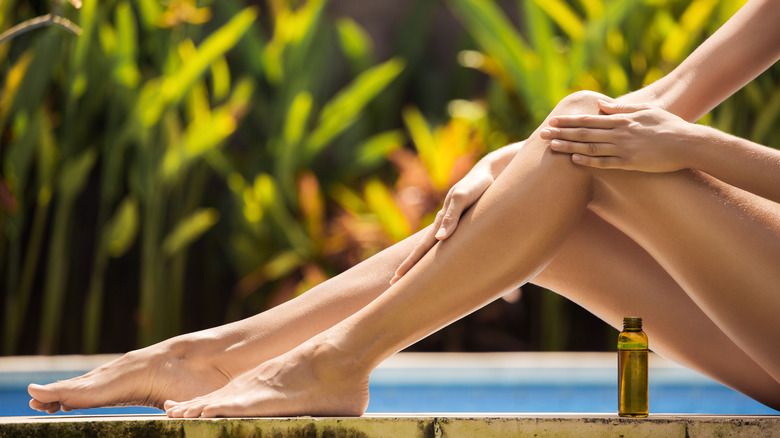 Yuriyzhuravov/Getty Images
If you like the vintage, eclectic vibe of "Miami Vice," try Vacation's Chardonnay Oil SPF 30 Sunscreen. The brand is inspired by the leisurely, age-old act of lounging around on the beach, and their SPF oil captures that luxurious feeling. Made with a blend of Chardonnay grape seed oil, vitamin E, and passion fruit seed oil, it has a classic sunscreen scent of coconuts and bananas.
The Kopari Rose Gold Sun Shield is perfect for the beach-goer that likes to look like a shimmering bronzed goddess. The vegan sunscreen oil is made with sustainably-sourced mica that delivers a subtle shimmer that doesn't transfer onto clothes. Formulated with a blend of vitamin E and macadamia, hibiscus, and coconut oils, the sun shield gives skin a hydrated glow.
The Mele No Shade Sunscreen Oil provides broad spectrum protection against UV rays without leaving the skin with a greasy finish. Created with darker skin tones in mind, the sheer, lightweight oil is made without mineral oil, parabens, or alcohol.