B&B Alum Pierson Fode Reportedly In The Running As Next Man Of Steel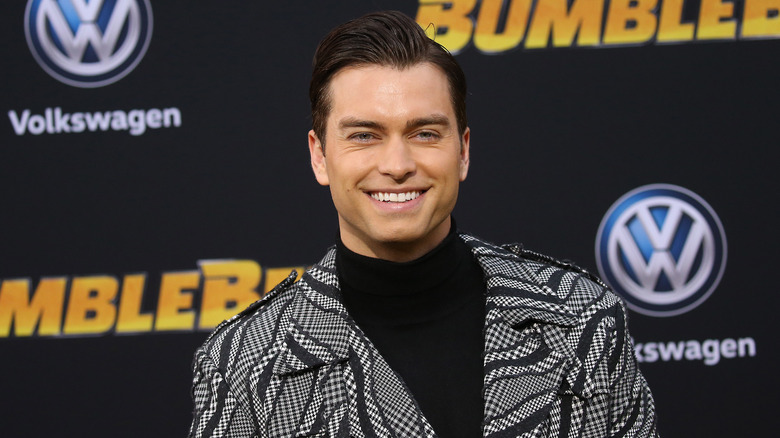 Michael Tran/Getty Images
Bad boy Thomas Forrester seems to have changed his ways lately on "The Bold and the Beautiful," and time will tell whether his change will stick. Matthew Atkinson has played the character since 2019, and has become a fan favorite. While Thomas has a dark and sordid past, one of the character's most controversial storylines happened in 2015 when the role was played by Pierson Fodé. Caroline Spencer (Linsey Godfrey) was married to Ridge Forrester (Thorsten Kaye), yet when things got rocky, she commiserated with his son, Thomas. The two had some alcoholic beverages, but Thomas didn't know she also took antidepressants and began to fade into sleep. They had sex, and Thomas assumed she consented, but when it looked like he may have inadvertently raped her, controversy flew among the fandom.
This strange and twisted story led to the conception of their son, Douglas. Fodé's performance was memorable, and when he left "B&B," he went on to do several more projects, including appearing in "The Real Bros of Simi Valley," "Animal Kingdom," and an episode of "Supergirl," among several others. He's been a successful online presence with almost 93,000 subscribers on his YouTube page, and a million followers on Instagram.
Following in the footsteps of fellow soap star Sasha Calle, Fodé may be donning tights and a cape — if the stars align.
James Gunn liked Fodé's self-tape
"The Young and the Restless" alum Sasha Calle (formerly Lola Rosales) has excited fans with her new role as Supergirl in the upcoming film, "The Flash," and Pierson Fodé may be the next soap-star-turned-superhero. Director James Gunn has several successful movies under his belt including "The Suicide Squad," and the three "Guardians of the Galaxy" films. Now, he's the co-head at DC Studios with Peter Safran, and has laid out his plans for the new DC Comics movie universe. That plan didn't include actor Henry Cavill, who has played Superman in four films. Instead, Gunn is recasting the part. 
Variety reports that several actors sent in videos of themselves in an attempt to get the role, and James Gunn really liked Fodé's reel. The actor included footage of the farm where he grew up in Washington, which resembles Smallville, Kansas — the fictitious town where Clark Kent was raised and would later become Superman. Gunn stated that he's really happy about the various actors who are interested in the part, and told Variety, "The next Superman has to be someone who has all the humanity that Superman has, but he's also an alien. It's gotta be somebody who has the kindness and the compassion that Superman has and be somebody who you want to give a hug."
While Superman is the complete opposite of Thomas Forrester, we know that Fodé has the acting chops to pull off the iconic role.