Prince William Seemed To Lose Patience With Kate Middleton At Jordanian Royal Wedding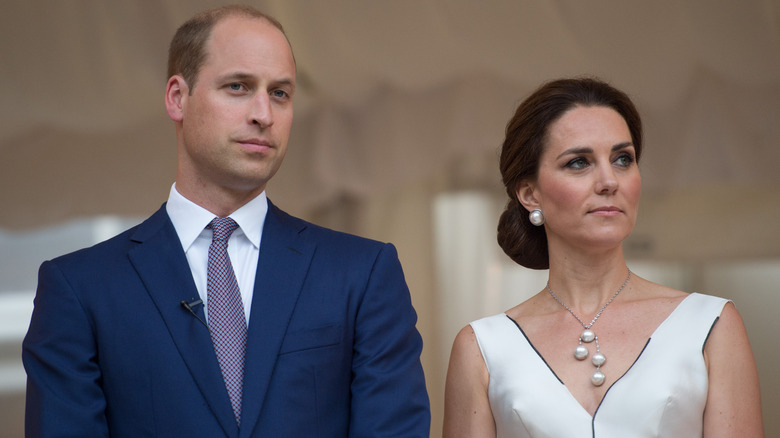 WPA Pool/Getty Images
With the exception of fictional Disney couples, most marriages have their ups and downs. Prince William and Princess Catherine met over two decades ago in college, tied the knot in a 2011 royal ceremony, and have welcomed three children into the world. Although their marriage may look picture-perfect from the outside, the Prince and Princess of Wales have their fair share of conflict. "Someone at the palace told me about the nicknames they have for each other. But it's not all sweetness," Tom Quinn author of "Gilded Youth: An Intimate History of Growing Up in the Royal Family," revealed to Fox News Digital, adding, "They have terrible rows where they throw things at each other. Kate might seem to be a very calm person, and William also. But it's not always true."
On June 1, 2023, the Prince and Princess of Wales attended the wedding of Crown Prince Hussein Princess Rajwa in Amman, Jordan — it seems royal families around the world like to keep in touch. As seen on the Daily Mail's TikTok, Princess Catherine enthusiastically spoke to Princess Rajwa before the future king rushed her along with a succinct "chop-chop" hand gesture. Although some commenters were disappointed with his impatience, others found it relatable. "That is such a normal husband move," one user commented under the video.
Ultimately, as far as royal relationships go, others have certainly sparked way more controversy ... We're looking at you, Charles and Camilla.
Kate Middleton has let her 'social face' slip, too
Weddings are so much fun. There's dancing, mingling, drinking, and plenty of extravagant foods to sample. But even at a great wedding, keeping up your social face for a long period of time can be taxing. Add a bunch of cameras to the mix, with each photographer waiting to get the next big scoop on you, and we can see why Prince William was ready to get out of there. Kate Middleton, of course, is known for being a social butterfly, as her chattiness at the Jordanian wedding shows, but even the Princess of Wales has had moments captured on film where she looks like she'd rather be anywhere but where she is.
Such a moment was captured in 2017 at the Queen's Birthday Garden Party in Warsaw. William and Kate were in attendance to enjoy the festivities and help celebrate. However, Kate seemed ready to do anything but party, body language expert Judi James told Express. In fact, the body language expert claims the usually bright-eyed royal was feeling "furious" and even threw a few pointed looks in husband William's direction. Kate's "I'm done" face from the party and Williams "chop-chop" gesture just makes this royal couple all the more relatable.
Jordan is embracing the next generation of royals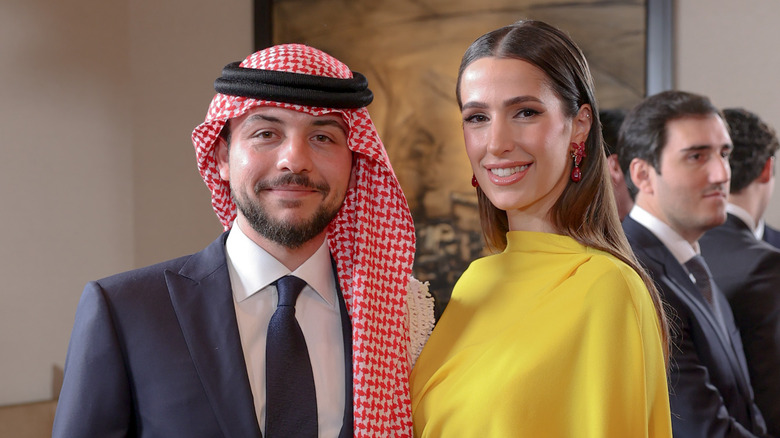 Handout/Getty Images
Crown Prince Hussein, who is the eldest son of King Abdullah II and Queen Rania of Jordan, wed Rajwa Khaled bin Musaed bin Saif bin Abdulaziz Al Saif on June 1 in a lavish ceremony. Before joining the Jordanian royal family, Princess Rajwa worked as an architect in Los Angeles, California, having graduated from Syracuse University with honors in 2017. Although it's true the new Princess Rajwa has been in the workforce for the past few years, this isn't her first taste of royal life. Her mother is a first cousin to King Salman of Saudi Arabia and a member of the powerful Al Sudairi family.
As is evidenced by Queen Rania's active social media, she is more than happy with her son's choice of partner. On May 23, she shared behind-the-scenes footage from the pre-wedding royal henna party and, on the wedding day itself, wrote her well-wishes on Instagram: "May God bless you both and fill your home with love and happiness." 
Along with Princess Catherine and Prince William, 1,700 other guests attended the Zahran Palace ceremony. Among them were Dr. Jill Biden and her daughter, Ashley Biden.