The Worst Dressed At The Royal Jordanian Wedding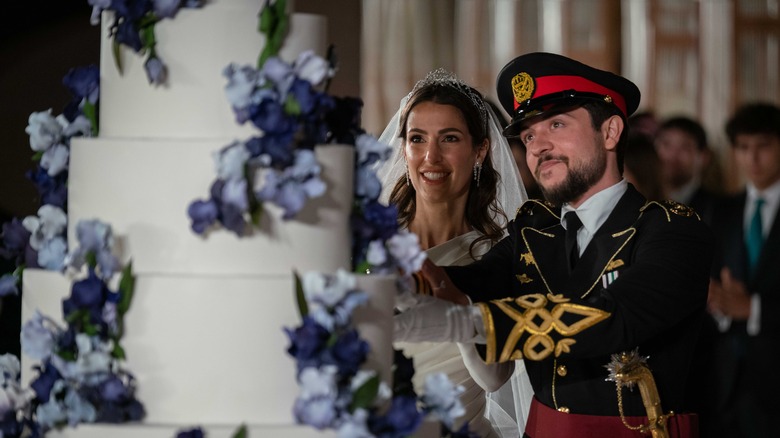 Jordan Pix/Getty Images
The world's royal families convened at Zahran Palace in Amman, Jordan, on June 1, 2023, to attend the wedding of Crown Prince Hussein to Rajwa Alseif. Attendees of the the ceremony included the Prince and Princess of Wales, Jill Biden, and many other royal and political figures. The event was lavish, to say the least. The bride and groom tied the knot in a floral-adorned gazebo. Alseif, now the Princess of Jordan, wore a long-sleeve custom haute couture gown by Elie Saab.
However, Princess Rajwa is not the only one who had a stunning look. Some of the best-dressed individuals at the royal Jordanian wedding included the groom's mother, Queen Rania of Jordan, who stunned in a black Dior frock, and Catherine, Princess of Wales, who donned a whimsical pink look. Others who made the cut for best-dressed include Princess Elisabeth of Belgium, who sported a fuchsia caped gown, and Princess Mary of Denmark in a red, blue, and cream floral dress. But, of course, not everyone made a good impression at this star-studded event. 
Here are some of the worst-dressed guests at the royal Jordanian wedding.
Princess Victoria and Prince Daniel of Sweden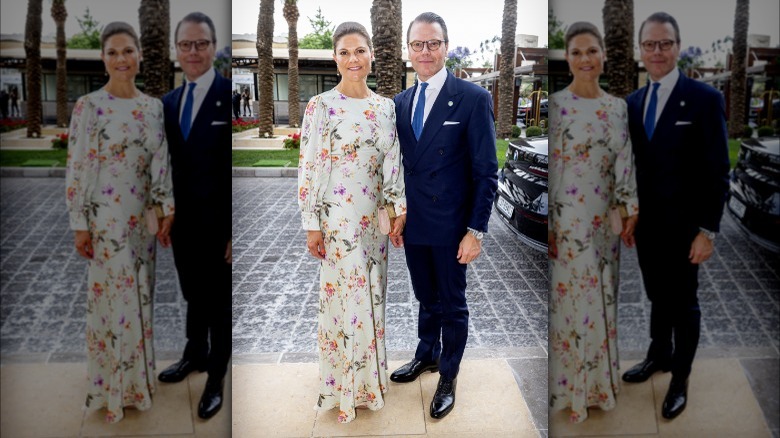 Patrick Van Katwijk/Getty Images
Princess Victoria of Sweden looked ready for a tea party, wearing a long-sleeved floral print maxi dress from Malina. While the dress is not atrocious, it looked too casual for a royal wedding. Victoria's evening banquet look, the Ginkgo cape dress by Safiiyaa, was not any better and made her frame look boxy. It was also incredibly similar to Princess Elisabeth of Belgium's look. Moreover, Meghan Markle wore the same gown in light blue back in 2018. Victoria's husband, Daniel of Sweeden, did not fair better. His tuxedo at the evening banquet looked costume-like.
Queen Maxima of the Netherlands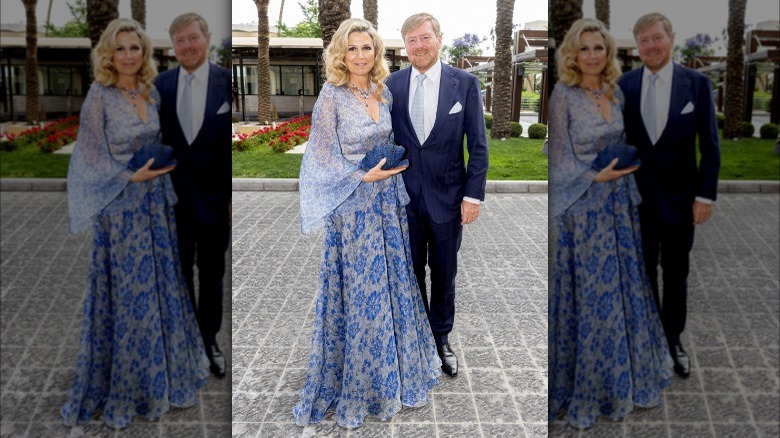 Patrick Van Katwijk/Getty Images
Like Princess Victoria of Sweden, Queen Maxima of the Netherlands failed to impress in a blue floral print gown made by Luisa Beccaria, per Town & Country. The sheer dress features bell-like sleeves, a v-neck, and two tones of blue. She accessorized her look with a blue sea-shell-shaped clutch. Victoria, unfortunately, looks like she's attending a wedding in Hawaii, not a royal wedding in the Arab country of Jordan. This is also not the first time she's been pictured in this look. Victoria previously wore this dress to an event in 2017, and again in 2019.
Princess Amalia of Orange
Princess Amalia of Orange is only 19, but her dress at the wedding banquet made her look twice her age. With its red silk and embellishments, this gown looks more suited for a mother of the bride. Amalia's gorgeous headpiece, also known as The Ruby Peacock Tiara, is the only redeeming factor of this look. According to The Court Jeweller, the tiara was made in 1897 and has previously been worn by Queen Wilhelmina of the Netherlands and Amalia's mother, Queen Maxima of the Netherlands.
Queen Jetsun of Bhutan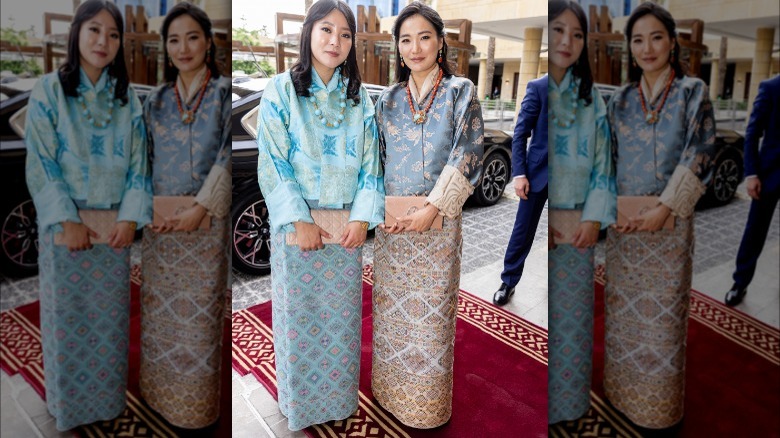 Patrick Van Katwijk/Getty Images
Queen Jetsun Pema of Bhutan (pictured on the left) advocates for environmental issues and is known for being called the "Dragon Queen" (via the South China Morning Post). Jestun made news when she attended Queen Elizabeth's funeral and, later, King Charles' coronation. Jetsun attended the royal Jordanian wedding wearing a traditional-style dress from her home country. She accessorized the dress with a neutral clutch and a red and teal necklace with matching earrings. That said, these items clashed with her dress's bold and colorful patterns. Overall, there was too much going on in this look.
Sheikha Moza bint Nasser Al-Missned
Sheikha Moza bint Nasser Al-Missned arrived at the wedding in a pink and black ensemble made by Valentino in 1989. In her ruling country of Qatar and throughout the Middle East, the sheikha is lauded as a fashion icon. The pink geometric coat is eye-catching and dramatic. Given the occasion, the look is better suited for a fashion event, not a wedding. She could have paired her black A-line dress with a more subdued coat. However, the Sheikha made up for this look with the spectacular chiffon neon green gown she wore at the wedding banquet.
Princess Hisako and Princess Tsuguko of Japan
Princess Hisako and Princess Tsuguko announced in May 2023 that they were to attend the royal Jordanian wedding. Hisako later told Arab News, "It is a joyous occasion, I wish the young couple more future happiness. The future of Jordan rests on their shoulders." With that said, the looks worn by the mother and daughter duo were unremarkable. Princess Hisako wore a green embellished gown, while Princess Tsuguko's blue dress featured a floral pattern. Both looks appear straight from the '80s. Their accessories, including an owl-shaped clutch and a pearl choker, also have an outdated feel.
Princess Beatrice
Unlike the Princess of Wales' pink dress, Princess Beatrice's wedding look did not make an impression. Beatrice has gained a reputation for wearing inappropriate outfits, and her light blue embellished gown by Needle & Thread was no different. The gown is made from tulle and features gold sequins and frills on the sleeves and hem. Simply put, the dress has dated features and looks a bit frumpy. Beatrice slightly improved the look of the dress with a simple black belt. She also wore a pink puff-sleeved dress at the wedding banquet that made Beatrice appear to be cosplaying as a (stereotypical) princess. Neither of her two looks was a win in our book.