Kate Middleton's Wedding Guest Dress Is Her Most Whimsical Pink Look Yet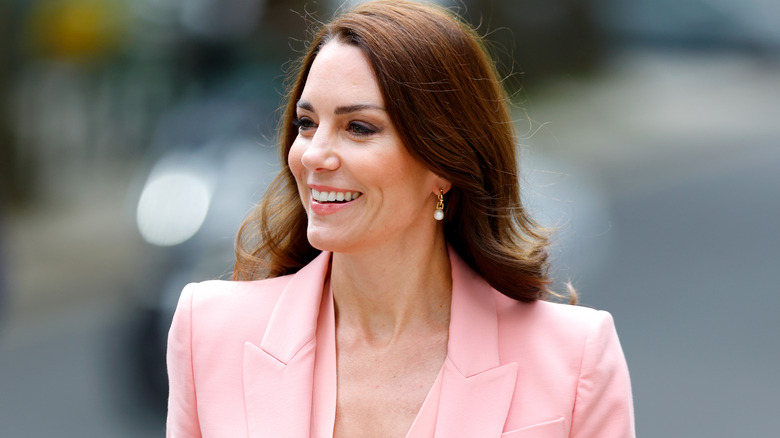 Max Mumby/indigo/Getty Images
In color psychology, pink evokes calmness, kindness, and elegant femininity, and Catherine, Princess of Wales seemed to embody all that and more in her apparel of choice for the wedding of Crown Prince Hussein and Rajwa Al Saif in Amman, Jordan, which she attended with William, Prince of Wales on June 1. 
The lavish ceremony saw a myriad important guests in attendance, among which Kate Middleton's whimsical pink gown stood out. The blush-pink Elie Saab maxi dress had an understated elegance to it, as its long sleeves had pleated detailing to them, along with its intricate bodice and cuff work. 
This isn't the first time Kate has looked pretty in pink though. In fact, some claim it's the Princess of Wales' new favorite color. On May 25, Kate donned a pastel pink Alexander McQueen suit while discussing her "Shaping Us" campaign at the Foundling Museum. And days before that, on May 23, Kate embraced the Barbiecore trend while attending the Royal Chelsea Flower Show, proving her love for the color has no end in sight.
Kate Middleton stuns in pink again and again
Crown Prince Hussein's wedding ceremony gathered a crowd of more than 1,700 guests, according to People. Kate Middleton and Prince William arrived at the venue and were seen engaging in friendly conversation with the parents of the groom, King Abdullah II and Queen Rania. Kate wore her hair in effortless Hollywood curls and carried a neutral-hued clutch to complete the look. Statement earrings peeked from behind her locks from time to time.
At the Royal Chelsea Flower Show in London, where Kate made a surprise appearance, she opted for a brighter shade of the hue. The long pink gown from the British luxury brand ME+EM featured full-length sleeves and two distinct shades of pink. She completed the look with a pair of Castañer espadrille wedges and Catherine Zoraida earrings, according to Country and Town House.
Kate also wore a bright fuchsia coat over a rollneck sweater of the same hue combined with black slacks as her outfit of choice when she volunteered at Foodshare, Berkshire in January 2023. In June 2022, the Princess of Wales opted for a much darker shade of pink when she attended the Platinum Pageant in London. The magenta, long-sleeved gown from Stella McCartney had ruching detail across the front. In a more casual encounter on the same day with her three children — Prince George, Princess Charlotte, and Prince Louis — that involved baking cakes, Kate was seen sporting a light pink checkered blouse by Brora.
Pink appears to be Princess Charlotte's favorite color, too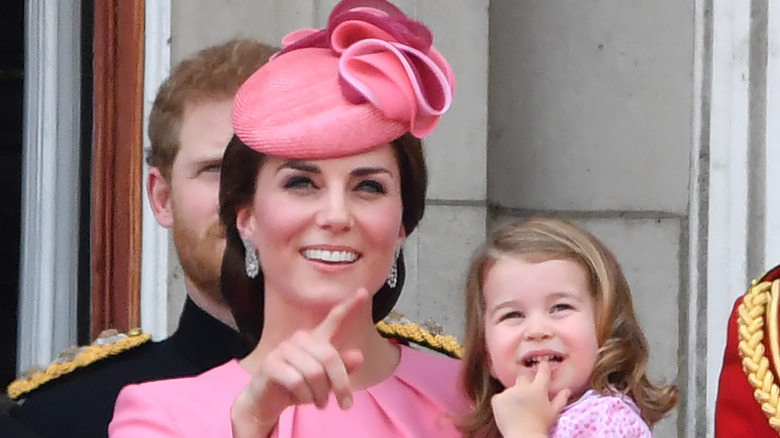 Anwar Hussein/Getty Images
Aside from the heartwarming reason why Kate Middleton wore a pink dress when she met Mila Sneddon, is it possible that the Princess of Wales is borrowing from her daughter Princess Charlotte's favorite hue these days? 
In 2017, while visiting London's Hornsey Road Children's Center, Kate revealed to a 6-year-old that her daughter Charlotte's favorite color was pink. Speaking to Hello! (via Vogue), the little girl shared, "She [Princess Catherine] asked me what my favorite color is. I said it was pink, and she said that's Charlotte's favorite color too."
Despite what the princess' latest penchant for the whimsical hue of pink might indicate, Kate's actual favorite color happens to be green. Color specialist Gabriella Winters told Hello! that this may have to do with her eye color. "Kate has medium-dark eyes that are on the softer side in terms of intensity, and dependent on the lighting they appear to be slightly different shades of green ... Wearing colors that are innate to your coloring will make you appear graceful, fresh and elevated — Kate wearing her eye colours make her look effortlessly elegant, glowing and refined."