Kate Middleton's Tiara At Royal Jordan Wedding Carries Special Family Meaning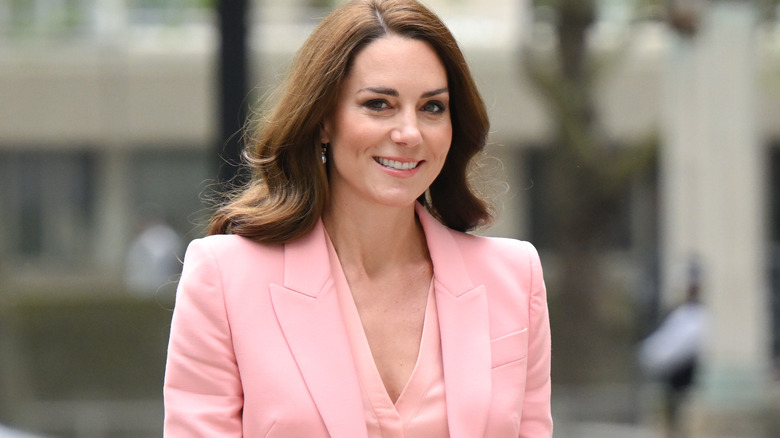 Karwai Tang/Getty Images
The past year has been nothing short of nonstop for the British royal family. There was Queen Elizabeth's joyous Platinum Jubilee celebration, followed by her somber funeral just three months later. May 2023 saw King Charles III formally crowned in his grand coronation ceremony. Naturally, William, Prince of Wales, and Catherine, Princess of Wales, played major roles in all these events, with all eyes on the future king and his wife. It must have come as a relief, then, to be merely two of many guests at the June 1 wedding of Jordan's Crown Prince Hussein and Rajwa Al Saif. The two princes are particularly close, bonding over their shared love of soccer.
The Jordanian royal couple exchanged vows in a traditional Islamic ceremony early in the day as their families and distinguished guests looked on. Among them were William's cousin Princess Beatrice and her husband, Edoardo Mapelli Mozzi, as well as former first daughter Ivanka Trump and her husband, Jared Kushner. Once again displaying her new favorite color, Kate Middleton's whimsical wedding guest dress was a cheerful shade of pale pink that stood out among the rest. For the palace banquet that evening, everyone changed into more formal attire. Greeting the prince, princess, and their parents in the receiving line, William was dapper in black tie and tails, while Kate stuck with her color scheme: a sequined rose-tinted Jenny Packham evening gown with silver accents. But it was her choice of headpiece that really caught public attention. 
The Lover's Knot tiara is well known to royal watchers
The difference between a crown and a tiara is that a tiara can be worn by any royal woman, whereas a crown is only used by a monarch (unless you're a 5-year-old playing dress-up). Per Marie Claire Australia, there are specific rules for wearing the sparkling headgear. It's reserved only for royal women over 18, and then only after they're married. The monarch gifts tiaras from the palace collection, after which the royal keeps it all her life. Tiaras are considered evening wear except for weddings, where tiaras are always appropriate. For the wedding banquet of Jordan's Prince Hussein and Princess Rajwa, Kate wore the stunning — and very recognizable — Lover's Knot Tiara.
The diamond-and-pearl-festooned Lover's Knot was famously given as a wedding gift to Princess Diana by Queen Elizabeth II. Sadly, the headpiece reverted back to the queen's collection after Diana's death, where it remained until it was passed on to Kate. The princess often wears it to special occasions, perhaps as a tribute to her beloved mother-in-law. But as the Mirror reports, up till now, Kate hasn't worn a tiara since December 2022. Princess Beatrice, her cousin by marriage, arrived at the wedding wearing the same tiara her mother, Duchess Sarah Ferguson, wore when she wed Prince Andrew. Seeing the princesses not only in tiaras, but also ones with such positive memories, is a reminder of happier times within the palace.