Mariah Carey And Ex Nick Cannon Disagree Over This One Co-Parenting Issue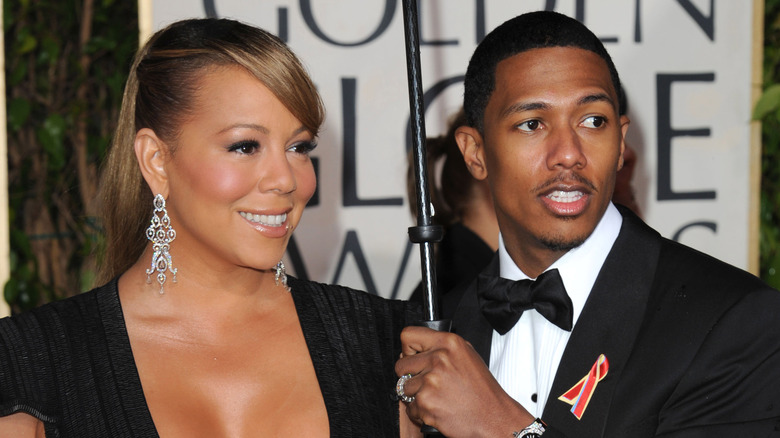 Steve Granitz/Getty Images
Nick Cannon and Mariah Carey are one set of celebrity exes that appear to have things figured out. The duo first met in 2005 and made their relationship official in 2008. Later that year, Cannon popped the question, and the couple married in the Bahamas. In 2011, Cannon and Carey welcomed twins Moroccan and Monroe. However, by 2014 they had gone their separate ways. The pair filed for divorce and their marriage officially came to an end in 2016. "Making the necessary adult adjustments to being working parents in entertainment took its toll on our relationship," Carey said of the split in her book "The Meaning of Mariah Carey," per Brides. Since that time, the duo have worked on co-parenting their children and seem to do a great job of it. However, they do have some disagreements when it comes to their kids.
"We'll forever be family," Cannon said during a "Good Morning America" interview in 2014 (via Entertainment Tonight.) "We're there for our children, and are making them the number one priority and understanding that they're loved." In 2018, sources told People Magazine that Cannon and Carey had a great co-parenting relationship. "Mariah and Nick are getting along great. Nick spends most of his time with Mariah and the kids. Mariah is great with Nick around."
Now, years after their divorce, the two are still doing what they can to raise their children together. However, they have had debates about the twins' being on social media.
Disagreement about their kids' social media presence
Filmmagic/Getty Images
When it comes to raising children, social media is one issue on which all parents have to take a stance. However, with celebrity couples like Nick Cannon and Mariah Carey, giving your children a social media presence can add a new level of worry. During an interview with Jason Lee, Cannon admitted that the twins, especially his son, enjoy social media but that Carey is a bit more concerned about letting them have free reign. "So it's a balance, it's alignment. I let them run. They make TikTok videos with me and do all this stuff," Cannon stated. "And they do it with Mariah too, but I let them have a little bit more freedom, especially stepping into the place of being almost teenagers."
Of course, there have been some incidents where the kids have been put in a tough spot, and Cannon detailed one situation where his son handled some haters with ease. "They said something about his mom, and he said, 'Hold up.'" He was on Twitch. He's like, 'First of all, I don't discuss any of my family issues and I feel like you're being disrespectful right now. That's not why I'm here, so if you're going to continue to ask me questions, I'm going to ask you to remove yourself.'"
Although they may not exactly agree on the kids' use of social media, Cannon and Carey seem to have a great relationship.
Cannon and Carey are still close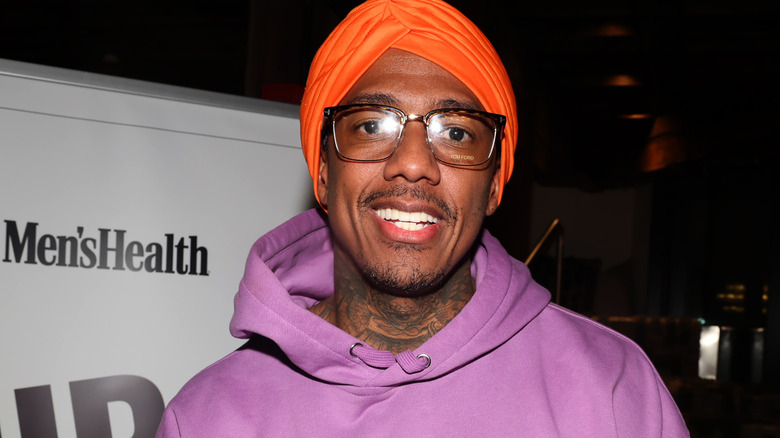 Shareif Ziyadat/Getty Images
Despite the fact that Nick Cannon and Mariah Carey couldn't make their marriage work, the pair are still very close. In addition to co-parenting their twins, Cannon has revealed that he and Carey talk often and that she is very supportive of him. "She's high frequency ... She always asks me, 'You aight? How you doin'? You handling it all?' ... So when we talk daily, she's just checking in on my spirit," he told Jason Lee.
Meanwhile, Cannon's dad duties don't end with the twins. As of early 2023, the TV host also has 10 younger children. Cannon shares two sons, Golden Sagon and Rise Messiah, and a daughter, Powerful Queen, with Brittany Bell, and twin sons, Zion Mixolydian and Zillion Heir, and a daughter, Zeppelin, with Abby De La Rosa. He's also the father of a son, Legendary Love, with Bre Tiesi, and a daughter, Onyx Ice, with LaNisha Cole. He is also the father of two children with Alyssa Scott, a daughter, Halo Marie, and a son Zen, who died at five months old in 2021 due to brain cancer.
Cannon has been open about loving his big, blended family. However, has admitted that there are some challenges to parenting so many children. "Being a father of multiple kids, it's always the biggest guilt on me is that I don't get to spend enough time with all my children," he confessed (via People.) It's unclear whether or not Cannon will have more children, but for now, that entertainer says he's got his "hands full."