Kim Kardashian Isn't Confident She'll Find Love After Messy Split From Kanye West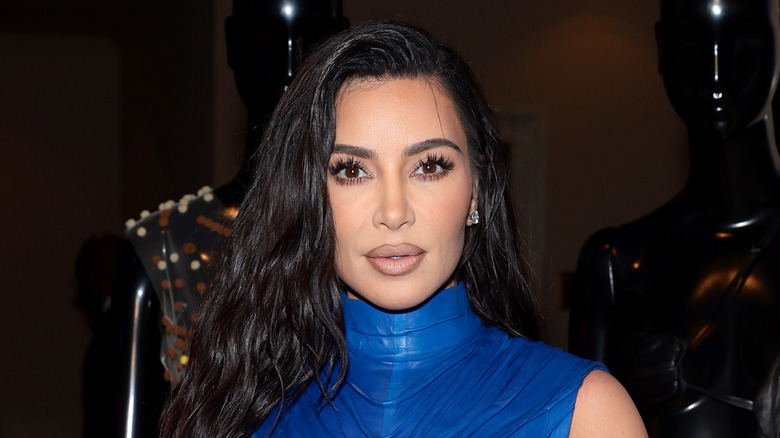 Dimitrios Kambouris/Getty Images
Kim Kardashian's love life has always been a hot topic of conversation. Before tying the knot with rapper Kanye West, the reality star had made headlines for her relationships with Ray J, Reggie Bush, Nick Cannon, Miles Austin, and her short-lived marriage to Kris Humphries. However, following her divorce from West, Kardashian is a bit more apprehensive about dating and has even admitted to losing her confidence when it comes to finding love again.
Kardashian — who has undergone a stunning transformation over the years — filed for divorce from West in February 2021 after nearly seven years of marriage. The couple, who share four children together, North, Saint, Chicago, and Psalm, went on to have a messy split before finalizing their divorce in November 2022. During their separation, West made several public comments about Kardashian, his children, and her family. He also hurled several insults at Kardashian's then-boyfriend Pete Davidson.
After seemingly hitting her limit, Kardashian took to social media to share a bit of her frustration with fans. "Divorce is difficult enough on our children and Kanye's obsession with trying to control and manipulate our situation so negatively and publicly is only causing further pain for all," she wrote (via Us Weekly). Now, the SKIMS founder is worried that all of the drama will make dating even more difficult for her going forward.
Kim Kardashian worries she won't find love again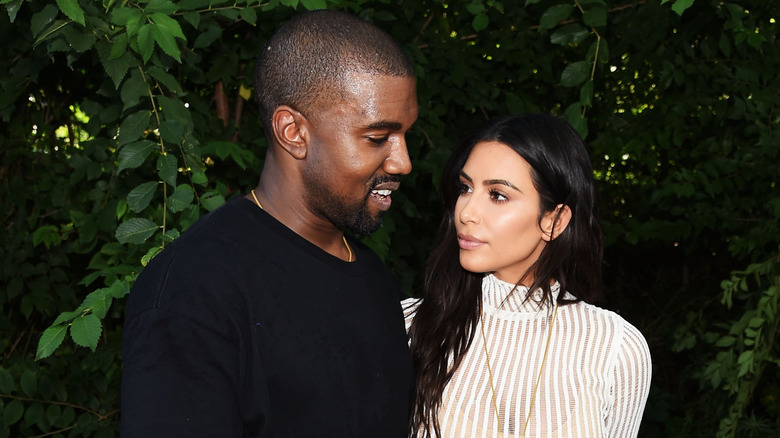 Jamie McCarthy/Getty Images
During the Season 3 premiere of "The Kardashians" on Hulu, Kim Kardashian opened up regarding her feelings about dating following her split with Pete Davidson. The star admitted that she doesn't think many men would want to date her due to the drama in her life, her age, and the fact that she has four young children at home. "I go back and forth in my feelings sometimes, like, who's ever gonna wanna date me?" she said in a confessional on the show, per People Magazine. "I have four kids, I'm in my 40s ... like, Who's gonna wanna deal with the drams?"
However, Kardashian did admit that if she finds the right person to be in a relationship with, nothing else is going to matter. "But my person is gonna be like, 'f*** all that. It's gonna be hard, but we're together and we're gonna do this.' So I'm just waiting for that person," she added. During the episode, Kardashian also revealed that she felt guilty about how much drama Davidson had to deal with because of Kanye West's reaction. She also claimed that she wasn't ready to dip her toes back into the dating pool just yet, as she was still dealing with the sadness of her breakup with the "Saturday Night Live" star.
Kim Kardashian dating rumors surface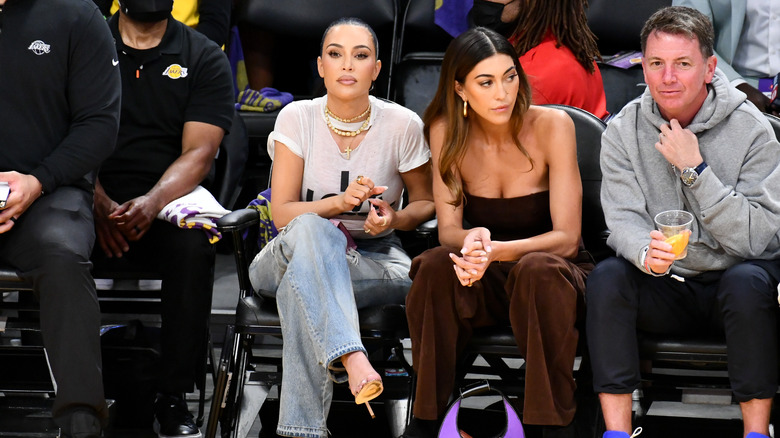 Allen Berezovsky/Getty Images
Following Kim Kardashian's split with Pete Davidson, rumors have been flying about her dating life. Although Kardashian has not spoken out about dating anyone new, there has been speculation linking her to a few different men, one of which is iconic NFL quarterback Tom Brady. In 2023, Kardashian and Brady both found themselves single after divorces from their longtime spouses Kanye West and Gisele Bündchen. However, those rumors seemed to stem from Kardashian reaching out to Brady for advice when she decided to visit Baker's Bay Golf & Ocean Club in the Bahamas where the football star has a home. "They've been in touch but they're strictly friends and she isn't looking at dating Tom or anybody else at the moment," a source told Us Weekly of the rumors.
In May 2023, Kardashian ignited speculation that she may be dating an athlete that played for the Los Angeles Lakers or the Golden State Warriors when she was spotted sitting courtside during playoff games. Fans began to wonder if Kardashian was dating a basketball player after never really showing interest in the NBA in the past (Although she was married to former NBA player Kris Humphries.) However, TMZ revealed that Kardashian had become a big Lakers fan and was there to support the team.
Although Kardashian may not be dating now, it seems like only a matter of time before she finds her next beau and fans can't wait to see who it will be.