How Meghan Markle Spent The Final Hours Before Her Wedding To Prince Harry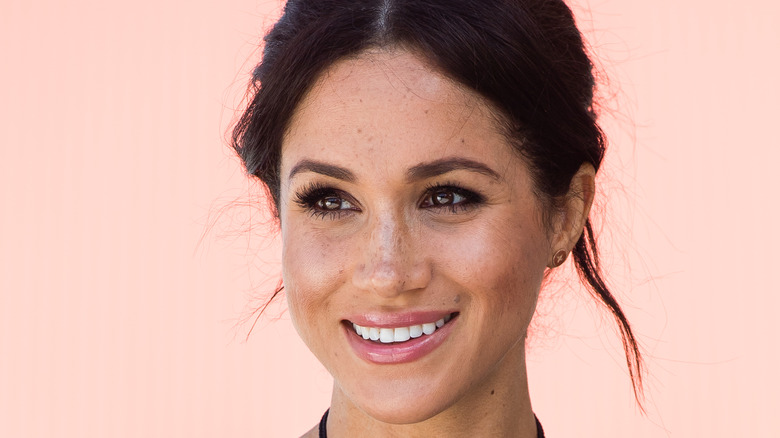 Samir Hussein/Getty Images
Meghan Markle and Prince Harry got engaged in November 2017 and preparations for their wedding were underway shortly thereafter. Since Harry and Meghan weren't too keen on the royal fanfare, they made some adjustments to their plans, making their special day their own. Despite having permission to wed at Westminster Abbey, for example, the duo decided that a ceremony at St. George's Chapel was more suitable — and more intimate — according to Romper. Moreover, Harry and Meghan decided to have their first kiss on the steps of the chapel as opposed to the balcony at Buckingham Palace, which is where Prince William and Kate Middleton shared their first kiss as husband and wife. 
Before the wedding, Markle spent some time with those closest to her, and made sure that she was surrounded by loved ones as she prepared for one of the biggest days of her life. The morning of the wedding, for example, she remained cool, calm, and collected as she prepared for the day ahead. "We woke up early, had a little coffee and then just went on. It was all smiles, it was just one of those dreamy moments," Markle's hairdresser Serge Normant told reporters at the time, (via People). "It was the easiest process in the world," he continued, adding, "She was calm and chatty. She was very happy, it was a beautiful morning — the perfect morning to get married." Markle had a similar experience the night before her wedding as well.
Meghan Markle spent the eve of her wedding day with her mother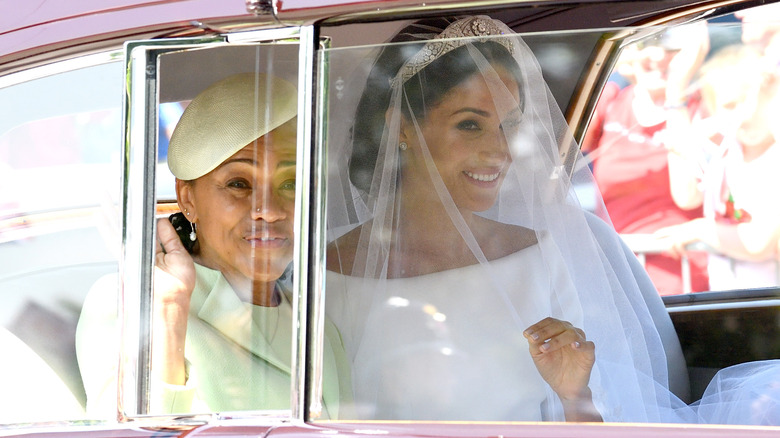 Karwai Tang/Getty Images
It's no secret that Meghan Markle is extremely close to her mother, Doria Ragland, so it's no surprise that the two were together before the royal wedding. According to the Daily Mail, Markle and Ragland enjoyed five-star accommodations at the Cliveden House Hotel in Berkshire following Markle's afternoon tea with Queen Elizabeth II. Perhaps as an impromptu bachelorette party, Markle also invited some of her closest gal pals to hang out at the hotel for a bit as well. In keeping with tradition, Markle and Prince Harry slept apart on the night before the wedding; Harry stayed at nearby Coworth Park with is brother and best man, Prince William.
The beautiful grounds at Cliveden House Hotel provide breathtaking views as well as a peaceful, relaxing atmosphere. The hotel's official website features photos of the super luxurious guest rooms, which look like they are straight out of a magazine. There is even a Prince of Wales Suite that boasts "high ceilings, is decorated with antiques and original works of art, and enjoys a spectacular view over the Parterre." The hotel is a popular destination for weddings with an on-site wedding planner and no stones going unturned. 
Meghan Markle says she and Prince Harry were already married on their wedding day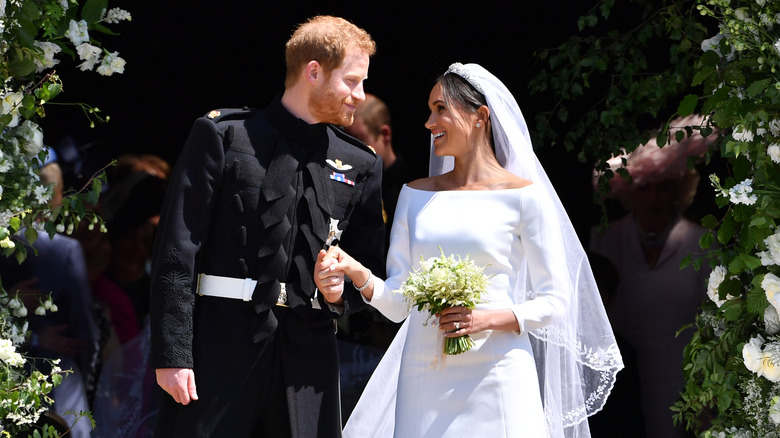 Wpa Pool/Getty Images
Just about every bride has some level of nerves heading into her big day, and one could venture a guess that marrying a prince on such a public stage could be downright terrifying, but Meghan Markle seemed to handle any and all pre-wedding jitters with ease. One of the reasons could have been that Markle and Prince Harry actually exchanged vows privately days before their wedding day. The admission came during the couple's tell-all interview with Oprah Winfrey that aired in March 2021. "You know, three days before our wedding, we got married," Markle told Winfrey, according to Today. "No one knows that. We called the archbishop and just said, look, this thing, this spectacle is for the world, but we want our union between us, so the vows that we have framed in our room are just the two of us in our backyard with the archbishop of Canterbury," she added.
Markle's longtime friend and makeup artist Daniel Martin told People that the Duchess of Sussex was super chill before meeting her man at the altar. "She didn't seem nervous. She was very cool, she was regular Meghan," he said.