Angelia Jolie And Brad Pitt's Relationship Debut Started With A Surprise Tip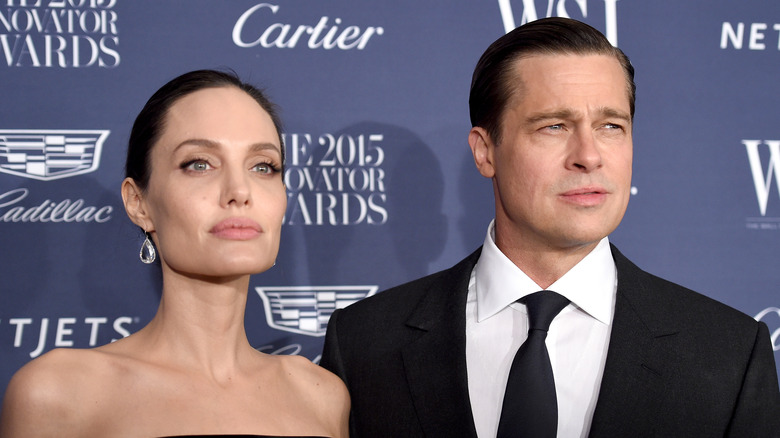 Dimitrios Kambouris/Getty Images
Money, super ritzy weddings, and, sometimes, infamy. What's not to love about keeping up with your favorite celebrity couples? After seeing them on the big screen or onstage, it's surreal seeing your fave celebs become a romantic duo. It goes without saying that when Brad Pitt and Angelina Jolie got together in the mid-2000s, history was made. Two of Hollywood's most recognizable faces, dubbed "The Sexiest Man and Woman Alive," had debuted as a couple, and it for sure surprised everyone keeping up with celebrity culture.
We all know Pitt and Jolie had some very messy moments leading up to when their marriage fell apart, but before that, no one could deny these two looked absolutely in love. And while very few details were known about how they got together and what their relationship was like, we now have new information on how this iconic relationship went public.
There was a lot of gossip about a romance blooming between Jolie and Pitt as they filmed "Mr. & Mrs. Smith," but it wasn't until a helpful tip came in that photographers were able to prove these rumors were true.
Jolie dropped a tip to paparazzi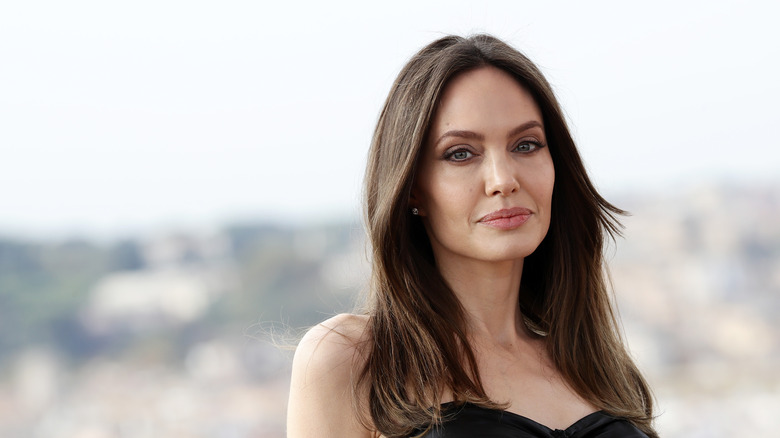 Stefania D'alessandro/Getty Images
The onscreen chemistry between Brad Pitt and Angelina Jolie in "Mr. & Mrs. Smith" was certainly palpable. The action-packed, romantic spy thriller had moviegoers flocking to the theaters, making it among the highest-grossing films in North America in 2005 (via The Numbers). But the rumors that were flying around about the film's lead actors remained just that — rumors. We had nothing else to prove that a romance between the pair might be true at the time. Of course, that all changed when new photos emerged. These were the pictures that rocked the world and confirmed the reports that, yes, Pitt and Jolie were an item.
Per Us Weekly, the images showcased Pitt and Jolie going for romantic walks around the coast of Diani Beach, Kenya during their stay together at a resort in the area. No one had a clue where to find the secretive couple until photographers received a tip about their location. And as it turns out, the tip allegedly came from none other than Jolie herself, according to Page Six. Jann Wenner, co-founder of Rolling Stone and a previous owner of Us Weekly, revealed the juicy secret in his memoir, "Like a Rolling Stone." A photographer with Us got a tip for where to spot Brangelina and later told Wenner that "the tipster was Angelina."
The picture was taken before his divorce with Jennifer Aniston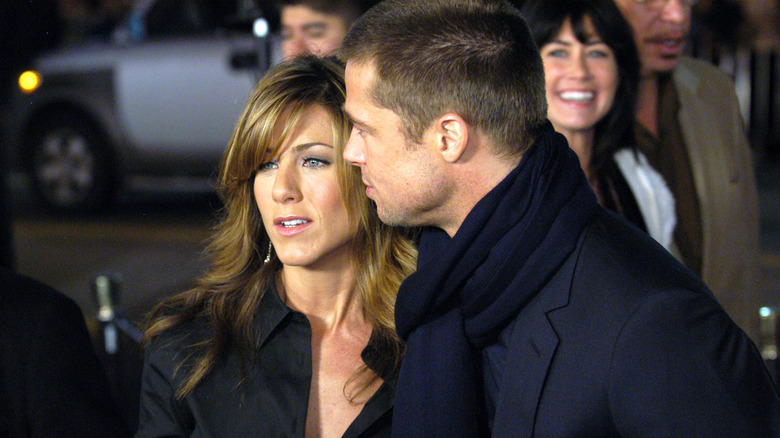 Jeff Kravitz/Getty Images
The "secretly" taken photos acted as the missing puzzle piece that gave us the origin story of Brangelina, and it seems like we have Angelina Jolie to thank. It was her behind-the-scenes maneuvering that filled in the long empty blanks of when her relationship with Brad Pitt began. We don't know if it's bold, sweet, or maybe a little bit messy of Jolie to have reportedly been the one to drop the hot tip to the media. After all, Pitt was still married to Jennifer Aniston while he and Jolie were staying together at the resort in Africa and going for those romantic walks.
Per Yahoo! News, Aniston would file for divorce in 2005 after Smith and Jolie wrapped filming on "Mr. & Mrs. Smith." So, if the claims are true and Jolie gave the photo op tip to the paparazzi, then she would have done so with the knowledge that Pitt was still a married man. Luckily, all parties involved have moved on and made peace after the headline-making affair, with Aniston and Pitt even having a friendly reunion in recent years.