Joe Jonas Sobbed With Jealousy When His Brother Nick Got Cast On The Voice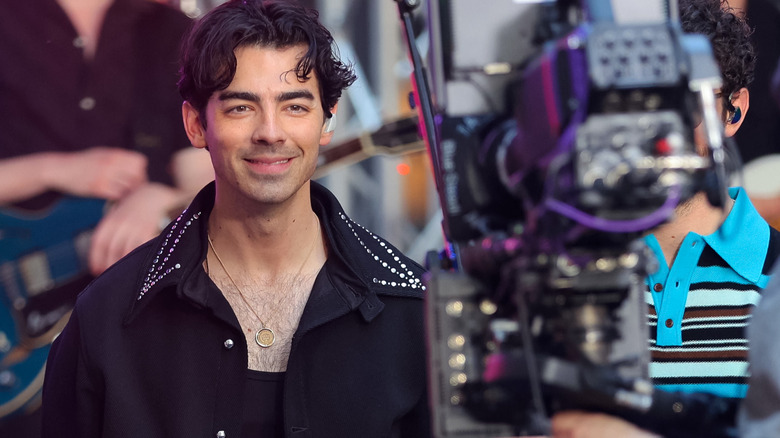 Jose Perez/bauer-griffin/Getty Images
Although Nick Jonas is the one who sings the 2015 R&B pop hit song, "Jealous," all three Jonas brothers get envious of each other and have disagreements sometimes. The pop band called it quits back in 2013 after some serious creative and personal differences caused a rift in their brotherly relationships. At the time, Kevin Jonas told People that they were choosing their family over music because things were becoming "toxic." Ultimately, the band reunited in 2019 after taking several years to heal as brothers and as friends. 
Even though the Jonas brothers are in a much better place now, there are still moments when being siblings in the same industry causes conflict between them. In May 2023, Joe Jonas revealed that he felt particularly jealous when Nick was chosen over him to be a judge on Season 18 of NBC's "The Voice." In fact, Joe got so upset when he heard the news that he started bawling while watching a Fleetwood Mac concert. 
Joe didn't take the news well at first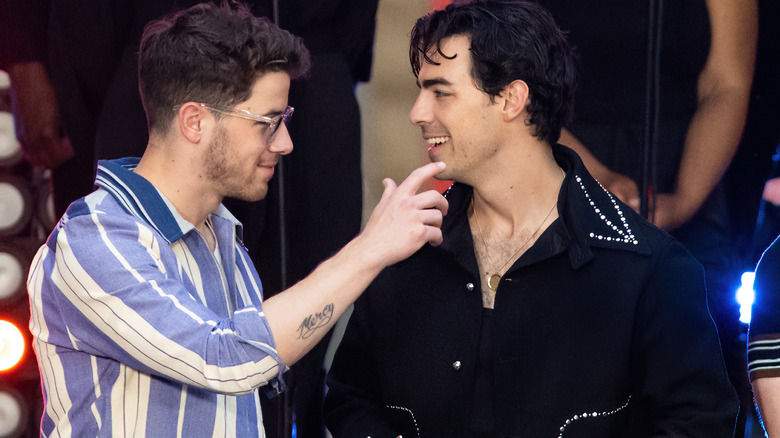 Gilbert Carrasquillo/Getty Images
Joe Jonas opened up about being jealous of Nick during a May 22, 2023 episode of the "Armchair Expert With Dax Shephard" podcast. The singer remembered the moment he first found out that Nick had been chosen for "The Voice." At the time, he was at a Fleetwood Mac show at Madison Square Garden. "They were playing 'Landslide,'" Joe recalled to Shephard. "I found out that he was going to be a judge on 'The Voice.' And I was so jealous I cried my eyes out to 'Landslide.'" He added, "It was bittersweet, of course, because I'm super happy for him but I'm also, like, bummed because I wanted that f***ing gig."
Kevin Jonas defended Joe's emotional reaction to the news, explaining that since his brother had previously been a judge on "The Voice" in Australia, Joe thought, "I did my time there — I should do it here." Joe admitted that he was really confused because he had loved the gig and thought, "What the f***?" when he wasn't offered the job a second time. At the end of the day though, he was thrilled for Nick, who he said "crushed it." 
The brothers are less competitive now than they used to be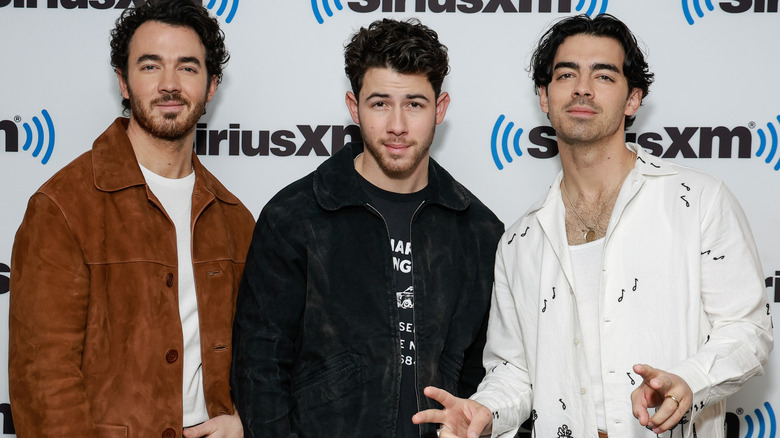 Jason Mendez/Getty Images
Although they occasionally still feel envious of each other, the Jonas Brothers are more mature these days, and their priorities have shifted. In a February 2023 appearance on ABC's "Impact x Nightline," Nick Jonas spoke about where he and his brothers stand now. "I think we are far less competitive now with each other than we used to be," he reflected. "And it's something that was either, like, right up front if we were in a competitive setting — whether it was sports or whatever we were doing — or it was kind of seething underneath."
The "Jealous" singer noted that becoming parents has been a big part of that transformation for him and his brothers. (He has one daughter, and Kevin Jonas and Joe Jonas each have two daughters.) "You realize, y'know, your own sort of feelings about things or [your] need to do whatever ... it's all secondary to that person, and their heart and their goals." He shared that the brothers are all super supportive of each other now, and Kevin chimed in to express his agreement.