Why Curly Girls Should Ditch The Heat Styling Tools In Warmer Weather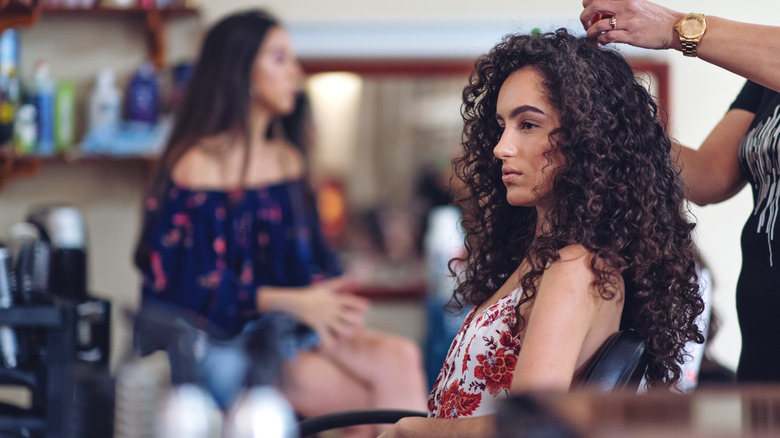 Lisegagne/Getty Images
Many people blessed with curls rely on thermal styling to create and maintain their daily look. Blow dryers, curling wands, flat irons, and hot air brushes all earn their place in a curly girl's home styling tool kit. But in warmer weather, hot instruments are the last thing you want to use on your wavy hair. It's already hot outside, and given that heat styling damages hair protein, adding heat from the sun is a recipe for disaster. In other words, thermal styling, combined with added solar energy, will dry out your hair, leaving it parched, limp, and vulnerable to breakage.
The Love Curly Hair blog explains that styling instruments that are too hot deplete the naturally occurring oils on your scalp and in your hair, leading to brittle tresses. A temperature of 365 degrees Fahrenheit (185 degrees Centigrade) is the still-safe maximum that will leave your hair healthy and strong, while higher than 451 degrees Fahrenheit (223 C) means you've entered the danger zone where you're basically ruining your curly hair.
Alternative techniques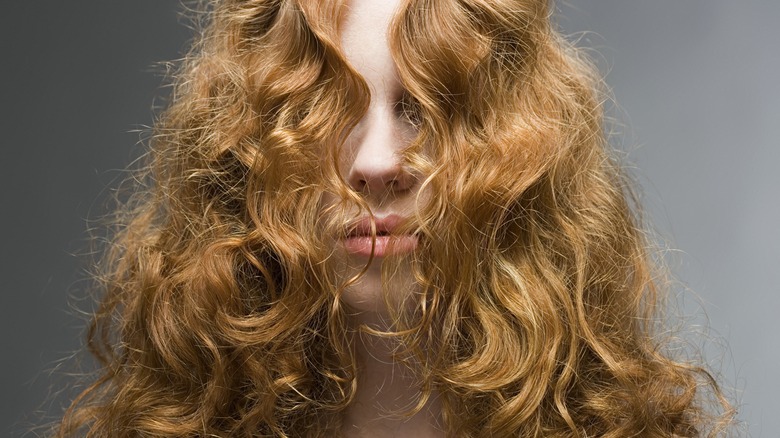 Image Source/Getty Images
Some stylists suggest banishing hot tools to the closet for the duration of summer weather, but the American Academy of Dermatology Association (AADA) advocates for a less extreme solution. They advise modestly changing your ways when the sun is strong. Their list of simple tweaks to your styling routine includes lowering heat settings, limiting the time tools touch your hair, and using high-temperature irons and dryers less frequently.
You might also follow the recommendations of salon co-founders and sisters, Titi and Miko Branch, speaking to fashion and beauty site STYLECASTER. Despite the risks, they caution against using too low a temperature, particularly when using blow dryers (with or without a handy diffuser attachment), because you won't get the results you want. In other words, if you're doing it, go all in... and then work on preserving your style for as long as possible. "You want to avoid humidity at all costs," they note. This means steering clear of rain, mist, and shower steam. You'd be wise to wrap your hair in a scarf to protect against wet weather and a towel to save your style from a steamy bathroom, they add.
The goal is healthy hair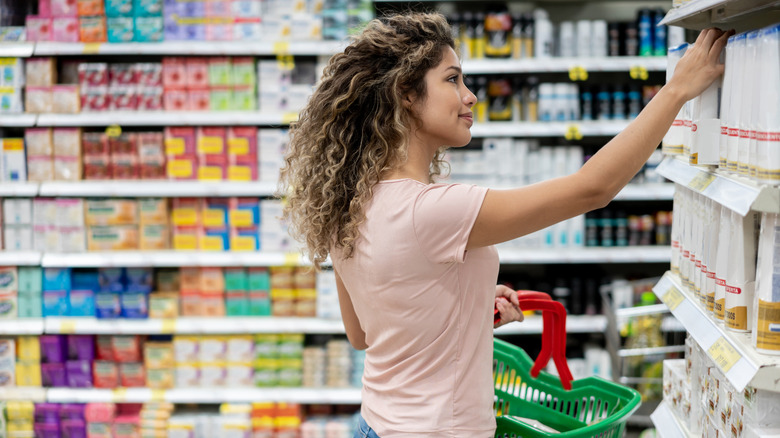 Andresr/Getty Images
You might try other modifications for the warm weather months if you're committed to protecting your ringlets. Royal Locks Curl Care, a maker of botanical products, emphasizes using a soft touch. Everything from the accessories you choose to how you brush your tresses, keep thinking "soft and gentle." Use a well-padded scrunchy to loosely hold back your hair instead of yanking with an iron grip and creating a too-tight ponytail with some random rubber band. And, when your hair's still wet, don't pull it into a tight do. For the best warm weather results, pass a comb through it, and air dry.
Similarly, NaturallyCurly.com suggests relaxed hairstyles (loose braids, for example) whenever you find yourself in hot climates. It's also important to wear a hat so that your vulnerable curls escape the destructive UV rays of the sun. (UV can also discolor your hair.) Using one of the best shampoos for curly hair is also important. A clarifying shampoo, a type of cleanser that strips away product build-up and chemicals, can help reset your hair if used once a month or so. You'll also need to use conditioner after every wash to keep curly hair shafts moist and supple, according to the AADA.
Finally, don't forget about the inside job. Eat healthy (lots of fruits and veggies), and also hydrate, hydrate, hydrate! Drinking plenty of H2O is the most effective way to ensure your curly hair retains its natural moisture, softness, and glow.