These Are The Best Shampoos For Curly Hair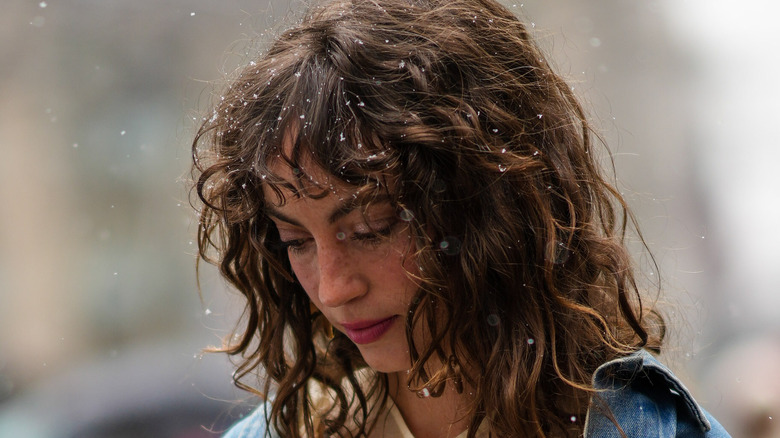 Edward Berthelot/Getty Images
One of the first rules of styling your hair is typically that people with straight hair want to give themselves curls. On the flip side, if people have curls, they often want to straighten them with their flat iron. It's a silly game, but, ultimately, the shape of your hair depends on genetics. The shape of the follicle — the hidden part of the hair that's still inside the scalp — determines whether you will have straight or curly hair (via Our Good Living Formula). For example, if you have round follicles, your hair will grow straight, and if you have oval follicles, you'll have wavy or curly hair.
Every type of hair has its own problems, but curly hair has less moisture. Curls tend to dry out quickly, so they require a little more care than straight hair (via Healthline). Basically, you want to choose hair products and treatments that add moisture to your hair, and try to stay away from those that dry out your hair more. Furthermore, you don't want to get rid of the natural oils on your scalp and hair, which is one reason why many people with curly and frizzy hair turn to co-washing. It leaves their hair softer and shinier, per Health. Of course, some people need the shampoo experience, and won't be happy with co-washing. For these people, we've found the perfect shampoos.
Sulfate- and paraben-free shampoos are best for your curls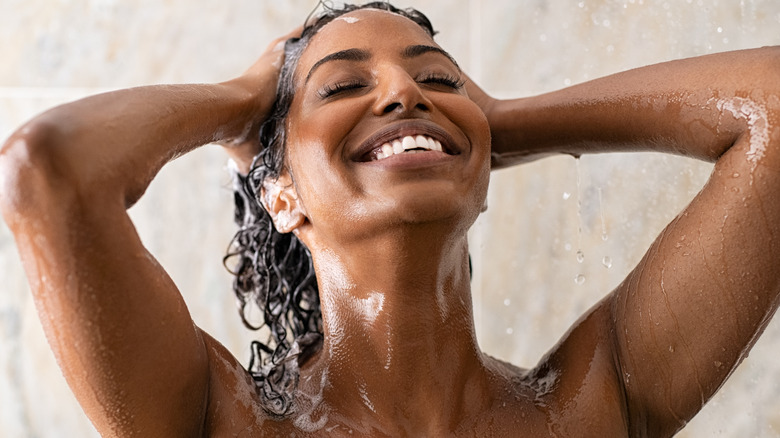 Rido/Shutterstock
Curly hair can't make do with just any shampoo. "You want to look for sulfate- and paraben-free products and shampoos because they're drying to the hair," Brooklyn-based hair stylist Robyn Stanley told Self. Plus, dry hair tends to look frizzy, which is often the case for curly-haired people. They recommend Hask Curl Care Moisturizing Shampoo because it has a hydrating blend of coconut oil, argan oil, and vitamin E. Moreover, it has a curl activating complex for long-lasting, frizz-free curls. It's affordable, and works for all curl patterns, too.
Byrdie's top pick is Ouidad Advanced Climate Control Defrizzing Shampoo because the combination of silk protein and anti-frizz nanotechnology protects your hair from humidity, while keeping it smooth. It's infused with hydrating ceramides and shea butter that keep your hair cuticles smooth, too. Additionally, this shampoo has a UV filter to protect you from the sun. If you prefer all-natural and ethically sourced ingredients, you will love Davines Love Curl Shampoo, which is one of Well + Good's favorites. This shampoo smells like a dream, and is infused with locally sourced almonds from Italy to give the hair incredible elasticity. It even comes in recyclable packaging.
For curly and colored hair, try Cosmopolitan's recommendation: Briogeo Curl Charisma Rice Amino + Avocado Hydrating Shampoo. This shampoo cleans your hair without stripping its color. It has rice amino acids to prevent frizz, and is infused with avocado oil to give you smooth curls.