Cameron Diaz Is 'Loving' Married Life With Husband Benji Madden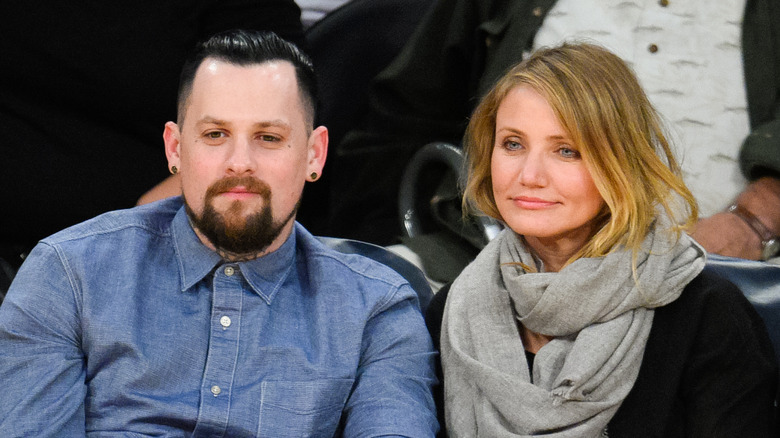 Noel Vasquez/Getty Images
With films like "Charlie's Angels," "There's Something About Mary" and "The Holiday," Cameron Diaz was one of the biggest names in the '90s and 2000s. However, in 2018, Diaz revealed to Entertainment Weekly that she had retired from acting. She later spoke about this decision on Kevin Hart's "Hart to Heart." Diaz explains (via Insider) that there were "so many parts of my life ... that I wasn't touching and that I wasn't managing." Diaz noted that her life improved after leaving her career behind. Moreover, Diaz also mentioned wanting to focus on her family life and marriage to Good Charlotte singer and guitarist Benji Madden.
The couple has been married since 2015 and share a daughter, Raddix. A source told US Weekly in 2019 that Diaz was living in domestic bliss with Madden. They said, "She feels she spent so many years working a grueling schedule." The source added, "She just wants to have a slow pace and normal routine now. She's loving this time in her life."
In a 2016 interview with Harpers Bazaar, Diaz discussed her marriage to Madden, saying, "That was the biggest thing I've done in my 40s, and it opened me up in different ways. It's pretty awesome. I didn't think it was something I'd do, and I don't know if I'd have done it if I hadn't met my husband. It was a surprise."
The couple is private about their relationship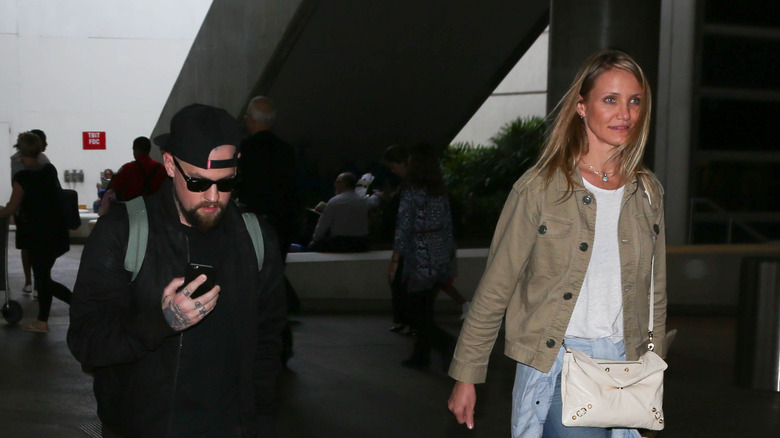 Gvk/bauer-griffin/Getty Images
Cameron Diaz and Benji Madden's relationship began in May 2014 after meeting through her longtime friend, Nicole Richie. Richie is married to Joel Madden, Benji Madden's twin brother. The couple became engaged in December of that year before walking down the aisle in a lowkey ceremony held in their backyard in January 2015. A source at the time told People, "Cameron has found true happiness." Although the couple is notoriously private and prefers to say out of the spotlight, Diaz and Madden have given glimpses into their marriage over the years through interviews and social media posts.
At the 2017 "In Goop Health" wellness summit, Diaz, per People, spoke about Benji, saying, "I've never had anyone who supported me so much and gave me so much courage to be myself and to really explore myself. My husband has been able to show me what it's like to ... be an equal. And I've learned so much from him. I look at him every day and he inspires me. I feel so lucky."
In 2022, Benji honored their seventh wedding anniversary on Instagram. He wrote, "Always dreamed of having a family like this. Happy, peaceful, consistent, loyal and unconditional equally filled with passion and depth. Calling it a Honeymoon doesn't cover it."
Cameron Diaz on motherhood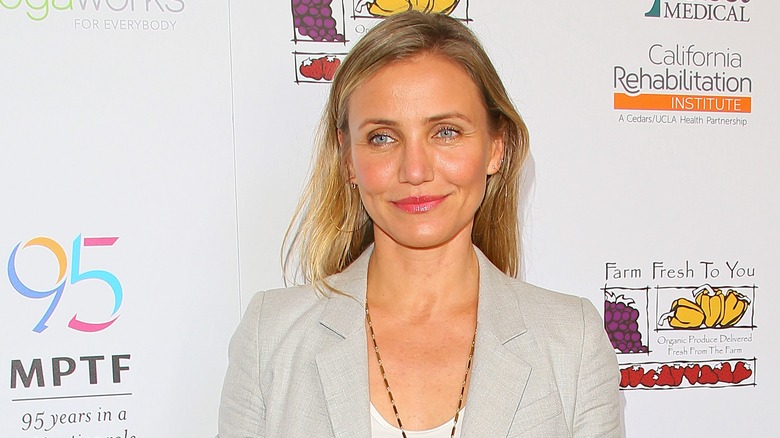 Jb Lacroix/Getty Images
Cameron Diaz and Benji Madden welcomed a daughter through surrogacy in December 2019. The couple gave their bundle of joy a unique name — Raddix Chloe Wildflower Madden. Diaz and Madden broke the news on Instagram and said that they were not planning to post photos or release any more information about their daughter for privacy reasons. During an Instagram Live session, Diaz spoke about motherhood and said (via BuzzFeed), "It's the best, best, best part of my life. I'm so, so grateful and so happy and it's the best thing ever! And I'm so lucky to get to do it with Benji and we're just having the best time."
Diaz also praised Madden's parenting skills and said he helped put the baby to sleep while she cooked dinner. On "Quarantined with Bruce" on SiriusXM, Diaz disclosed that she had no plans to return to acting, saying, "Being a wife and a mother has been the most ... fulfilling part of my life so far." It appears that Diaz later changed her mind. In 2022, it was announced that she, with Madden's support, was coming out of retirement to star in the film "Back in Action" with Jamie Foxx.
However, the Daily Mail reports that Diaz would likely retire again after the film's completion, citing that Diaz would rather dedicate her time to Madden and her young daughter. A source tells the publication, "Cameron loves being a mom more than anything in the world."