How Jill Biden Supported Joe Biden Ahead Of His Re-Election Bid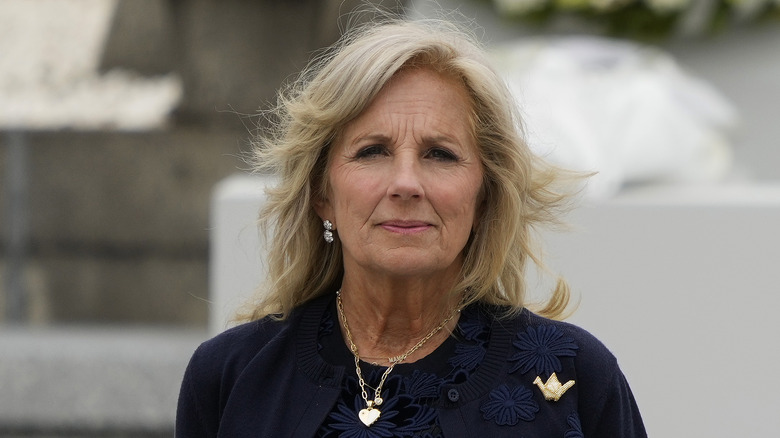 Pool/Getty Images
Jill Biden has embraced her political role, but that wasn't always the case. She wasn't excited during her husband's first presidential run in 2020. "She was a schoolteacher and she had less than no interest in politics or involvement in politics. She was really not a political person at all," a veteran Biden aide told Politico. But, Jill wasn't anti-government. She did marry a senator, after all. "She cared about what was happening in her community," the Biden campaign aide added, "but it wasn't like she thought about political strategy or anything like that. That was not her deal." 
The first lady's first love is being an educator. Jill Biden made history as the first F.L.O.T.U.S. to have a full-time job apart from her governmental duties. She teaches English and writing at Northern Virginia Community College. As the second lady when Joe Biden was vice president, she doubled as a professor as well. While Jill may not have been all in during the 2020 campaign, things have certainly changed during the years her husband was Head of State. Amidst Joe's re-election bid, it seems Jill is a main pillar of his second run.
Jill Biden is the push her husband needs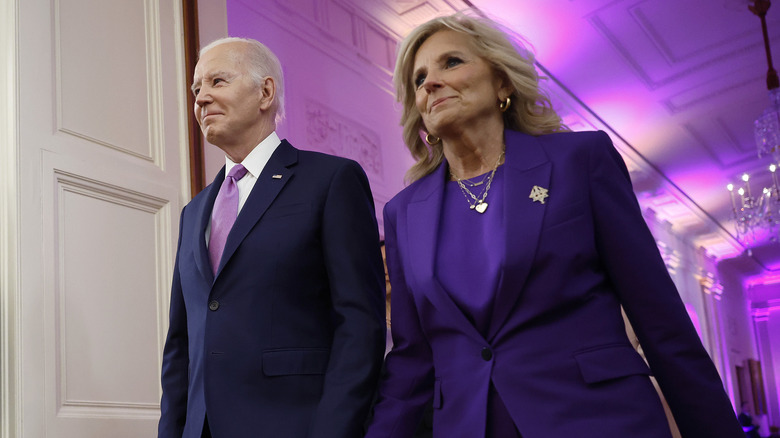 Chip Somodevilla/Getty Images
Behind the scenes, First Lady Jill Biden might be running the show. In an interview with David Muir, President Biden was asked about a second run, and he joked, "I gotta call [Jill] and find out." He was kidding, but there is some truth behind his wife's influence. A former senior adviser told Politico, "She is always his final gut check." As of April 2023, the president officially made his re-election bid. He released a campaign video where his wife can be spotted embracing the vice president, speaking out, and politicking on the campaign trail.
The first lady supported President Biden ahead of his official re-election bid. In private, she encouraged her husband to finish the job he started. She was present and participating in the deliberations surrounding the next steps, but ultimately left the outcome in the president's hands. A former advisor to the Head of State shared, "She is usually in the room when senior campaign staff are presenting strategy to her husband. She will ask questions. But she never weighs in on the decision."
The F.L.O.T.U.S. is an anchor for the president. She wants him to run and will be present throughout his 2024 campaign. In an interview with CNN, when asked if there was any chance he wouldn't run, the first lady said, "Not in my book." She added, "I'm all for it, of course." However, not everyone is pro-Biden's second term. 
Age concerns amongst Biden's re-election bid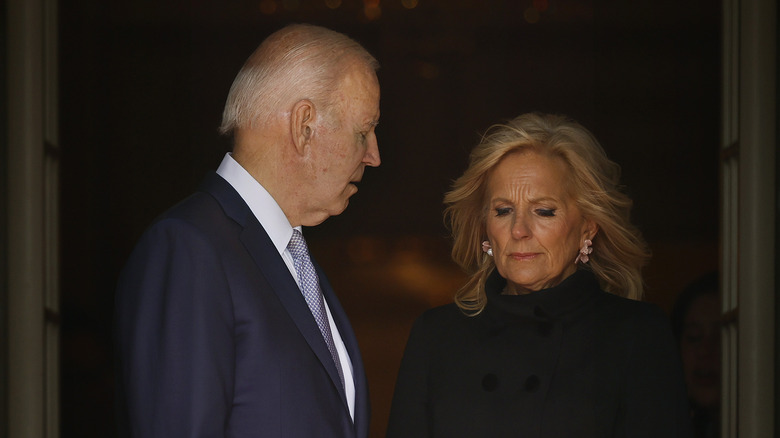 Chip Somodevilla/Getty Images
President Joe Biden's re-election run will be the fourth presidential campaign for him and his wife. When he entered the White House as Vice President Biden, he was 66 years old. As he finishes his first term as the Head of State, he is 80. Joe Biden is the nation's oldest sitting president. 
His age raises concerns about agility and mental capacity. Republican presidential candidate Nikki Haley proposed that politicians over the age of 75 should be required to pass a mental competency test.
However, the first lady says a competency test is absurd. In an interview with CNN, Jill Biden defended her husband saying, "How many 30-year-olds could travel to Poland, get on the train? Go nine more hours, go to Ukraine, meet with President [Volodymyr] Zelenskyy?" There's no need for a competency test in her eyes, you just need to open yours. She says, "So, look at the man. Look what he's doing. Look what he continues to do each and every day."