Don't Ask Billie Eilish For An Autograph - She Wants To Offer Fans Something More Personal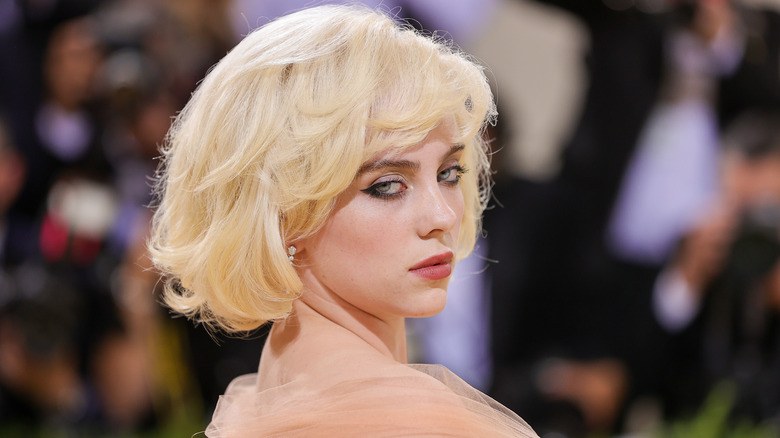 Theo Wargo/Getty Images
Celebrity autographs are a hot commodity online. A Sylvester Stallone-autographed "Rocky" poster sells for $1,500 on Hollywoodmemorabilia.com, while a "Field of Dreams" baseball signed by Kevin Costner can retail for well over $600. Of course, condition and context matter. John F. Kennedy, it turns out, didn't sign his own letters. "Some people say that because it was authorized by him, it still counts," New York City-based autograph expert Tamino Masckauchan told the AARP, before clarifying, "There is no such thing as a half-authentic signature." 
In other words, it can't hurt to do your research before buying (or listing) a signature on a platform like eBay. Some people have made collecting and selling autographs their full-time careers — they're what's known as "graphers." The New York Times profiled Craig "Radio Man" Castaldo, the autograph king of New York. Over the past few decades, he's been able to cultivate friendly relationships with celebrities like Harrison Ford, George Clooney, and Sarah Michelle Gellar. Another well-known NYC grapher, Giovanni Arnold, is ceaselessly astounded by his own profession. 
"My job baffles me," he admitted. "Personally, I wouldn't buy an autograph. It would be of more sentimental value if I got the autograph myself, but if someone else got it, it's just weird." Understanding that some so-called "fans" only want their signatures for profit rather than sentimental value, certain celebrities have a strict no-autographs policy. Further, royals are forbidden from giving autographs. Billie Eilish belongs to the camp of A-listers who'll refuse to pick up a pen for graphers.
Billie Eilish prefers hugs over autographs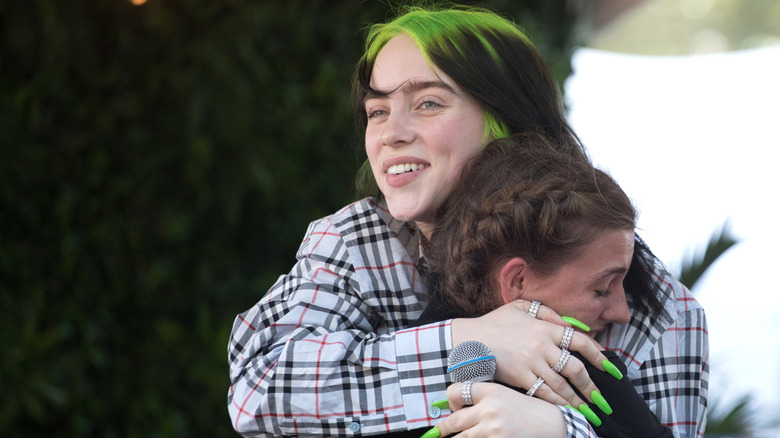 Rick Kern/Getty Images
In 2019, when Billie Eilish was just 17 years old and still in the midst of her iconic green-haired phase, she was already wary of graphers. As the "Bad Guy" singer left "Jimmy Kimmel Live!," she was booed by onlookers calling out for her signature (via YouTube). Shaken by the backlash (and the slew of expletives thrown her way), Eilish posted an explanation on Instagram. "If you watch the video, it literally looks like I'm walking by a bunch of fans and completely ignoring them and not saying hi to them, which is not at all what happened," she shared in a story, which was later referenced by Teen Vogue. 
"I didn't sign anything. It's something that I don't do because I used to, but I realized all anyone did was sell everything that I signed, so I stopped doing that," she continued. According to the "Ocean Eyes" hit-maker, she would much rather give out hugs especially since you can't re-sell them. In recent years, it seems Eilish has broken her "no autographs" rule, though — she put pen to paper for fans waiting outside NBC during her week hosting "Saturday Night Live" in December 2021. Today, there's no shortage of signed Billie Eilish posters listed on eBay. If you want one for yourself, all you need is $300.
Celebs are taking charge of their own images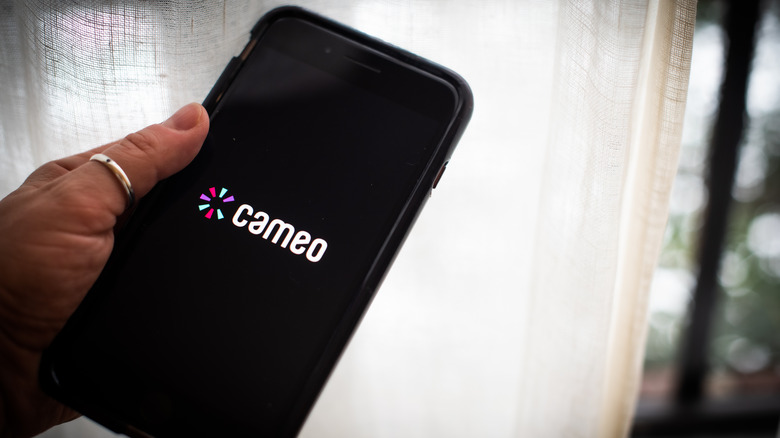 Bloomberg/Getty Images
Cameo, founded in 2016, takes autographs up a notch. The website allows fans to request personalized videos from celebrity users — everyone from reality stars to NFL players. Nancy Rodriguez from "Love is Blind" sells video messages for $60 on Cameo. Want to talk to "Harry Potter" star Tom Felton? It'll set you back $599. The nascent website really took off during the COVID-19 pandemic. 
"Our business was almost tailor-made for the social-distancing era. The whole idea of Cameo is: How do you get a selfie with someone without physically being there with them?" Steven Galanis, Cameo's CEO, told Vulture, adding, "We created it for the people that are more famous than they are rich." Most importantly, it allows celebrities to take charge of (and profit from) their own images. 
What's more, graphers can't list cameos for resale online. Other more widely-used platforms like Instagram and TikTok have also become a way for A-listers to interact with fans more personally. Although Billie Eilish has over 100 million followers on Instagram, fans can comment, try out her vegan recipes, and even DM the star. She also has an active TikTok, and will even duet other users' videos on occasion — it's like a virtual stage door.