Kathleen Gati Sets The Record Straight About Her General Hospital Status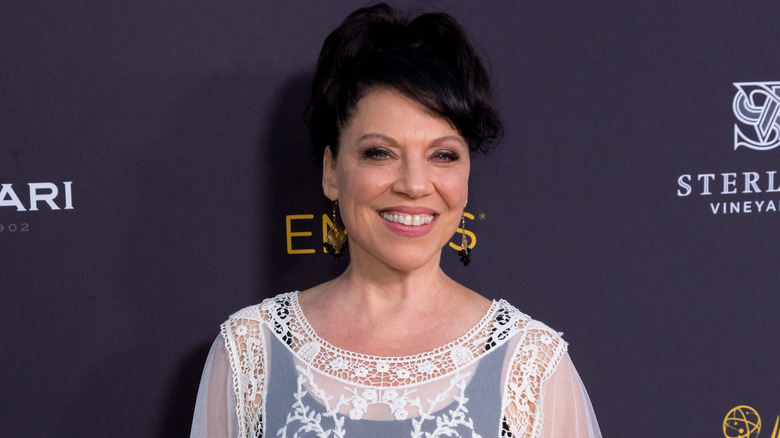 Greg Doherty/Getty Images
When she first appeared on "General Hospital," Dr. Liesl Obrecht (Kathleen Gati) was seen as a bit of a mad scientist. Allying herself with villains such as Cesar Faison (Anders Hove), Jerry Jacks (Sebastian Roche), and Helena Cassadine (Constance Towers) certainly put Liesl in the villain category as well — particularly when she helped keep Dr. Robin Scorpio (Kimberly McCullough) prisoner. She's poisoned, shot, and stabbed several people over the years, and it was only when Liesl finally patched up her relationship with her estranged daughter, Dr. Britt Westbourne (Kelly Thiebaud), that she started to soften.
When Britt died at the hands of the Hook, Liesl came to appreciate her family even more. It was recently revealed that Willow Tait (Katelyn MacMullen) was her niece, and when the young girl learned she had Leukemia, a bone marrow donor couldn't be found. Liesl stepped up and it turned out she was a match. With every intention of hopefully saving Willow's life, Liesl was delayed when the dastardly villain, Victor Cassadine, (Charles Shaughnessy) kidnapped her as part of his diabolical plan to cleanse the Earth of most of its human population. 
Fortunately, a group of heroes managed to thwart Victor and save everyone who was captured. While it's still a waiting game, Liesl was ultimately able to donate her bone marrow to Willow. But she hasn't been seen on the show for a couple of weeks, causing fans' collective imaginations to run wild that Gati is leaving "General Hospital." 
The actor simply has a long commute to work
"General Hospital" fan favorite Kathleen Gati has been on the show for over 10 years, so when she tweeted, "My husband, Michael graduated from #ASU in architecture," the responses became a conversation about Arizona, and a nervous fan responded, "Kathleen I have a question? I just read that you were leaving 'GH,' PLEASE tell me it's not true." Thankfully, the soap star calmed their fears by retweeting the post and replying, "You misread. I'm not leaving. I said my husband and I moved to Arizona about three years ago and I commute to Los Angeles as needed for work."
Fans were relieved with many pointing out how beautiful the sunset and mountains are in the state. Since the show films in L.A., many viewers marveled at her commute, with one posting, "The odometer on your car must be spinning like crazy." A relieved follower encapsulated what many were saying with the tweet, "So glad to hear that's not true!! Couldn't bear to have lost Britt and then you, too!! Thank you for clearing that up!" 
Liesl is so beloved that many viewers didn't even want to entertain the idea that she might be leaving — especially after Britt Westbourne had been so tragically killed off. There was, obviously, quite a bit of praise for Gati's committed performance too, with fans expressing how entertaining her character has been. One true follower of Liesl lovingly wrote: "Dr O is the best she'll never leave."