Things To Consider When Choosing A Heat Protectant For Your Hair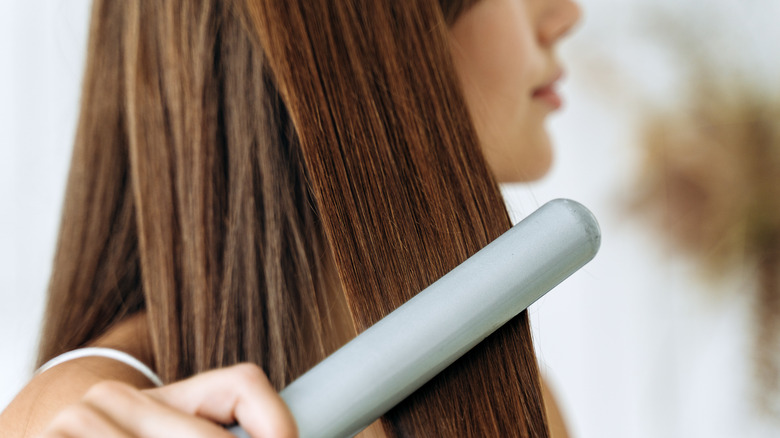 Sklo Studio/Shutterstock
There are so many great hairstyles out there to choose from that it's virtually impossible to run out of looks to wear. You can switch up your style every other day, or every week if you choose. A lot of times, your favorite hairstyles require heat-styling tools like blow dryers, and flat and curling irons. This is why heat protectant is a necessary product to always have on hand in your hair product cupboard.
Excess use of heat tools can severely damage your hair. If you have curly hair, heat damage can alter its structure permanently, and you can only get your curls back after letting it grow and trimming off the damaged bits. Straight hair can also be heat damaged. In both cases, your strands can end up brittle and prone to breakage. This is where heat protectant does its work. It can come in many forms including as a serum, spray, and mist. If you're unsure about which one would suit you best, then you must know what to consider when choosing a suitable heat protectant.
The type of heat protectant to use depends on your hair type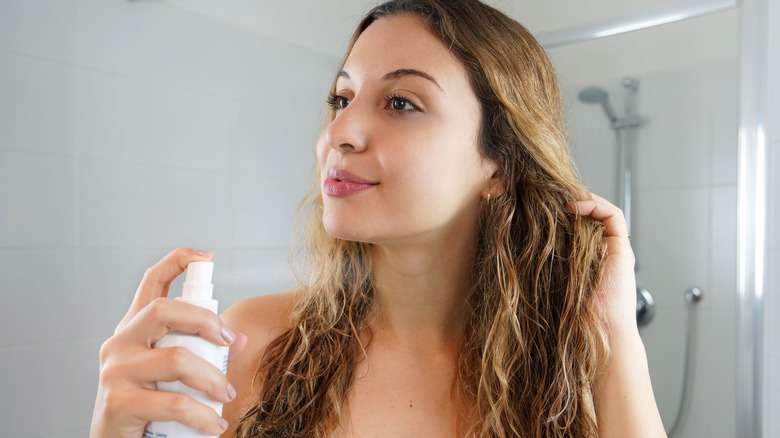 Zigres/Shutterstock
Heat protectant is non-negotiable if your hairstyles are predominantly heat-oriented. There are many heat protectants to choose from, and your hair type will best determine the version you use. Usually, any good heat protectant should do the trick, but there are certain factors you'll want to take into consideration. Hair thickness should be factored in when picking a heat protectant.
Thick, curly, and coarse hair calls for a protectant that can reach each individual strand for maximum protection. A serum protectant might not be the best product to do this, but a heat protectant spray would cover more ground. According to Marie Claire, you should select a spray with an adequate nozzle that can mist your hair for optimal coverage. For thick hair, we recommend you use TRESemmé Thermal Creations Heat Tamer protective spray. Not only will it safeguard your locks from heat, it also contains a vitamin complex, and boosts your shine. Thinner hair will need full coverage as well but not so much that the hair gets weighed down in the process. We advise you to use the Redken Thermal Spray which protects hair up to 450 degrees Fahrenheit. It also has a lightweight formula perfect for fine and thin hair.
Some heat protectants are better on either dry or damp hair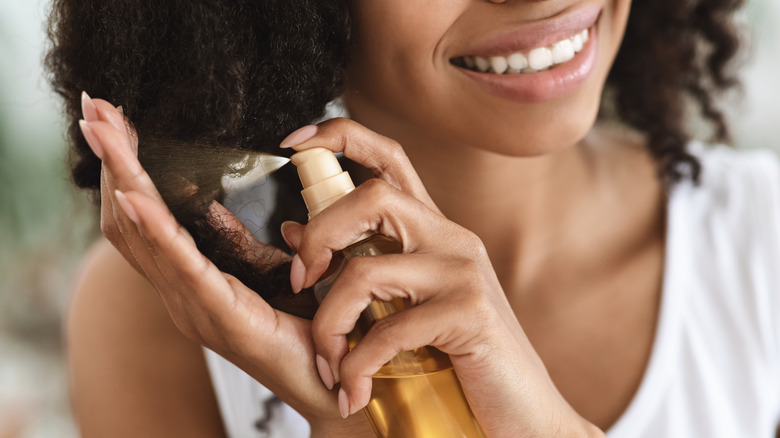 Prostock-studio/Shutterstock
Per Marie Claire, another factor that goes into choosing the best heat protectant for your hair is the instructions label on the product. Sometimes your styling routine doesn't quite match with what's on these labels, but you wouldn't know because you didn't bother to read it in the first place.
While plenty of heat protectants can be used on either damp or dry hair, some can only be used on either one and not both. If you are accustomed to scheduling your heat-styling right after a wash, then you'll need a product that caters to your routine. If you prefer to heat-style your hair while dry, then you have to pick a heat protectant that will be appropriate for you.
Luckily, most heat protectants can be used on damp hair. Ideally, heat-styling tools should never be used on hair containing product buildup. Also, for the curly gang, we often have to straighten our hair before using an iron. This is why a lot of us choose to wash our hair thoroughly before styling. If you fall under this category, then you can opt for the ORS Olive Oil Heat Protection serum which is infused with coconut and olive oil for moisture and shine. If you prefer heat-styling on dry hair, then you're better off going for a protective spray like the Living Proof Restore Protecting Spray. Not only does it minimize breakage, but it also offers UV protection.
Opt for a protectant that does more than just prevent heat damage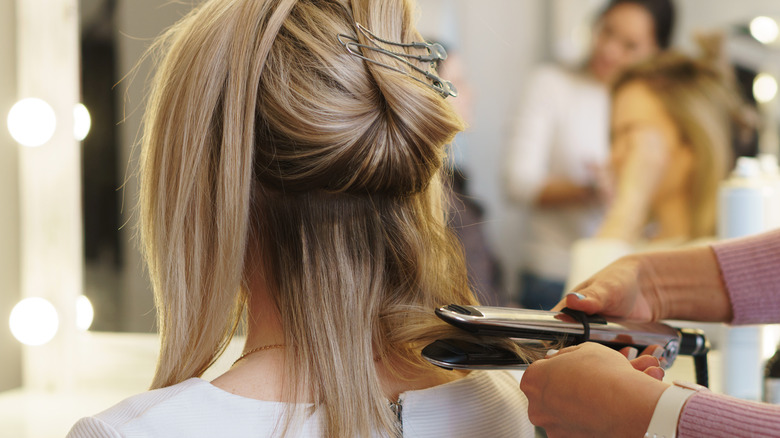 Vagengeim/Shutterstock
When choosing a heat protectant, you have to pay attention to what's in it and how it can benefit your hair. A heat protectant that only protects your hair from heat is one you wouldn't want to use. Your protectant should provide a range of functions. If you have oily hair, then your heat protectant should cater to that. The same thing goes for dry hair. You'll want a spray that protects your hair while adding moisture to it.
For oily hair, the Gisou Heat Protecting Spray is especially useful because of its non-oily application and lightweight finish. If you suffer from dry strands, then you're already skating on thin ice with heat-styling. You'll need a heat protectant that will nourish your strands, provide moisture, and prevent the heat from further damaging your hair. You can use a nourishing leave-in conditioner like the Mizani 25 Miracle Milk Leave-In Conditioner and then top it off with the moisturizing Kérastase Ciment Thermique Blow Dry Primer which is specially formulated for dry and damaged hair.
Curlier hair will need an anti-frizz protectant that detangles as well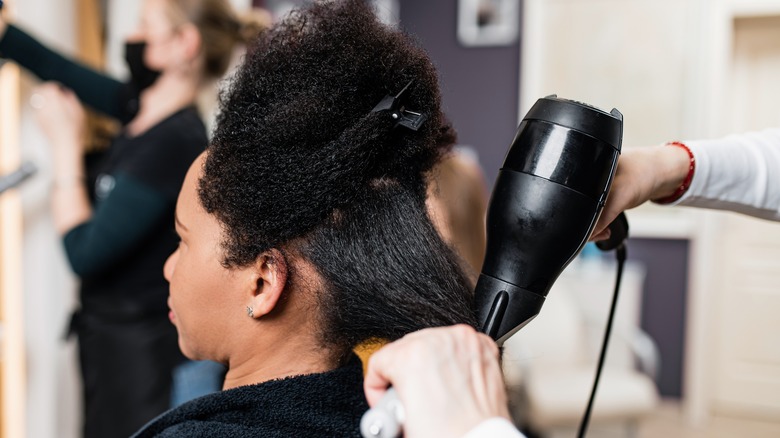 hedgehog94/Shutterstock
For the curly girls, we know how frustrating it is to go through the process of straightening your hair only for it to revert three business seconds later, so you'll need a spray that provides anti-frizz protection and moisture as well. If you're looking for a heat protectant that is packed with nutrients that are known to boost hair growth and vitality, then look no further than the Olaplex No.9 Bond Protector Nourishing Hair Serum which shields your hair from pollution and heat for up to 48 hours. The great thing about this serum is that it contains antioxidants and detangles your coarse hair.
Most heat protectants contain silicone which coats your strands and protects them from heat damage. Certain types of silicone are known to cause buildup on your strands. If your hair is prone to buildup, then you'll be better off using a silicone-free heat protectant like Eva NYC's Mane Magic 10-in-1 Primer for fine hair. It contains argan and sunflower seed oil and provides UV protection.
Use heat protection every time you want to heat-style your hair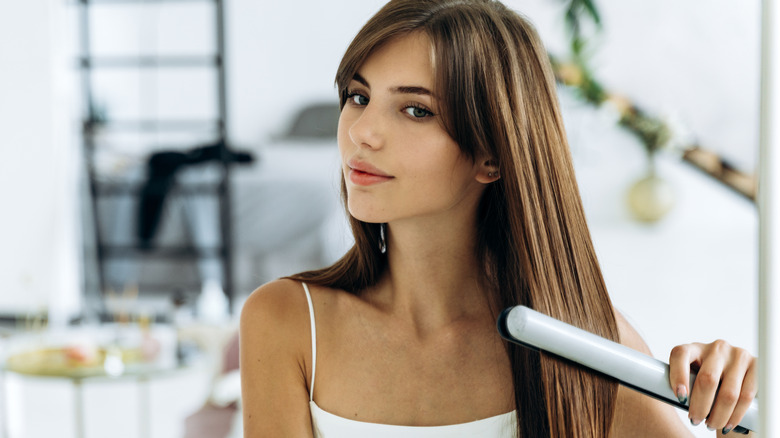 Sklo Studio/Shutterstock
Heat protectant is an often-overlooked yet essential tool to have in your haircare arsenal. Even if you have bone-straight hair, it's still important to protect it from the elements, heat-styling tools, and the damage that they cause. 
According to Marie Claire, a helpful tip to remember while using a heat protectant is that although it offers protection during the application, that doesn't mean it's long-lasting. Just because you used it on Sunday morning to straighten your hair doesn't mean you don't have to re-apply it on Monday morning for another session. 
Also, all those intricate hairstyles may be gorgeous, but you want to minimize the amount of heat you use on your hair. Heat protectant goes a long way in protecting your strands, but it doesn't go all the way. Too much heat even with protection can result in damage. Limit your use of heat tools to twice a week at most.