Chunky Sneakers Are A Trend Of The Past — Here's What To Try Out Instead For Summer 2023
You most likely either loved or hated them, but chunky sneakers have been the topic of a fashion debate for years now. For many, the problem with the footwear in question was oftentimes directly related to how it was styled. The oversized sneakers were more often than not paired with the feminine silhouettes of dresses and skirts, and the visual wasn't everyone's cup of tea. "'Dad' sneakers are on the way out. Yes, they are an orthopedic dream, but they look horrendous and are far from eye-catching," television fashion stylist Cindy Conroy shared in a conversation with Insider.
The street-style staple shoe rose to fame at the beginning of the Y2K and '90s fashion resurgence and was also known as the "ugly sneaker." While the controversial shoe was indeed a functional footwear choice, it truly wasn't always the best-looking one, and now it is time to ditch chunky sneakers and replace them with 2023's hottest new models.
Soccer and basketball sneakers are trending
If you've decided to part with your chunky kicks, there are a few sneaker styles to look into for summer 2023. Sleeker models are trending, but retro-looking styles are still in. Drew Haines, merchandising director of sneakers and collectibles at StockX, notes that there are a few brands to keep your eye on when scouting for a new trendy pair of sneakers this summer season.
Adidas' Samba Classic Shoe sneaker is back just in time for the soccer summer fever, and it's never looked better. "Classic soccer silhouettes are back in style, a trend we began to see pick up midyear as sales of Adidas Sambas shot up on StockX," Haines explained to Who What Wear. Pair them with the Brazilcore fashion trend, and you'll have all eyes on you and your new soccer kicks.
After soccer comes basketball, and old-school basketball-inspired sneakers are about to be all the rage this summer, according to Haines. He notes that high-top models are especially popular, listing models like the New Balance 550, the Jordan 2, and the Adidas Forum as the most sought-after ones. Even though these are chunkier than the sleek Adidas Sambas, the basketball sneaker is aesthetically far from the "dad" styles of recent years. With its slimmer look, the basketball shoe is far more elegant than the oversized, chunky sneaker.
An unexpected style is the hottest new sneaker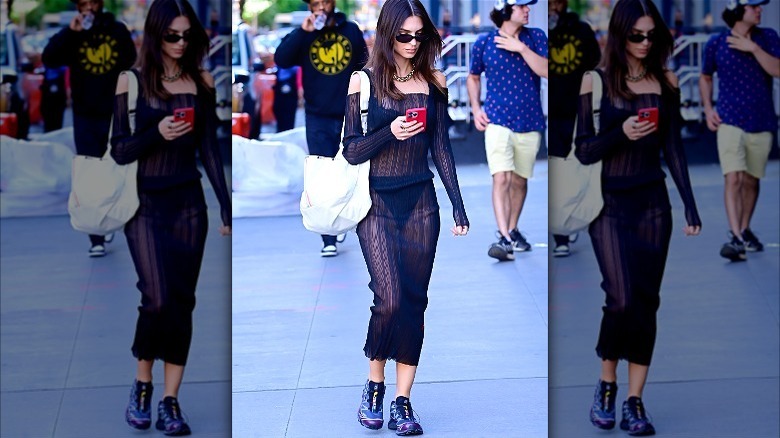 Raymond Hall/Getty Images
Another sneaker style that's slowly but surely making its way onto the streets is the typical hiking shoe, believe it or not. One of the most popular brands to produce trekking footwear is HOKA, and they're conquering the sneaker world. Travis Wiseman, HOKA's director of product, might have an idea why that is. "I think the outdoor trend and an increased interest in functionality have seen consumers almost gravitate toward brands like HOKA, without us having to build ourselves around that category," he shared in a conversation with Highsnobiety.
Drew Haines notes that another outdoor brand, Salomon, has risen to street-style popularity with its interesting visuals, and they're making history. "Following a strong week in demand, the Salomon XT-6 White Lunar Rock became the third most-traded Salomon shoe in StockX history," Hains tells Who What Wear.
So, if you don't want to sacrifice comfort to stay on trend, you don't have to. While the outdoorsy sneaker models might start a whole new dispute in the sneaker world (let's be real, they're not conventionally cute), real-life models like Bella Hadid and Irina Shayk were already seen rocking them out and about, InStyle reports. Honestly, we might even include them in the 15 types of shoes every woman should have in her closet list because they're that comfortable. Steer clear of chunky sneakers if you want to be on trend this summer, and consider trying out a fresh pair.