Why We Can't Wait To Ditch Chunky Sneakers In 2022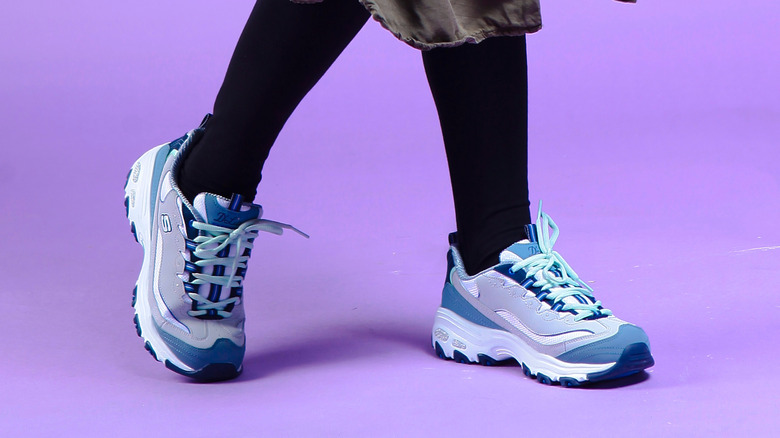 Bortolomeus Abdi W/Shutterstock
We may receive a commission on purchases made from links.
It's only been two years into the new decade and there are already plenty of fashion trends going out the door now. One controversial trend that may be getting phased out are chunky sneakers, per Insider.
Chunky sneakers, also known by other names such as "dad shoes" and "ugly sneakers," have large soles and colorful, and patchwork designs that harken the '90s in a rather cringeworthy way, per Irish Examiner. It's the kind of shoes your dad probably wears every day. While dads can be very loveable, emulating their sense of style may not have the same effect.
In fact, Footwear News called the trend "gross" and thinks there are more stylish sneaker options out there that won't come with an "AARP card." Ouch! In all fairness, the debatable style, which started trending in 2018, has been picked up by luxury fashion brands such as Louis Vuitton and Balenciaga. 
As with many trends, public opinion is still divided on whether this is one that could be regrettable. Even dads featured on Buzzfeed showed no love for the clunky Balenciaga Triple S Trainers, with one dad saying, "I see these in a second-hand 99 cent store a few years down the road." Andrew Raisman, who founded sneaker-enthusiast app Copdate, told the New York Post, "From a purely aesthetic perspective, they're nothing great to look at."
Leave the dad sneakers for your dad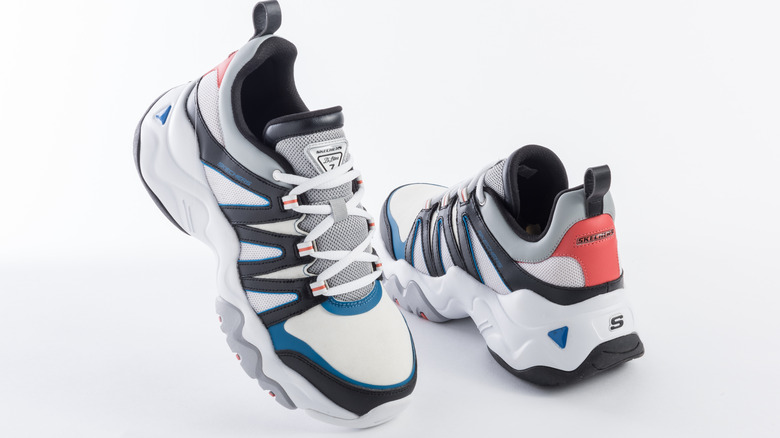 Alejandro_Munoz/Shutterstock
The good news is there are plenty of fashion-forward styles that can replace your once-beloved chunky sneakers. Stylist Tara Dupuis told Insider, "I was never wild about this footwear trend, so I'm glad that chunky sneakers are now being replaced with chic mules or sleeker leather sneakers in 2022." 
While chunky sneakers can have an eclectic charm to them, PureWow claims that these "dad shoes" are not easy to pull off and often clash with outfits. Although these bigger sneakers offer comfort, you can also get support from using an orthopedic insert in more stylish shoes. If you want a pair of inserts that will work with all the latest shoe trends like low-heeled mules or sky-high platform heels, you can try StandStrong's wearable foot supports. These supports stick to your feet, offering the flexibility of being worn with any shoe.
There are also plenty of other comfortable types of shoes available that offer a more updated, professional look like loafers. Per Harper's Bazaar, these office-friendly staples will also work well with a pair of your favorite Levi's, or can be worn with a romantic floral skirt. Sam Edelman Tully Log Sole Loafers in White will give you the perfect spring vibes, with the same level of cushiness you get from your ride-or-die Nike shoes. But if you're a true sneaker-head, no worries! There are plenty of on-trend tennis shoe styles that will have you leaving your dad sneakers behind.
Other sneaker options that offer comfort and style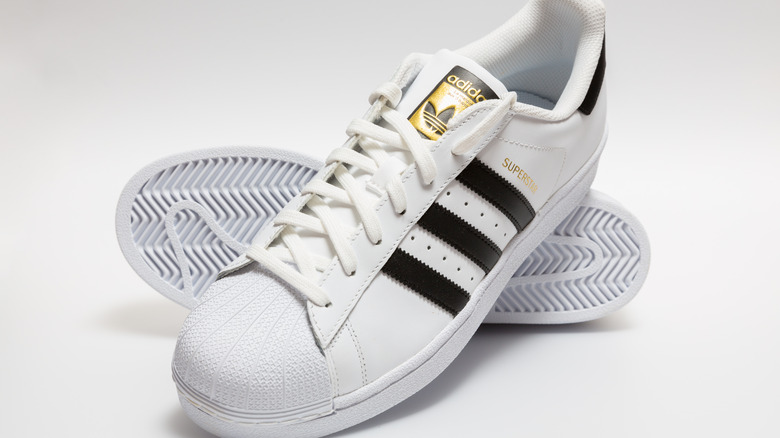 2p2play/Shutterstock
Instead of chunky sneakers, PureWow recommends trying '70s-inspired retro sneakers, focusing on earthy neutrals and high-top styles. Some trendy options include brown suede Chuck Taylor All-Star High Top Sneakers in Cedar Bark and neutral color-blocked Everland ReLeather Court Sneakers. According to Seventeen, elevated flat sneakers like Nike Air Force 1 Fontanka Shoes and platform training shoes with artistically-structured soles like Nike Air Zoom Superrep 2 are in style this year, per Nike.
If you love wearing sneakers with everything, from sweatpants to dresses, TODAY has several sneaker recommendations that can be dressed up or down. A pair of off-white canvas sneakers like Cariuma OCA LOW Sneakers will look cute with a sundress or sun-bleached jeans. An option that Today suggests to pair with trousers for a business casual look is the classic tri-stripe Adidas Grand Court Sneaker. But if you still crave the nostalgia of the simpler times that consisted of playing catch with your dad, then you can't go wrong with the New Balance 997H Sneakers which offer a more streamlined silhouette. 
Comfort no longer has to compromise cuteness, and we're here for it. Hasta la vista, chunky sneakers. You won't be missed.