Inside Prince William And Princess Catherine's Relationship With The Jordanian Royal Family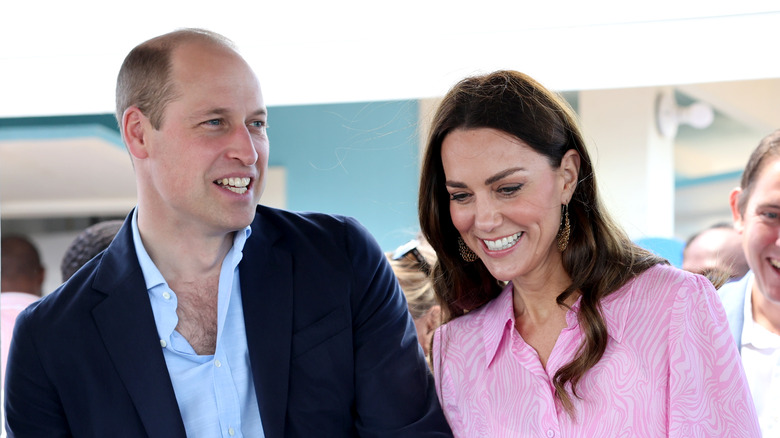 Chris Jackson/Getty Images
When people say the word "royal," many may assume that it's the British royal family that they're talking about; the firm's long-standing reign and historic roots are known worldwide, and their familial drama has played out on the international stage. However, there are many more royal families around the world who represent their respective country's historic monarchies and embody royal tradition, importance, and stature. The Jordanian royal family is one such entity that is known for its thorough tradition and impressive batch of members, including King Abdullah II ibn Al Hussein and Queen Rania, who married back in 1993. The couple went on to have four children: Prince Hussein (born in 1994), Princess Iman (born in 1996), Princess Salma (born in 2000), and Prince Hashem (born in 2005).
Of course, the future of the British monarchy falls on the shoulders of Prince William and Princess Catherine, who will take the throne following King Charles III's reign. Given their domestic and international status, it's not surprising that William and Catherine have relationships with the world's royals, and the Jordanian monarchy is no exception. As royal watchers take in William and Catherine's presence at Hussein's June 2023 wedding, we're taking a closer look at the couple's well-established relationship with the country's royals.
Catherine has a longstanding relationship with the country of Jordan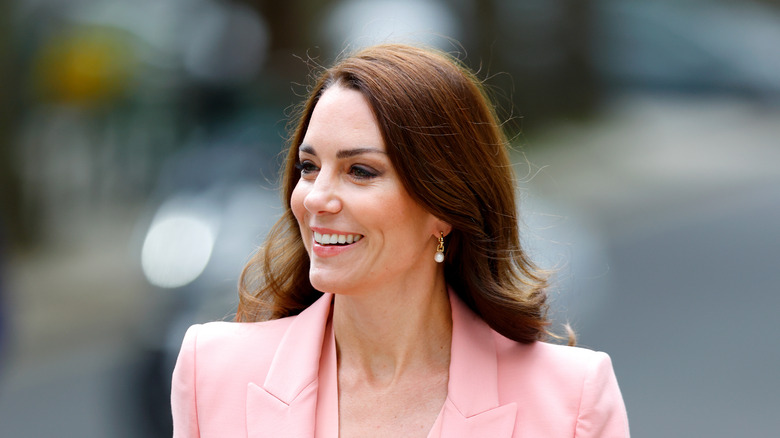 Max Mumby/indigo/Getty Images
Before we get into how the British and Jordanian royal families are connected, we have to go a little further back in time and discuss just how deeply connected Princess Catherine is to the country. Well before she was ever on the royal scene, Catherine lived in Amman with her family for a few years, as her father, Michael Middleton, was relocated to the region in the 1980s when he still worked for British Airways. During her time in Jordan's capital city, Catherine attended Assahera nursery school. 
Sahera al Nabulsi, a founding member of the preschool, spoke to The National in 2011 about the lesson plans and traditions Catherine followed while enrolled, noting that the future royal was just one of many international pupils. "The morning routine was to have all the children sitting in a circle where they would all sing 'Incy Wincy Spider,' both in English and Arabic," al Nabulsi said. "We would read one verse from the Quran to improve the children's Arabic and tell stories about the Prophet's companions, like Omar Bin Khattab. The idea was to reinforce concepts such as respect and love."
Jordan's royal family was integral to William's high-profile 2018 trip to the region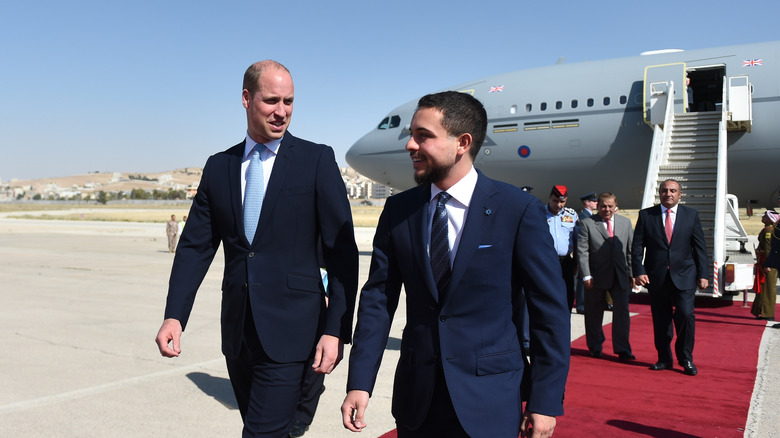 Pool/Getty Images
As Prince William became more central in the royal family's approach to domestic and international endeavors, he embarked on a historic trip to Jordan, Israel and the occupied Palestinian territory. His venture came in 2018, and when he made an unprecedented stop in Israel, all eyes of the international community were on him: It was the first time that a member of the royal family had gone to the country to represent the palace on business. 
Helping him along the way was Jordan's Crown Prince Hussein, who was just 23 years old at the time. Before heading to Israel, William spent two days in Jordan and palled around with Hussein — and yes, it was all a part of the itinerary. "The Duke is very pleased that this visit will allow him to begin a relationship with the Crown Prince Hussein that will be important in the decades to come," the palace said in a statement ahead of the trip. Turns out, the two did indeed form a strong professional bond. 
William and Hussein quickly formed a friendship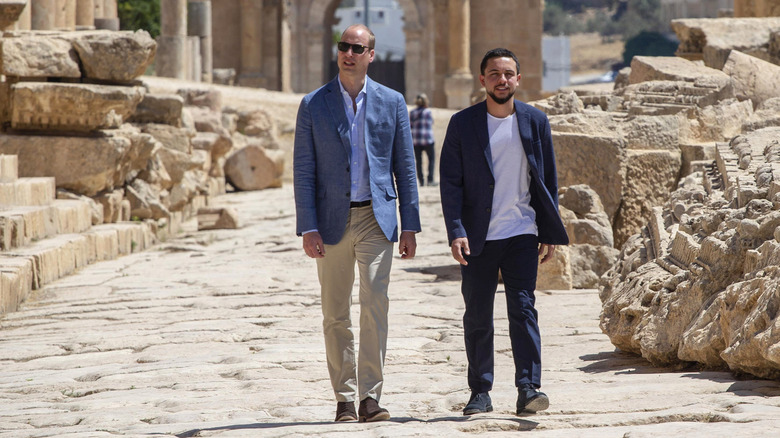 Pool/Getty Images
Prince William and Crown Prince Hussein not only used their time in 2018 to form a close working relationship, but the two made a point of spending time together in their off hours. Of course, in England, football — i.e., soccer — is a big deal, and it just so happened to be 2018 FIFA World Cup when William was in Jordan. Due to his schedule of events, William wasn't able to watch England's game live, and instead took in the match later in the evening; he was joined by his then-newfound friend, Hussein, and Kensington Royal made a point of posting on Twitter about the occasion.
"Prince William couldn't watch the @England match live and avoided finding out the score all afternoon," the tweet read. "He sat down with the Crown Prince of Jordan to watch a rerun after dinner at the Beit Al Urdun Palace," it concluded, posting two photos of the princes watching in what can only be described as the world's best man cave, fit with comfortable seating and a television screen that rivaled a theater.
Twitter fans were quick to comment on the budding friendship between the two, with one writing, "As a Jordanian we are glad to have the prince with us." Still, others were caught up with the quality of the football match, with one commenter musing, "Wow, look at the size of that TV!! Almost like being in the stadium!"
Catherine was kept from Jordan and the country's royal family in 2018 for this reason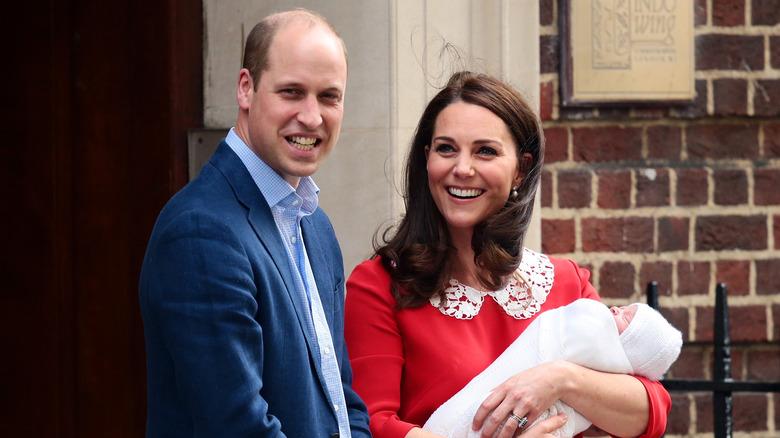 Jack Taylor/Getty Images
You would think that Princess Catherine would've been all over an official royal trip to Jordan, given her family's ties to the region, but sadly she was not able to join Prince William when he made his way to the Middle East in 2018. As she had just given birth to the couple's third child, Prince Louis, Catherine stayed behind with her infant and two older children, Prince George and Princess Charlotte, but her presence was certainly felt.
Upon his arrival in Jordan, William was quick to point out Catherine's connection to Jordan. As People reported, he remarked at a party held by the royals, "[Catherine] is very sorry she cannot be here with me so soon after the birth of our son Louis [on April 23], but her family remembers very fondly the almost three years she spent here as a child when her father worked for British Airways in Amman." He went on, "Catherine's experience is not unique — the interchange between our two countries is real and deep."
As William's tour of Jordan continued, Catherine's rich ties to the country were once again on display when he toured Jerash, a historic site and tourist hot spot that features some of the most prolific remains of ancient Rome. As he and Crown Prince Hussein arrived at the site, William was greeted by a blown-up photo of his wife visiting the exact same spot as a child.
Queen Rania of Jordan works with William in this important capacity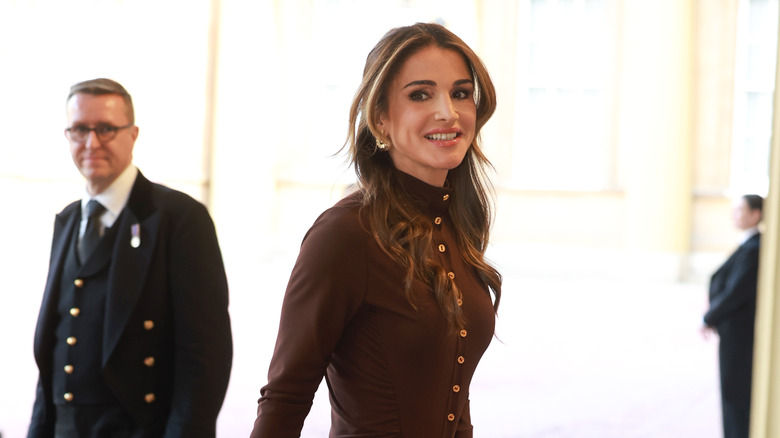 Chris Jackson/Getty Images
Among Prince William's work as a senior member of the royal family, he has spearheaded the Earthshot initiative, working alongside other world leaders, public figures, and activists to support environmentally conscious innovations. His efforts culminate in the Earthshot Prize, which is given to winners whose work actively develops solutions to the myriad of environmental crises facing our planet. The recipients of the recognition and prize money are chosen by the Earthshot Prize Council, which is made up of worldwide figures — Queen Rania of Jordan just so happens to be one of them.
Citing her work as a global figure who had dedicated herself to human rights issues throughout her time as a royal, Rania's Earthshot profile recognizes her dedication to finding unique solutions to a variety of issues facing the world as a whole.
"Her Majesty has won international recognition for her efforts to shed light on the global plight of refugees and to promote acceptance between people of all cultures," Rania's Earthshot spotlight reads. It goes on to highlight her work with the United Nations Foundation, the World Economic Forum, UNICEF, and the International Rescue Committee. If William was looking for a royal to spearhead conscious work in the 21st century, he made a great pick with Queen Rania.
Rania had nothing but nice things to say about Catherine in this interview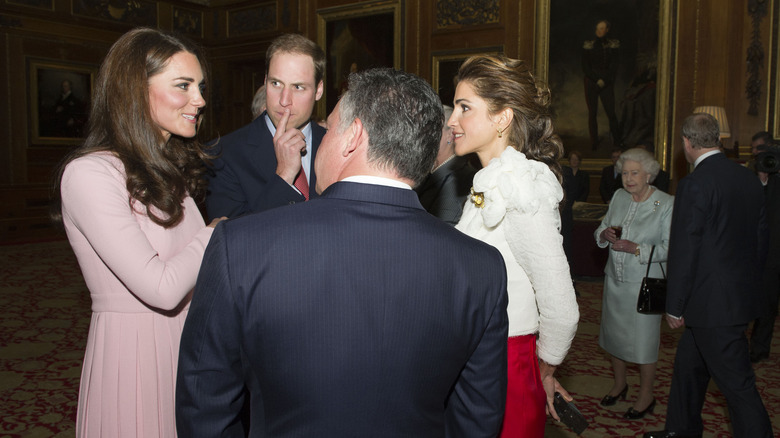 Anwar Hussein/Getty Images
As Prince William and Princess Catherine's stars within the royal family have continued to grow, their international power has similarly increased. The future of the British royal family, the duo are more popular among the British public than King Charles III and Camilla, Queen Consort, and have — time and time again — received praise from people both foreign and domestic. Queen Rania of Jordan has not held back when it comes to her estimations of Catherine. In a 2022 interview with CNN, Rania made it abundantly clear that she admires the Princess of Wales on a genuine level.
"Princess Catherine, when she talks about her work, her face lights up. She does it out of a sense of duty but more importantly she does it because she absolutely cares," Rania said of the British royal. "When she talks about her work she says, 'I'm just lucky to be doing this... I have the privilege of doing that..' so she gives from her heart and again, there's this sense of sincerity and a sense of love in everything that she does."
Rania and Abdullah mourned alongside the international community when Queen Elizabeth II died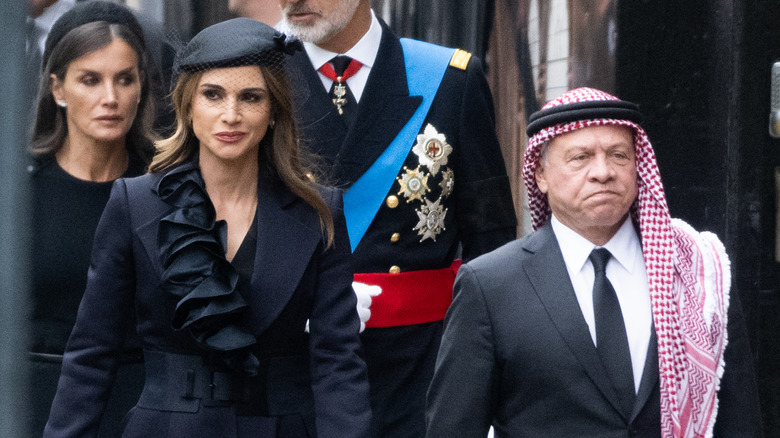 Samir Hussein/Getty Images
When Queen Elizabeth II died in September 2022, the international community flooded to England to pay their respects. Among the foreign leaders and dignitaries were King Abdullah II and Queen Rania, who joined Prince William, Princess Catherine, and the rest of the British royal family to honor the monarch's life. Speaking to ITV about her legacy, Rania said of Elizabeth, "Despite being the most important person in the room, she always made you feel like the most important person in the room. She just had a very gentle and subtle way about her. Her elegance wasn't just in her appearance but in the way she lived her life." The queen consort of Jordan continued, "I just have the most wonderful memories of her. ... I really looked up to her. To me, she is the queen of the world."
If Rania's memories of the late monarch weren't poignant enough, the queen of Jordan took things one step further when attending Elizabeth's funeral by wearing the same dark coat she wore when the two met for the first time in November 2001. "Bidding farewell to a queen whose legacy will never fade or be forgotten," Rania later posted on her and Abdullah's Instagram alongside a photo of the pair at the memorial service.
The two couples reunited at King Charles III's coronation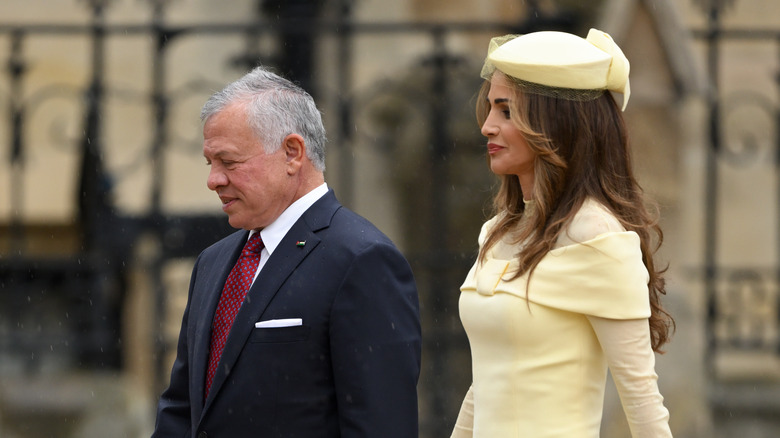 Karwai Tang/Getty Images
While King Charles III became Great Britain's monarch as soon as his mother, Queen Elizabeth II, died in September 2022, it wasn't until May 2023 that he was crowned. The coronation was — as we know — a huge deal, and foreign leaders and royals traveled to Britain to take in the weekend's festivities. Among those who attended the coronation were King Abdullah II and Queen Rania of Jordan, who reunited with Prince William and Princess Catherine — alongside Charles and Camilla, Queen Consort — for the big day. As the two royal families have known each other for years, it was only natural for Jordan's reigning duo to attend the coronation. Speaking to People exclusively about the big event from her particular perspective, Rania recalled what it was really like to see the next generation of British royals embrace their new roles.
"The ceremony was beautiful and unforgettable. It struck the perfect balance of solemnity, spectacle, and spirituality," Rania said, noting how the British royals have continued to adapt over time. "It is admirable to see how the British monarchy has evolved through the years and remained a steadying presence for the country and its people," she said, before adding, "It was impossible not to be moved by the significance of the moment and the sense that we were bearing witness to the beginning of a new era for the United Kingdom. It was a very touching, memorable moment."
Catherine and William were surprise guests at Prince Hussein's royal wedding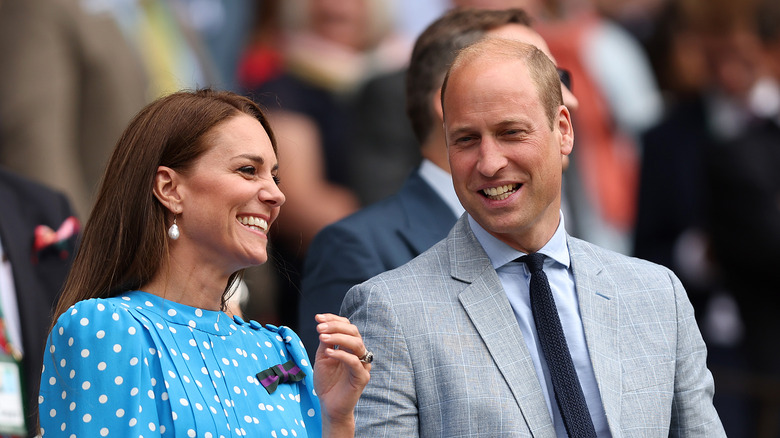 Julian Finney/Getty Images
Crown Prince Hussein of Jordan was a young, strapping bachelor when he and Prince William crossed paths in 2018, but as of June 2023, he is a married man. Hussein wed Rajwa Alseif in a gorgeous royal wedding ceremony adorned with all the pomp and circumstance one can expect from a royal family, yet it was Prince William and Princess Catherine's attendance that caught the international community off guard. William and Catherine's trip to Jordan was not public knowledge leading up to Hussein's big day, and Jordan's state media announced that the British royals would be in attendance right before they arrived. They were not only joined by the international community's figureheads and leaders, but also by British royal Princess Beatrice and husband Edoardo Mapelli Mozzi.
Naturally, the reception was a much larger display of celebration and featured a huge guest list, but that didn't stop William and Catherine from greeting Hussein and Rajwa personally. While their attendance was certainly unexpected, it was wonderful to see the two royal couples exchange such genuine well wishes.
Catherine paid her respects to Rania during their reunion at the wedding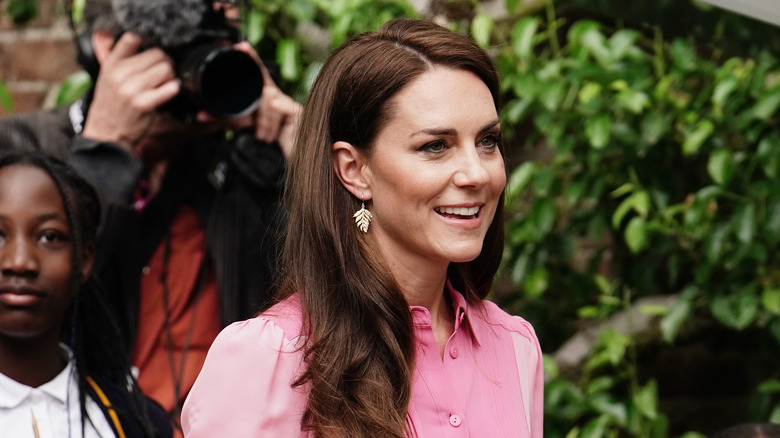 Wpa Pool/Getty Images
When it comes to royal decorum, it can be hard to know what is protocol versus what is a simple gesture of respect. When Prince William and Princess Catherine greet King Charles III and Camilla, Queen Consort, for example, they are technically supposed to bow or curtsy — though William didn't bow to the latter about a week after the coronation. In any case, royals of a lesser status are supposed to greet more senior members with proper decorum, and William and Catherine certainly allowed that to be the case when interacting with King Abdullah II and Queen Rania of Jordan when they attended Crown Prince Hussein's wedding in June 2023.
Catherine was spotted curtsying to both Abdullah and Rania, while William maintained his professional decorum and greeted the ruling members of the Jordanian royal family. Meanwhile, William embraced Hussein in a hug at the wedding reception, clearly showing the princes' mutual respect and friendship.
In addition to Catherine, her mother, Carole Middleton, and sister, Pippa Middleton, attended the wedding reception held at Al Husseiniya Palace. It was quite the affair, and if anything, it reinvigorated William and Catherine's connections to Jordan's royal family.