Prince Harry's No-Show In Court Reportedly Leaves Judge Unimpressed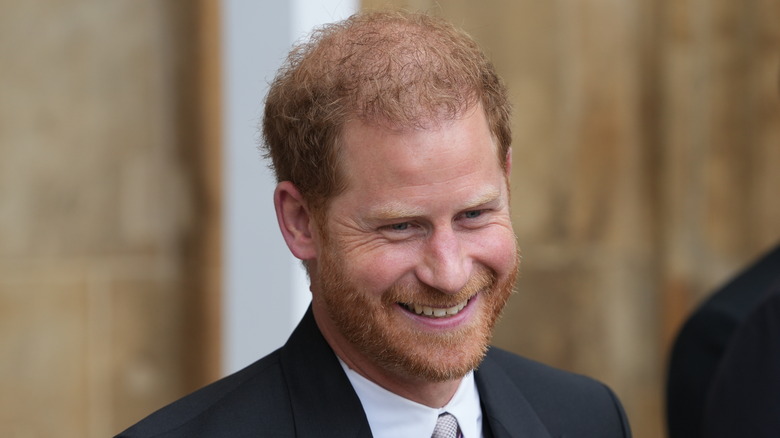 Wpa Pool/Getty Images
Prince Harry, Duke of Sussex, has only returned to the UK a handful of times since stepping back from royal duties in 2020 along with his wife Meghan Markle, Duchess of Sussex. The two of them both attended some of the events of Queen Elizabeth's Platinum Jubilee as well as her funeral in 2022. As far as solo UK visits for the duke, Harry may have had a quiet meeting with King Charles in March and he was in attendance for the coronation. His next visit is underway; he is set to testify in court in support of his lawsuit against Mirror Group Newspapers, publisher of the Daily Mirror. Harry's court appearance is set to break a century-old royal record.
The Mirror lawsuit is just one of five that Harry has in connection with the British media, per AP News. Harry's lawyers opened the case on Monday by explaining the illegal ways they felt the media had used to get stories about Harry, according to The New York Times. But Harry himself was not in court on Monday for the start of the trial, and the judge definitely noticed and wasn't impressed by his absence.
Prince Harry to face cross-examination in court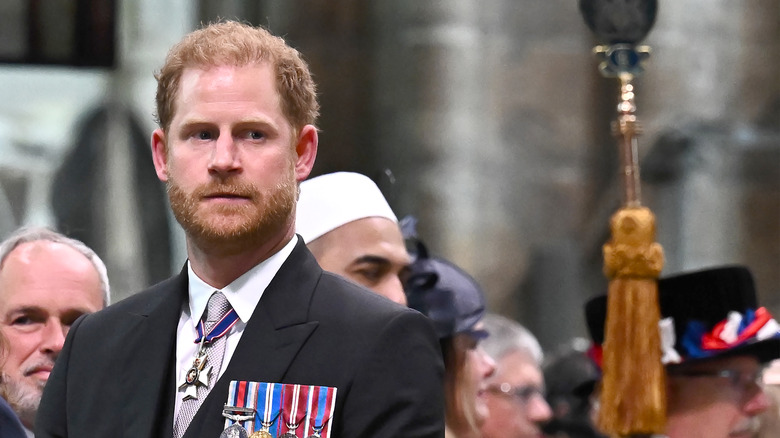 Wpa Pool/Getty Images
While Prince Harry's lawyers were in the court to represent his interests at the start of the trial against the publisher of the Daily Mirror, Harry was not. Justice Timothy Fancourt, the presiding judge, was left "a little surprised" by Harry's absence and called it "absolutely extraordinary," according to Reuters. Fancourt had previously requested that witnesses attend court a day before they would testify in case they were able to do so earlier than expected, Express reported.
But while Harry may have missed the first day in court, he's definitely still planning to be at the trial and testify. His lawyers said that Harry's first appearance will be on Tuesday. It's not likely to be an easy first day of testimony, since it's going to kick off with cross-examination from the newspaper's lawyer.
Harry has said that other royals have privately received settlement money from the media, including his brother Prince William, over similar allegations of illegal information gathering, like phone hacking, per AP News. Harry is joined in the lawsuit against the Mirror publisher by over 100 others, including Elton John.