How Barack Obama Spent Evening Hours During His White House Days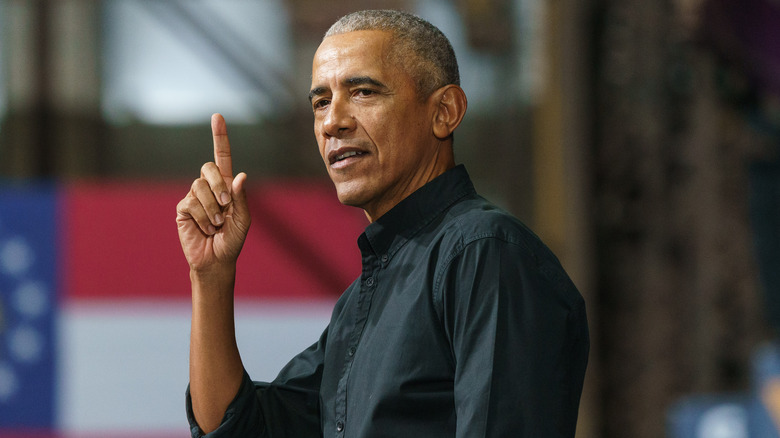 Bloomberg/Getty Images
Have you ever wondered about how presidents come and go, but the White House just ... is? It has likely dawned on you that, while visitors are welcome on tours, a lot probably goes on in there that we don't know about. The White House sits on an impressive 18 acres and covers 55,000 square feet. With 132 rooms, one can only imagine what the commanders-in-chief get up to in their spare time. While they don't exactly erect bouncy castles on the lawn, there is still a lot of leisure to be had around this mansion of a house. If you're not sure, just ask former President Barack Obama.
Barack Obama made history as the first Black president when he was sworn in on Inauguration Day in January 2009. A beacon of hope and fulfilled dreams, the 44th POTUS promptly moved into the White House with his lovely family. Obama had the job of overseeing the affairs of over 300 million Americans, so he was understandably busy 24-7. However, he still managed to carve out some time to spend his evening hours a little differently than you might imagine.
Former president didn't joke around with his me time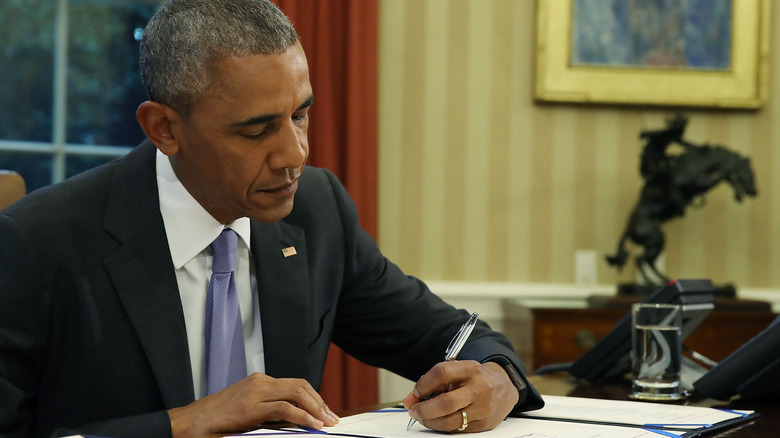 Mark Wilson/Getty Images
Former President Barack Obama was known to be a very busy man, so much so that his gray hairs became more prominent during his tenure in office. It's hard to imagine that he didn't spend all day, every day, working on diplomatic duties.
According to the New York Times, Obama's evenings were usually spent alone in his private office. For about four to five hours, he would take some time to be by himself and relax. He'd watch some ESPN or play games on his devices. He would also work on some of his famous speeches. Obama's first chief of staff, Rahm Emmanuel, harped on how vital some "me time" at night was for the president. "Everybody carves out their time to get their thoughts together," he explained. "There is no doubt that window is his window." If there's one thing we pick up from the former president, it's that a little rest and relaxation isn't just desired, but required.
Barack Obama's evening routines get quirkier
Drew Angerer/Getty Images
Apparently, former President Barack Obama's evenings didn't just stop at tweaking some of his speeches or playing games on his tablet. He also had an odd nighttime snack routine — seven almonds. Obama would down the nutty treats to keep himself awake during his "me time," according to the Obamas' White House chef Sam Kass via the New York Times. Did the most relatable president in United States history just get even more relatable? We all have our favorite midnight craving that we indulge in every now and then.
Kass disclosed that he and former First Lady, Michelle Obama, would pass around the fact that the number of almonds stayed strictly the same like an inside joke. "Michelle and I would always joke: Not six. Not eight," he said. "Always seven almonds." 
We're not entirely sure why the nicknamed "Forever President" insisted upon having exactly seven almonds in the night. Maybe six was too few and eight was overkill, or perhaps he just knows something we don't (cue alien attack).