The Truth About Barack Obama's Odd Late-Night Snack Routine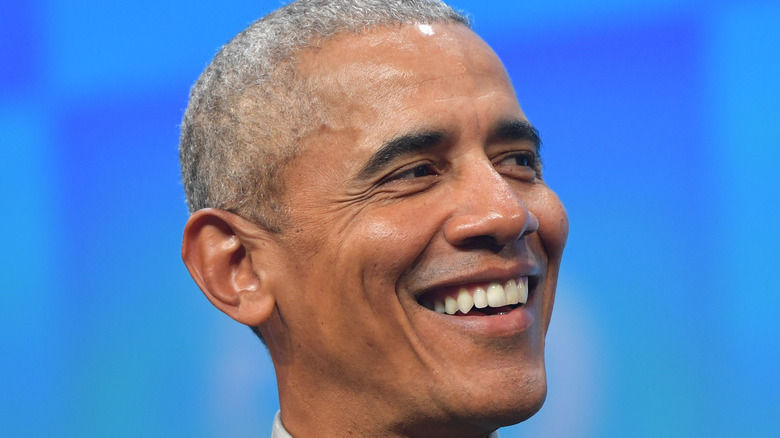 Hannes Magerstaedt/Getty Images
Barack Obama's stunning transformation – from an ordinary kid in Hawaii to being elected the 44th president of the United States — has been well documented in countless articles and books. And after spending eight years in the White House, Obama is no stranger to public scrutiny of everything he says and does (and eats).
During his time as president, Obama couldn't even stop at a bakery without it becoming international news. In 2009 in Ottawa, Canada, he made an unscheduled visit to Le Moulin de Provence and bought two cookies shaped like maple leaves. The sweet treats, quickly dubbed Obama Cookies, started selling upward of 15,000 a month instead of the usual 800. "Daily, people would ask: more cookie, more cookie, more cookie," the bakery's owner told Maclean's.
No surprise, then, that a revelation in The New York Times about the president's unusual late-night snacking habit received quite a bit of media attention.
Barack Obama enjoys snacking on almonds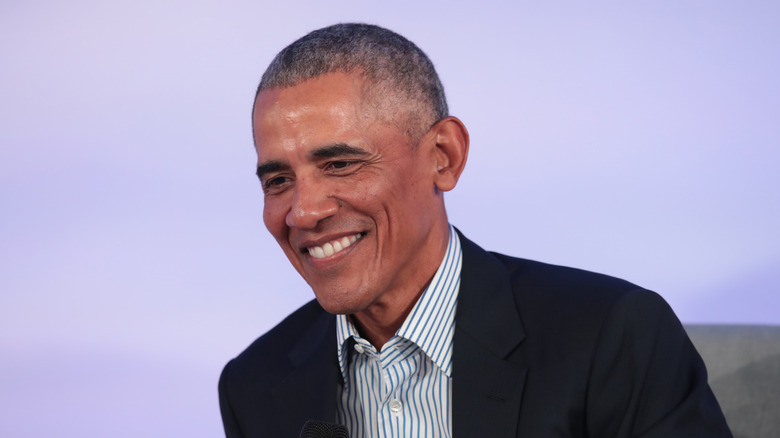 Scott Olson/Getty Images
For several years, Sam Kass worked as the Obama family's personal chef in the White House. In a New York Times article that detailed how Barack Obama often toiled until the wee hours of the morning, Kass described the president's nightly snack of exactly seven almonds. "Michelle and I would always joke: Not six. Not eight," Kass said. "Always seven almonds."
Newspapers, websites, and television shows shared the story far and wide. The only problem? It wasn't completely true. The comment was intended as a joke.
"Michelle and Sam Kass, who was our chef here, one night they were talking about me and teasing me about how disciplined I was, that I didn't have potato chips or I didn't have a piece of cake. And this is when Michelle said, 'Yes, and he just has seven almonds, that's it,' to really drive home the point that I needed to loosen up a little bit," Obama later explained to NBC's "Today."
"All my friends were calling up and they'd say, '... this is kind of weird,' and I had to explain to them, no, this was a joke," the former president said. Then he defended the nut, saying, "Almonds are a good snack, though. I strongly recommend them."
The New York Times felt the need to publish a follow-up article titled "Obama Sets the Record Straight on His 7-Almond Habit."
The former president sometimes eats junk food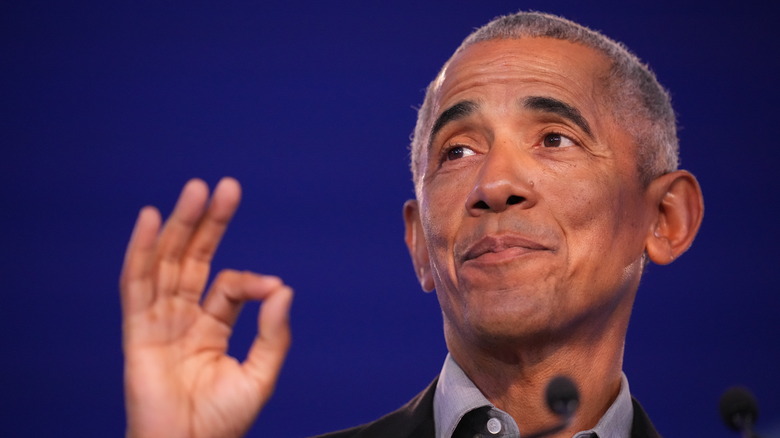 Christopher Furlong/Getty Images
Just to set the record straight even further, Barack Obama isn't always disciplined when it comes to noshing — sometimes he does indulge in junk food. At a state dinner promoting healthy eating habits for children, he confessed his love for one specific snack (per The Washington Post). He said, "Basically, if there is a bowl of good chips and guacamole..."
"He loses it," interjected his wife, Michelle Obama, who publicly advocates for healthy eating habits. "I lose my mind," the president agreed.
The former president further expressed on "The Tonight Show Starring Jimmy Fallon" his strong opinions regarding pizza: "I love Chicago deep-dish pizza. I love my hometown. But New York-style — being able to fold it, walk while you're eating? There's an efficiency element to it that I think puts it over the top," he said. 
He also shared with Jimmy Fallon his thoughts on whether a hot dog is a sandwich (no), if ketchup can ever go on eggs (no), if the crunchy edge of a brownie is good or bad (good), and if pineapple ever belongs on a pizza: "I'm from Hawaii, and I know you can't have pineapple on a pizza. That's just wrong."