Meet Paul Rudd's Wife, Julie Yaeger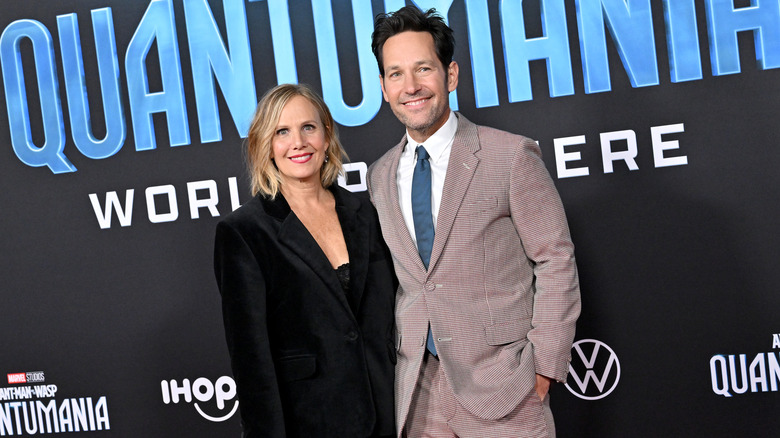 Axelle/bauer-griffin/Getty Images
Having Paul Rudd, one of People's Sexiest Men Alive, as your husband has to be riddled with pressure. However, his wife, Julie Yaeger, seems to be handling the gaze on her husband rather well. The couple has been married since 2003, yet many are unfamiliar with Yaeger's role as Rudd's doting wife as well as her impressive Hollywood career.
The couple met shortly after Rudd relocated to New York City in the '90s to chase his movie star ambitions after filming "Clueless." While running late for an audition, Rudd left his luggage with Yaeger, who was an employee at his publicist's office. She was the first person Rudd met in the Big Apple, and the two immediately hit it off. Throughout their mostly private lives together, the pair have welcomed two children: Jack, who was born in 2006, and their daughter Darby, who came into the world in 2010. The "Ant-Man" star may have plenty of accolades to his name, but it is his wife who he takes most pride in.
Julie Yaeger has her own successful career in film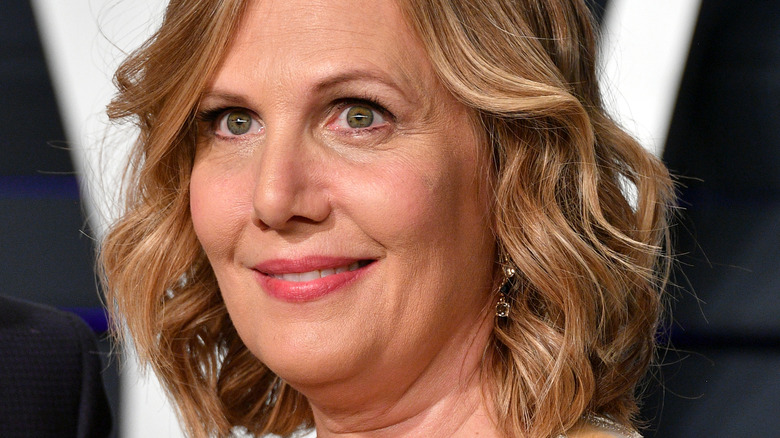 Dia Dipasupil/Getty Images
While Paul Rudd's wife, Julie Yaeger, may spend her time away from the spotlight, she is well respected in the film community. Yaeger kicked off her career as a publicist in the 1990s and 2000s. She eventually made the switch to executive producer. She served in this role during the 2005 series, "The Suite with Dave Karger."
Yaeger and Rudd worked alongside one another for the 2017 comedy flick, "Fun Mom Dinner," starring Toni Collette, Adam Scott, and Molly Shannon. This time, Yaeger served as the screenwriter – credited as Julie Rudd — and Rudd was the executive producer, though he made a brief cameo in the movie as well. 
Even when she's not exactly hands-on with a project, some have drawn inspiration from her and Rudd's relationship. Writer and director Judd Apatow previously admitted that parts of "Knocked Up" and its sequel, "This Is 40," are based on aspects of Yaeger and Rudd's marriage. They even taped conversations to help Apatow complete the scripts.
Julie Yaeger co-owns a candy shop with her husband
Aside from creating, writing, and producing movies, Julie Yaeger also has an entrepreneurial spirit. Yaeger, along with her acclaimed husband Paul Rudd, purchased Samuel's Sweet Shop in Rhinebeck, New York. The couple started off as customer's of the candy store. Sadly, the previous owner, Ira Gutner, died in 2014. Several years later, Rudd and Yaeger teamed up with close friends, actor Jeffrey Dean Morgan and his wife, actress Hilarie Burton, to purchase the business in 2017. It has since become a popular stop within the city, thanks in part to its famous buyers.
Neither Yaeger nor Rudd are active on social media. It appears that the two are happy keeping their home life separate from the media. Rudd's children didn't know he was an actor for awhile. Despite keeping much of their family life and romance under lock and key, Rudd has revealed that his wife is a huge supporter of his. When he snagged People's Sexiest Man Alive in November 2021, Yaeger gently replied, "Oh, they got it right." It's such a beautiful thing to see this couple going strong two decades later.