Everything We Know About Sandra Bullock's Rumored Relationship With Chris Evans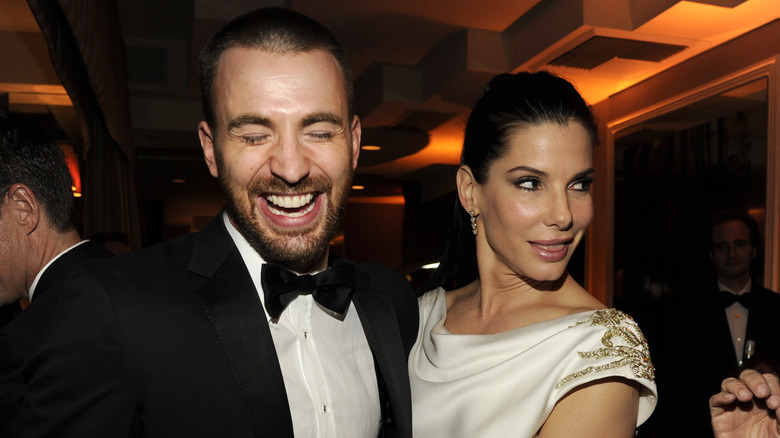 Kevin Mazur/vf12/Getty Images
Sandra Bullock and Chris Evans have had their fair share of on-screen love stories. Before becoming Marvel's Captain America, Evans starred in rom-coms like "What's Your Number" and "The Nanny Diaries." Bullock headlined classics like "Miss Congeniality," "Practical Magic," and "The Proposal" throughout the '90s and 2000s, becoming everyone's favorite accident-prone girl next door.
As of 2022, however, Sandra Bullock is taking a break from acting, choosing to focus on her family instead. "I can be creative, I can be part of a community, but right now, work in front of the camera needs to take a pause," she told CBS Sunday Morning. Not only did "The Lost City" mark her last starring role (for now), but it also renewed a cultural obsession with romantic comedies — what a way to go out. "Without a shadow of a doubt, the reason that people tune into rom-coms more during periods of crisis and stress is because of the distraction that these genres offer," Emma Kenny, a TV psychologist, told Refinery29, referencing the genre's resurgence in the midst of the pandemic. "Human beings love love," she added. Chris Evans, too, is going back to his romantic roots, starring in "Ghosted" alongside Ana de Armas in 2023. 
Evans and Bullock have never collaborated on a project despite their massive combined film catalog. Considering their evident off-screen chemistry, it's long overdue ... but does their long-time friendship hint at something more? Here's what we know about Sandra Bullock's rumored relationship with Chris Evans. 
Sandra Bullock and Chris Evans sparked dating rumors in 2014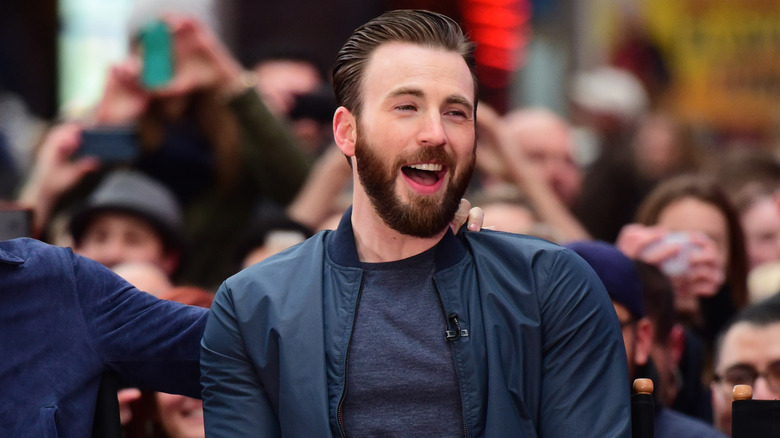 Raymond Hall/Getty Images
When Chris Evan and Sandra Bullock met at the Vanity Fair Oscar Party in 2012, he was more than a little star-struck. Bullock, who is over 15 years Evans' senior, was his childhood celebrity crush. "I used to be in love with Sandra Bullock when I was growing up. Sandy B. was my girl," the "Captain America" star recalled in a 2012 interview with Playboy. "I remember seeing 'Speed' when I was in seventh grade and just thinking, 'That's her.'"
Fortunately for Evans, the pair developed a real-life connection after he entered the world of Hollywood. Although they never seriously dated, the two A-listers did enjoy a friendship. "They are not in a relationship, but they are definitely hanging out and are in the early getting-to-know-each-other phase," a source told E! News in 2014, adding, "They haven't put a title on it, but they really like each other." The pair, along with their friend Chelsea Handler, were spotted enjoying dinner together in Hollywood that same year. Was it a chaperoned date? Probably not.
Sandra Bullock eventually addressed the rumors in an interview with Entertainment Tonight (per People), joking that the pair had already gotten married, filed for divorce, and adopted a collection of farm animals. "But we're going to remain friends and share responsibility of the farm animals we've taken on, because you just can't abandon the animals," she quipped.
Sandra Bullock and Chris Evans both had other high-profile relationships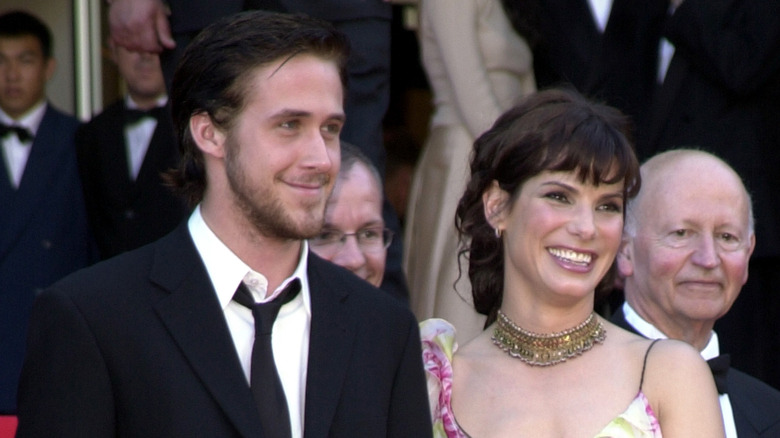 Toni Anne Barson Archive/Getty Images
Although Sandra Bullock and Chris Evans never officially dated, they've had other high-profile partners. Evans was in a long-term relationship with Jessica Biel from 2001 to 2006 — she is now happily married to Justin Timberlake. He's also been linked to Dianna Agron, Minka Kelly, Christina Ricci, and Emmy Rossum (among others). From 2016 to 2017, and again for a few months in 2018, Evans dated comedian Jenny Slate. ​As the "Obvious Child" actor told Vulture, she didn't think she'd be his type based on the actor's past relationships. Most recently, Marvel's Captain America has been spotted with "Warrior Nun" star Alba Baptista.
As for Sandra Bullock's dating history? She was linked to the likes of Troy Aikman and Tate Donovan throughout the early '90s, and dated fellow rom-com legend Matthew McConaughey from 1996 to 1998. She met Ryan Gosling on the set of "Murder By Numbers" in 2002, and the pair enjoyed a happy relationship until 2003 — he even called her one of "the greatest girlfriend[s] of all time," according to The Times, later reported by HuffPost. Although Bullock had a rocky marriage to Jesse James from 2005 until 2010, she's now comfortably settled with photographer Bryan Randall.