Primer Ingredients To Look For If You Have Acne-Prone Skin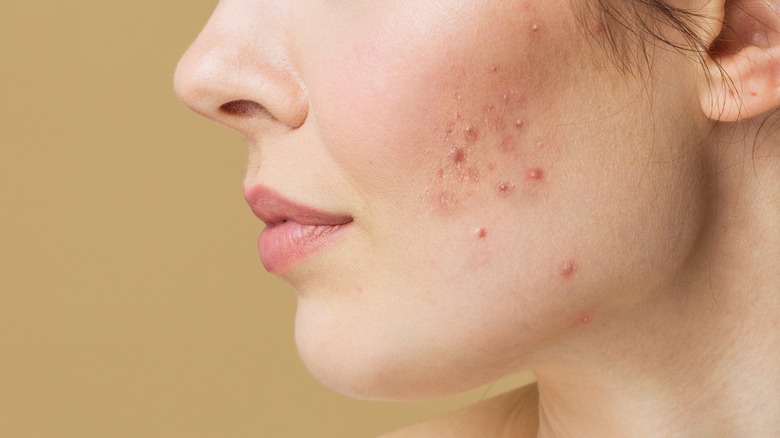 Aleksandr Rybalko/Shutterstock
We may receive a commission on purchases made from links.
Before you determine what kind of eyeshadow look to do or which foundation to apply, your skin must be prepped properly. While this often means a clean, moisturized base, using a primer beforehand is the most important step when it comes to makeup. Primers act as a barrier between your skin and makeup, gripping it in place in a way your skin can't do alone.
There's no one-size-fits-all primer — each one addresses a different concern, which is helpful for skin that reacts to products easily. If you're acne-prone, then you'll know that you can't put just anything onto your skin. You've probably already put a lot of time and effort into building a skincare routine for acne-prone skin, but what about a makeup routine?
Complexion products like concealers, foundations, and blush can contain a lot of pore-clogging ingredients that can break acne-prone skin out, but using a primer in between your skin and makeup can prevent more zits from popping up. However, even primers themselves can further contribute to your acne. Knowing which ingredients stave off breakouts and aren't comedogenic can help you figure out what the best primer for your acne-prone skin is.
What are the best primer ingredients for acne-prone skin?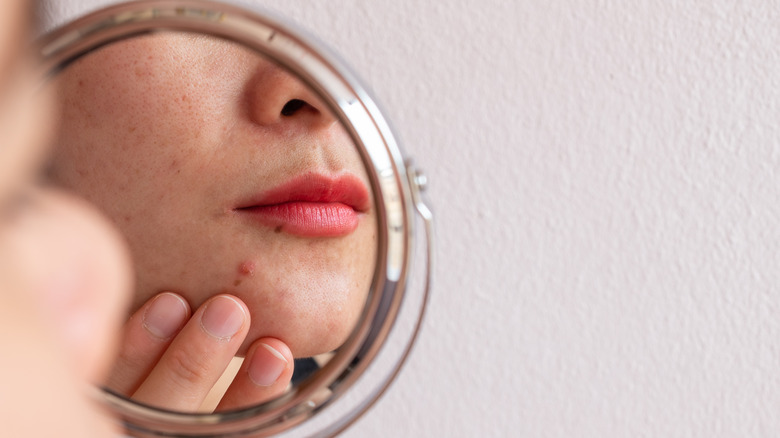 Boyloso/Shutterstock
As a BHA, salicylic acid treats acne by clearing out clogged pores and exfoliating the skin. It penetrates deeper into the skin than AHAs, working to prevent acne by removing sebum. While typical primers simply help to keep makeup in place, a primer with salicylic acid will fight off acne and impending breakouts by exfoliating the skin. The Smashbox Photo Finish Control Mattifying Primer contains salicylic acid, which allows your makeup to go onto a smooth base. It also controls oil throughout the day while reducing the appearance of pores.
Although it's not an exfoliant, niacinamide is great when it comes to preventing breakouts. The ingredient has anti-inflammatory properties that help to reduce the redness and irritation that follows a fresh breakout. It also draws moisture into the skin, which can help regulate the excess oil that causes acne. The Milk Hydro Grip Primer contains niacinamide, as well as hyaluronic acid and blue agave extract. It's formulated with hemp-derived cannabis, which is also anti-inflammatory.
If you suffer from both acne and oily skin, you need to use tea tree oil on your skin. The natural ingredient is anti-bacterial, clearing out acne-causing sebum from the skin without stripping it. The elf Blemish Control Face Primer contains both tea tree extract and salicylic acid, an ideal acne-busting duo.
How to prep acne-prone skin for makeup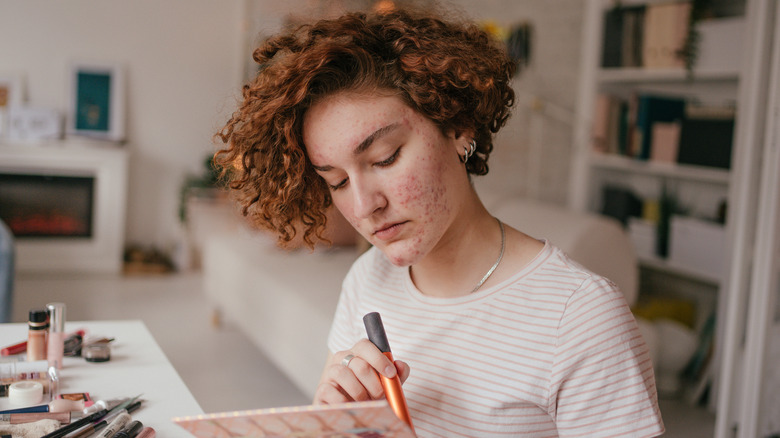 Aleksandarnakic/Getty Images
Skin that's breaking out or has open wounds can be delicate, so applying makeup on top is a difficult feat. Prepping the skin properly can help you to avoid disturbing active breakouts or creating new ones. To start, wash your face using a gentle cleanser for acne-prone skin, such as the Versed Keep the Peace Acne-Calming Cream Cleanser.
Go in with a hydrating serum that's suitable for acne-prone skin. The Beauty of Joseon Glow Serum is formulated with niacinamide and honey propolis — both are anti-inflammatory, yet moisturizing, creating the perfect base for your skin. Once that's absorbed, use your everyday moisturizer. If you're hesitant to place makeup on top of an open pimple, then good news! You can place a pimple patch onto your zit and then cover it up with foundation or concealer.
Use one that's clear and not too bulky, like the Peace Out Acne Day Dots. The salicylic acid acne patches were designed so they could be worn under makeup, so you don't have to worry about any pesky pimples poking through. After sticking them on, go in with your primer of choice and gently tap it onto the skin. For best results, let your primer dry down before applying makeup.