Halle Berry Might Have Found The Love Of Her Life, But Don't Count On Her Getting Married Again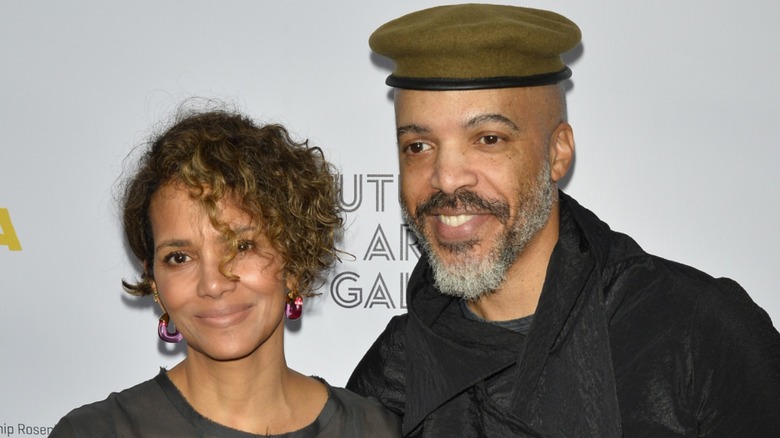 Jerod Harris/Getty
Halle Berry has been dating singer and musician Van Hunt since 2020. Their relationship actually started as a completely virtual one due to the COVID-19 pandemic. Despite the strong love the two demonstrably have for each other, the chances of Berry and Hunt taking their relationship down the aisle are highly unlikely. Prior to their meeting, Berry was married three times. 
First, she got hitched to Atlanta Braves player David Justice. The two divorced in 1997. Next, Berry married singer Eric Benét, but his struggles with infidelity caused the spouses to separate and their divorce was finalized in 2005. After that split, Berry told InStyle that she would never get married again.
The Oscar-winner clarified, "Actually, it's just that now I've come to a place where I think two people can share their lives without the ring, without the piece of paper," (via People). Despite those sentiments, Berry married Olivier Martinez in 2013 and the couple stayed together for about two years — they even share a son. However, their relationship also ended and the divorce was finalized in 2016.
Berry and Hunt offer glimpses into their relationship on social media
Even after three divorces, love prevails and has brought Halle Berry and Van Hunt together. Berry and Hunt's relationship appears to be rock solid, and the happy couple often posts photos and sweet messages to each other on Instagram. The "Monster's Ball" star captioned a post celebrating Hunt's birthday with: "Happy Birthday, VanO! It's amazing how you walked into my life and I can't remember living without YOU! Here's to many more my love." 
Likewise, Hunt can't stop gushing about Berry in interviews, confirming how much she has changed him for the better. On New Year's Day 2022, the couple played a prank on their Instagram followers when Berry shared a pic of her and Hunt kissing in front of an altar with the caption: "Well...IT'S OFFICIAL!" If you swipe to the second photo in the post, you'll see that the only official announcement is that it's 2022, not that they got married. 
As of this writing, the celebrity couple has yet to tie the knot and they do not seem particularly eager to — perhaps Berry's own words on marriage, following her second divorce, ring even truer for her today.
Berry's son officiated an impromptu 'wedding' between the happy couple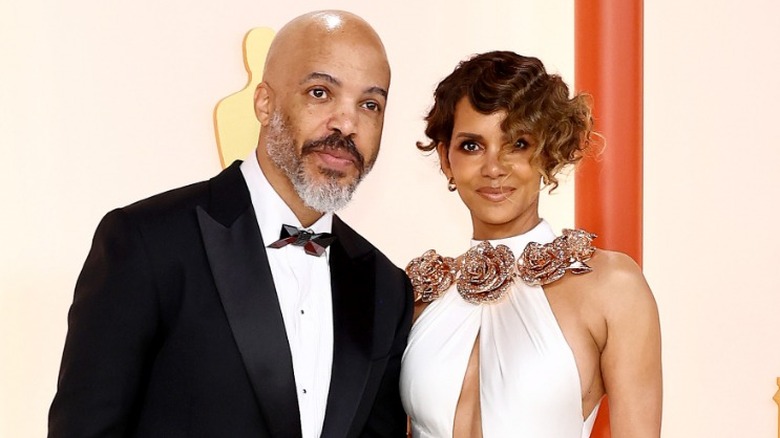 Arturo Holmes/Getty
Of course, no wedding doesn't necessarily mean no commitment. During a "Live with Kelly and Ryan" interview, Halle Berry recounted a story about how her son (who was eight at the time) gave her and Van Hunt an impromptu "wedding" on a car ride: "He said, 'Mom, you should get married to him. ... I pronounce you man and wife.' So we're like, oh, okay, we're married! But we're not married. So that's our commitment ceremony."
The actor added that the most important thing about a relationship when there are kids involved is that they're comfortable. Host Kelly Ripa reasoned that the kids approving the relationship enough to want a wedding is, "really all the marriage you need." Berry then reiterated that her children's happiness is paramount. The commitment ceremony is most likely the most official wedding ceremony Berry and Hunt will ever have. 
However, it seems they will be together for a long time, as a source described the duo as soulmates, noting, "She feels greatly loved by him. She is very happy and secure in the relationship," (via People).